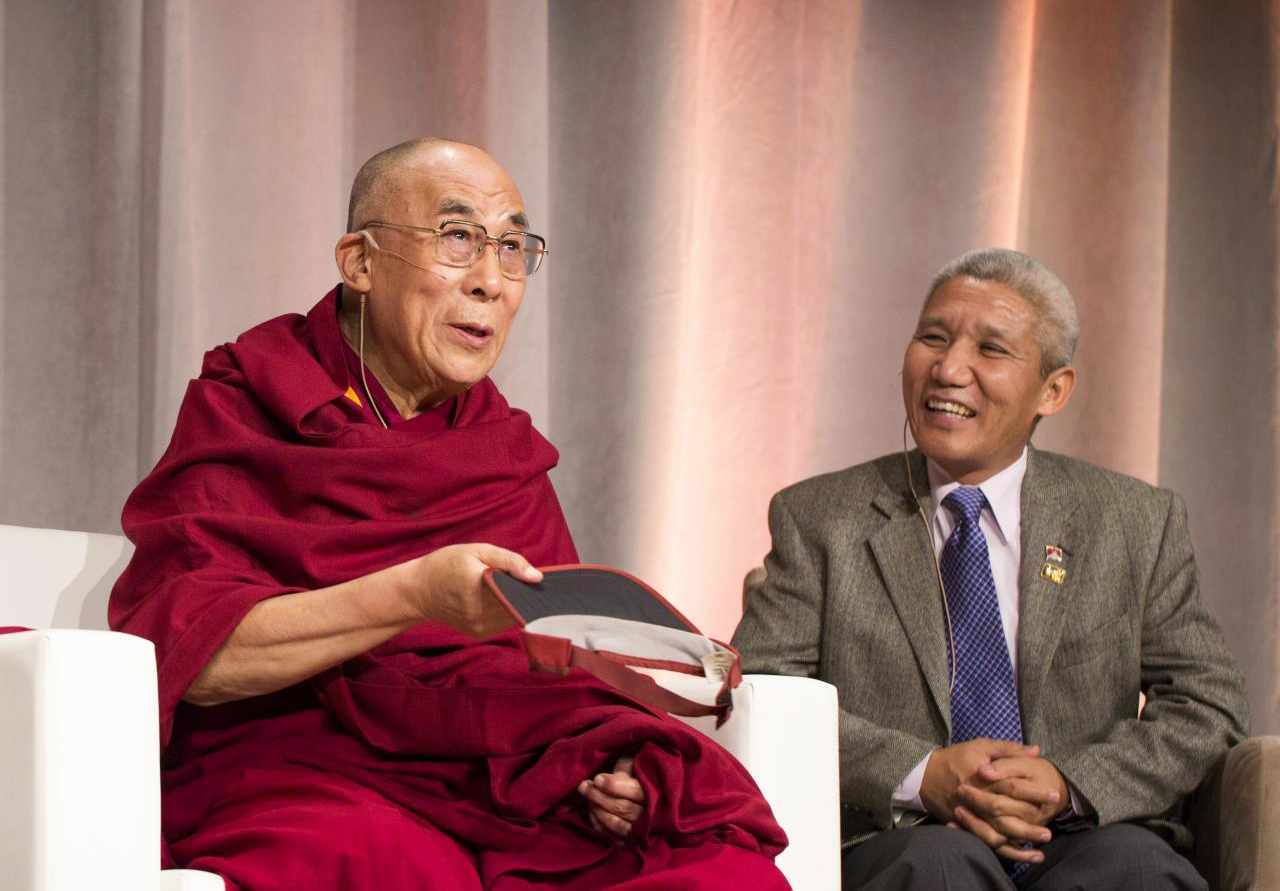 Tibetan Author Thupten Jinpa to Speak at UW
On Wednesday, May 13, The Whole U is partnering with the Dharma Friendship Foundation of Seattle to present The Whole U Speaker Series: Courage & Compassion with Thupten Jinpa, Ph.D.
Jinpa is an author and a former monk who has served as the chief English translator for the Dalai Lama for the past 30 years. Apart from traveling the world with the spiritual leader, Jinpa assists him on major book projects and advises the Office of the Dalai Lama as a scholarly consultant.
Jinpa will come to Kane Hall to talk about his new book, A Fearless Heart: How the Courage to Be Compassionate Can Transform Our Lives, which lays out an eight-week training guide to compassion adapted from Buddhist practices. As you might expect, Jinpa says A Fearless Heart is partly inspired by the time he has spent with the Dalai Lama.
"When His Holiness travels around, he always carries a message of compassion," Jinpa told me. "I have been serving him for a very long time, and I believe there's something very profound in that message."
Jinpa was chosen to serve the Dalai Lama in 1985, when he was a 27-year-old monk studying at a monastic university in southern India. He traveled to the northern city of Dharamsala to visit his sister and decided to attend a series of teachings by the Dalai Lama. The translator couldn't make it on the first day and they were looking for a replacement. Word got around that Jinpa spoke English well, which is rare for a Tibetan monk.
"One thing led to another, and I was plucked up from my seat and asked to interpret," Jinpa said.
The translator arrived the next day, but Jinpa was asked to continue interpreting. On the third day, the Dalai Lama requested to see him.
"His Holiness said, 'I know you. I recognize your face. You're a good student in one of the South Indian monasteries. How come I didn't hear about you? Would you be willing to assist me when I need your help when I'm traveling?'"
Jinpa broke down in tears.
"For a young Tibetan monk who grew up in the refugee community in India, the very idea of being able to serve His Holiness so closely was completely out of the blue," he said.
Jinpa was born in Tibet in 1958, two years into the Tibetan Uprising against China. Like the Dalai Lama and thousands of others, he found refuge in India in 1959, and like many other Tibetan children of his generation, his parents sent him to a boarding school that was taught in basic English.
He left the school after five grades to join a monastery in Dharamsala. It was there that he discovered a valuable resource for further developing his English: hippies.
"There were a lot of hippies around," Jinpa said. "I made friends with them and started having conversational English. I made very good friends with someone named John. He was very kind to me. We met once a week. In fact, he was also the one who introduced me to pancakes."
The monastery eventually relocated to a Tibetan community in South India. There was no one to speak English with, so Jinpa started listening to British and American radio stations every day.
"Then I started reading comic books, and basically built my English on my own," he said.
He slowly branched into Agatha Christie and detective novels, including the Perry Mason mystery series. By the 1980s he was reading Victorian novels, mimicking their proper style of English when he talked to people.
"By 1985, when I had the opportunity to actually speak with real English speakers and to translate for His Holiness, my English was slightly… old," he said, recalling one day in particular when he was at lunch with a group of Western students. Needing to step away from the table, he stood up and announced, "Now I must take my leave."
"Everybody cracked up," Jinpa said. "I said, 'What's wrong? What did I say?'"
At The Whole U Speaker Series event, you will learn about Jinpa's eight-week training guide, which he calls Compassion Cultivation Training (while it is inspired by Buddhist texts, the training has no references to karma or life after death). Jinpa traces the idea for the book back to when he was earning his B.A. in philosophy at Cambridge University in the 1980s. He was struck by the degree to which his Western classmates thought self-interest was a guiding force in human behavior. Even when he put forth the example of Mother Theresa, Jinpa remembers a fellow student saying, "There must be something in it for her. Otherwise, why would she do it?"
Jinpa hopes the new book will broaden this conversation of human behavior.
"Yes, the pursuit of self-interest is a very important drive of human behavior and an explanatory principle for human evolution," Jinpa said. "But equally true is the drive for nurturing, and connection, and cooperation. You can't explain the evolution of human society, of this large-scale community we have built, without taking into account something very fundamental in human nature that allows us to connect with others — total strangers — and have cooperative relationships."
He paused for moment. "In other words, the story of human nature needs to be rethought," he said.
The Whole U Speaker Series: Courage & Compassion with Thupten Jinpa
Kane Hall Room 120
Wednesday, May 13
7 – 9 p.m.
Register now
Besides his service to the Dalai Lama, Jinpa works with a small organization he founded called Institute of Tibetan Classics, which compiles, edits, translates, and publishes a selection of key Tibetan texts. He also serves as the chair of the Mind and Life Institute and supervises Ph.D. students at McGill University in Montreal. As a visiting scholar at Stanford Medical School, he helped establish the Center for Compassion and Altruism Research and Education.