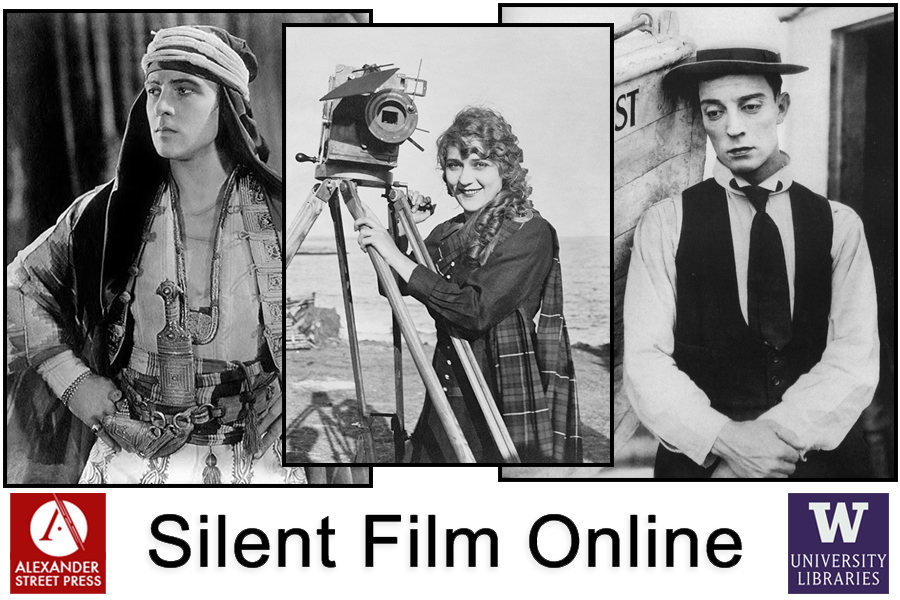 How to Navigate the Silent Film Online Database
It's Netflix for the early 1900s.
In December, UW Libraries purchased access to the Silent Film Online database (if you're off-campus, find it here). This museum of motion pictures houses over 500 short and feature films, from slapstick comedies and action epics to documentaries and newsreel footage.
As anyone with a streaming video service knows, navigating a massive collection of films can be a nightmare. How do you settle on just one when they all look so good? Or so bad?
To help you sort through the Silent Film Online database, I sat down with Jennifer Bean, associate professor of Comparative Literature and director of the Cinema and Media Studies program. Not only has Bean seen hundreds of silent films, she's also been on the restoration side by working with the American Film Preservation Foundation.
"This is wonderfully exciting," Bean said of the database. "These films are difficult to access in good quality."
America's silent film period begins with the first motion pictures in the early 1890s and ends with the introduction of sound in the late 1920s. The earliest films in the database are visual experiments by Thomas Edison and a pair of French inventors known as the Lumière brothers.
"They're 15 seconds long, experimenting with the capture of motion," Bean said.
These look less like art and more like documentation: shots of a bullfight, of Niagara Falls, of someone sneezing. Perhaps the most famous of them is called "Workers Leaving the Lumière Factory" (1895), which gives you an idea of how exciting they are. Still, it's a glimpse into a world you've probably never seen before.
Soon came the invention of the "Latham loop," which made it possible to craft projects that were several minutes long. By the early 1900s filmmakers started to cut to different angles instead of sticking to wide shots. They stitched together multiple locations and cut from one person to another.
"People were innovating rapidly: 'We can move the camera closer, we can move it back,'" Bean said. "You see the capacity of film without spoken language."
It's around this time that some of the first master filmmakers emerged. Want suspense? Search for Edwin S. Porter's "Great Train Robbery" (1903). For early animation, look up the French Surrealist Émile Cohl. For sci-fi, watch "A Trip to the Moon" (1902) by director George Méliès, who was a main character in the 2011 film "Hugo." For historical drama, take a dark and distorted trip through America's past by watching "Birth of a Nation" (1915), the masterful but unapologetically racist magnum opus of D.W. Griffith.
Another way to explore the database is by actor. To see an original Hollywood heartthrob, check out Rudolph Valetino, whose Italian nationality allowed studios to parade him as the "Latin Lover." He dominated the silver screen in the 1920s until his sudden death at age 31.
"He was to the 1920s what James Dean was to the '50s," Bean said.
Another leading man of the day was Douglas Fairbanks.
"Fairbanks was becoming associated with the very concept of America," Bean said. "He's older but he plays the roles of younger men. He is so athletic. He does these incredible stunts, leaping over things. He's known as Mr. Pep."
But physical feats weren't only for the macho men. One of the most athletic movie stars of the silent period — and of all time — was Buster Keaton. His antics in "Steamboat Bill, Jr." (1928) are both amusing and awe-inspiring. If you like Keaton's slapstick comedy, move on to Stan Laurel, Oliver Hardy, Fatty Arbuckle and of course Charlie Chaplin, known best for his character the Tramp. Chaplin's estate has put restrictions on many of his most well-known films, so the database's selection is limited. Bean recommends "Dough and Dynamite" from 1914, which Chaplin also directed.
"It's really something," she said. "There are issues of labor strikes, which were just becoming a cultural phenomenon as a result of all the monopolies and trusts. It's the beginning of labor organization. Chaplin was always investing a little bit of social commentary underlying this comic ballyhoo."
Actresses were just as prominent as their male counterparts during the silent film era. They took on leading roles as action stars in serials and quirky heroines in comedies, often breaking gender stereotypes in the process.
"The movies were associated with what it meant to be modern," Bean said. "That sense of, 'This is a new world, we are leaving behind the Victorian Age.' The movies became a place to play with the new."
Trailblazing comedienne Mabel Normand clowned around alongside the best comedic actors of the day (see her and Chaplin together in "Tillie's Punctured Romance" and "Mabel's Strange Predicament"). Mary Pickford, who married Douglas Faribanks in 1920, was one of the biggest stars of the era. You can watch her in several films by D.W. Griffith, including "Friends" (1912). Sisters Dorothy and Lilian Gish were also familiar faces in Griffith projects. And for a look at the flapper culture of the '20s, Bean recommends a romantic comedy called "It" (1927).
Browse the documentary category for a window into many of the newsworthy moments of the early 1900s. There are scenes of women marching for suffrage and American troops landing in Cuba, of Harry Houdini hanging upside down in front of a crowd and Annie Oakley shooting targets.
If you're still looking for a place to start, here are a few recommendations from Annie Fee, a Comparative Literature graduate student who specializes in cinema of the 1910s and 1920s. She's teaching an upper-division class about the history of silent film this spring quarter.
"The Sheik" (dir. George Melford, 1921). The film that catapulted Rudolph Valentino to fame. "The Sheik" (1921) was based on a scandalous British bestselling novel and part of the orientalist trend in Hollywood, where stories of Cleopatra, romantic moonlit deserts, and turbaned princes reigned in films that reveal the racial anxieties of the day. And if you like this one, you can catch the 1926 sequel "The Son of the Sheik," which features even more action and enrapturing close-ups of this 1920s Hollywood sex symbol.
"The Boxing Cats" (dir. William Heise and William K.L. Dickson, 1894). This 30-second video of a feline boxing match from 1894 is evidence that cat videos weren't invented by the Facebook generation.
"Childish Dreams" (dir. Émile Cohl, 1910). Émile Cohl, inventor of the cartoon or animated drawing, here delivers the spectator into a surreal dream sequence with puppets, snakes, and crocodiles.
"Nosferatu" (dir. F.W. Murnau, 1922). A silent horror based on Bram Stoker's "Dracula," this German expressionist masterpiece features the perfectly-cast stage actor Max Schreck as the merciless Count Orlok who travels on a rat-infested ship to cast his plague upon the unsuspecting people of Wisborg.
"The Lost World" (dir. Harry O. Hoyt, 1925). And you thought the 1993 "Jurassic Park" film was old? This adaptation of Arthur Conan Doyle's novel is the original dinosaur movie. Featuring cutting edge stop-motion animation, this fantasy adventure film is the equivalent of the finest CGI blockbusters of today.
"The Penalty" (dir. Wallace Worsley, 1920). A San Francisco surgeon who accidentally amputates a young boy's legs can never forget his mistake as the latter goes on to become a twisted criminal mastermind with designs on his daughter.
Thanks again to Bean and Annie Fee for helping us navigate the Silent Film Online database!
Alexander Street Press Video also offers databases of Opera, Theater, Black Studies, LGBT Studies, and more. Find them through the UW Libraries website.
Main image: (from left) Rudolph Valentino, Mary Pickford, Buster Keaton.