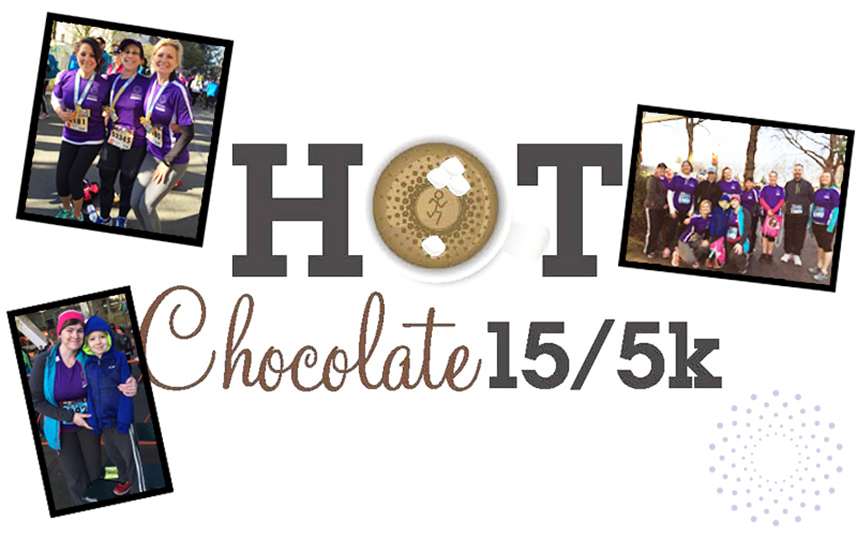 Whole U Team Finishes the 5K and 15K Hot Chocolate Race!
As my alarm goes off at 5:15 a.m., I roll over thinking, "Ahhh, Sunday, my rest day." Just as I am about to drift off again, I realize there would be no sleeping in. This Sunday is race day.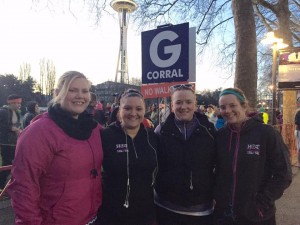 I shoot out of my warm bed, get my breakfast, change into my racing gear nicely laid out from the night before, and head out the door, grabbing a coffee on the way.  It's dark in downtown Seattle, but the streets are filled with people rushing between checking gear, queuing for the bathroom, meeting up with their friends, and getting to their corral on time.
I am an experienced racer and always find race day thrilling. The start line is full of smiling faces and excited runners and walkers taking photos with their friends. Some are there to support a cause, some to encourage a new runner, and some to prove they can accomplish this crazy goal they have been training for.
Seventy-five faculty and staff joined The Whole U team for the Hot Chocolate 15/5K, known as America's Sweetest Race, on March 1. The team showed off our Husky spirit, wearing purple and white racing shirts.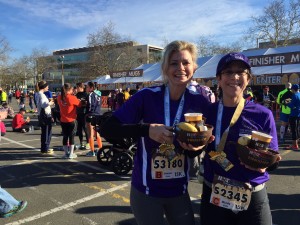 Among the runners was Vice President of Human Resources Mindy Kornberg, who I ran alongside of.  "It is always great to be surrounded by UW friends on a run like this. The sense of camaraderie makes the race so much more enjoyable." We had a relaxed start with a downhill run on Broad Street, but within two miles, the inclines started coming and they did not stop. The hills throughout the 9.3 mile race felt never-ending, but luckily  it was a beautiful day and the views from the top were stunning.
Committing to the training and getting out of my warm bed was totally worth it. I crossed the finished line with Mindy; she smiled and asked when the next race was.  Afterwards, we enjoyed a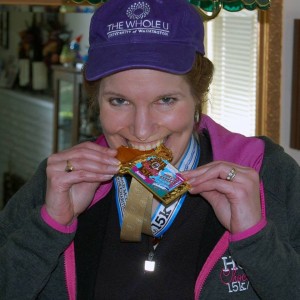 hot chocolate and admired our cool new race medals.
With over 4000 UW faculty and staff participating in our virtual programs, meeting up for races like this offers a time where we can meet in-person.
Our next race is the f5 St. Patrick's Dash on March 15.  This is a super fun race and there is still time to join The Whole U team, which is already 60 team members strong. The Whole U has also partnered with the UW Medicine MS Center to participate as a team for the April 12 Walk MS/Run MS 5K on the Seattle campus. When you register, be sure to join the UW Medicine MS Center team.
If you haven't sign up for our virtual training programs, check them out and let The Whole U help you prepare for a 5K, half marathon, or full marathon. The Whole U also hosts a running and walking group every Wednesday at noon that meets at Drumheller Fountain. Join the private Endurance Facebook group for updates.