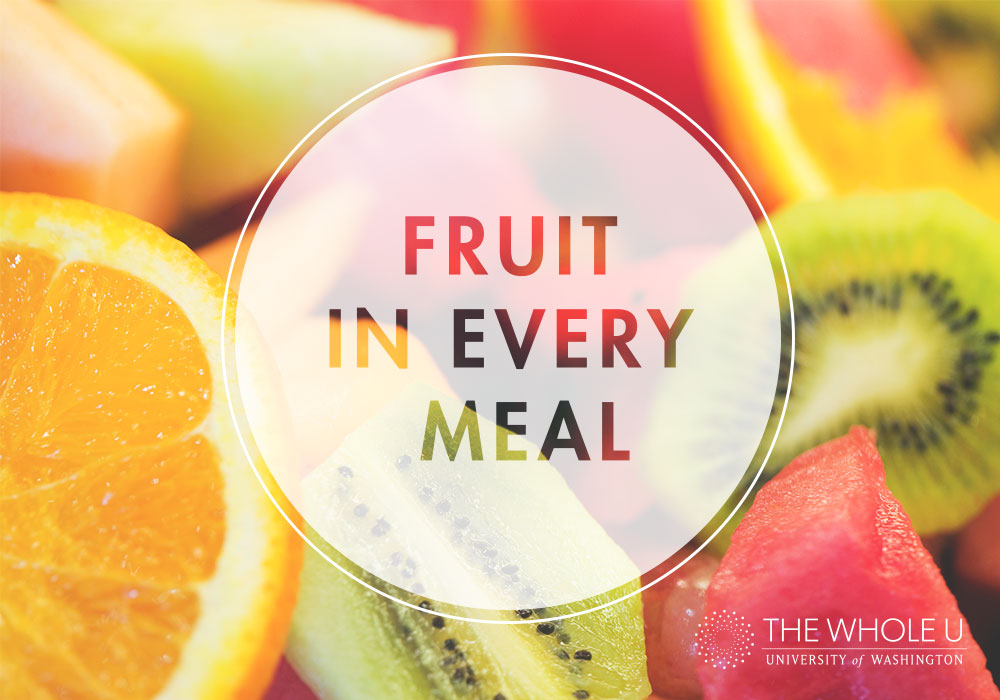 Trying to eat healthier? Stay on track and sweeten your new diet with fruit! Eating fruit every day is quick and simple and can easily be incorporated into every meal.
"Fruits are an important part of the diet as they contain fiber and important vitamins, minerals, phytochemicals, and antioxidants while being usually low in fat and calories," says Charlotte Furman, registered dietician and clinical director of the UW Medical Center's Department of Food and Nutrition.
One of the many perks of fruit is that it's for the most part available year-round in fresh, frozen, or dried form. But if you want to use fruits that are at their peak this season, bag these in the grocery store or at U-Districts' weekly farmers market when you see them:
Dates
Grapefruit
Kiwis
Oranges
Pears
Pomegranates
Tangerines
Here are ways to add fruit to your meal, whatever time of day it may be.
Breakfast
Oatmeal. Sliced bananas and walnuts with a drizzle of honey add great texture, protein, and sweetness. Or try dried fruit like raisins, dates, and cranberries or chopped apricots.
Yogurt. Each morning I dump plain yogurt into a jar, spoon in thawed frozen fruit (I prefer blueberries), sprinkle granola over top, and drizzle with honey. It's an easy breakfast to throw in your bag and eat when you get into the office if you are running late in the morning. (Just put the granola in its own container so it doesn't get soggy).
Smoothie. With a good blender, making smoothies in the morning is a snap. Throw juice (hooray, for even more fruit!), berries, yogurt, quick oats, and ice into the blender. After a couple whirls, you've got an easy and filling breakfast that you can drink on the go!
Pancakes/Waffles. Got extra time in the morning or relaxing during the weekend? If you're in a sweet and savory mood, adding fruits to pancakes or waffles is the way to go. You could always ladle fresh fruit on top, add fruit to the mix itself, or pour frozen fruits in a saucepan to heat (I like to heat blueberries with orange marmalade for a sweet, citrusy flavor). Any way you add it, fruits will brighten up your meal and morning.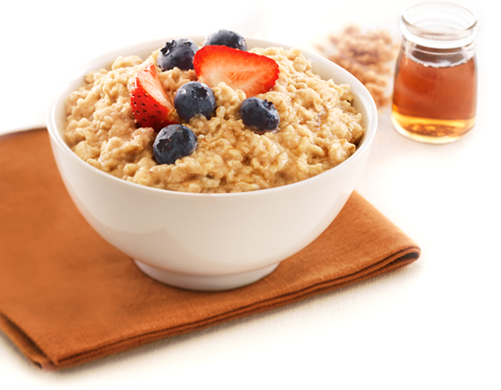 Lunch
Salad. Adding fruit to your salad is a no-brainer. Dr. Charlotte Furman suggests adding fresh fruits like grapes, strawberries, pears, and apples to your greens. Flavor can also come from canned tangerines, fresh segmented oranges, or dried cranberries sprinkled on top.
Sandwiches. Got a humdrum ham and cheese sandwich for lunch? Add sliced apples for crunch and tartness.
Fruit for Fruit's Sake. Looking for an easy way to add fruit to your diet? Simply eat it by itself. Oftentimes, I eat the fruit during lunchtime just because I don't want it to get mushy or bruised later in the day. Anyone else feel guilty for bruising their fruit?
Dinner
Roasted Tomato Side Dish. Oftentimes overlooked as a fruit, tomatoes can easily transform into a savory side dish. Toss cherry tomatoes, leafy herbs, garlic, olive oil, salt, and pepper into a pan and heat over the stovetop! Voila! – fruit for dinner.
Tomato Salad. Skip the leafy greens in this salad version and make a cucumber tomato salad instead!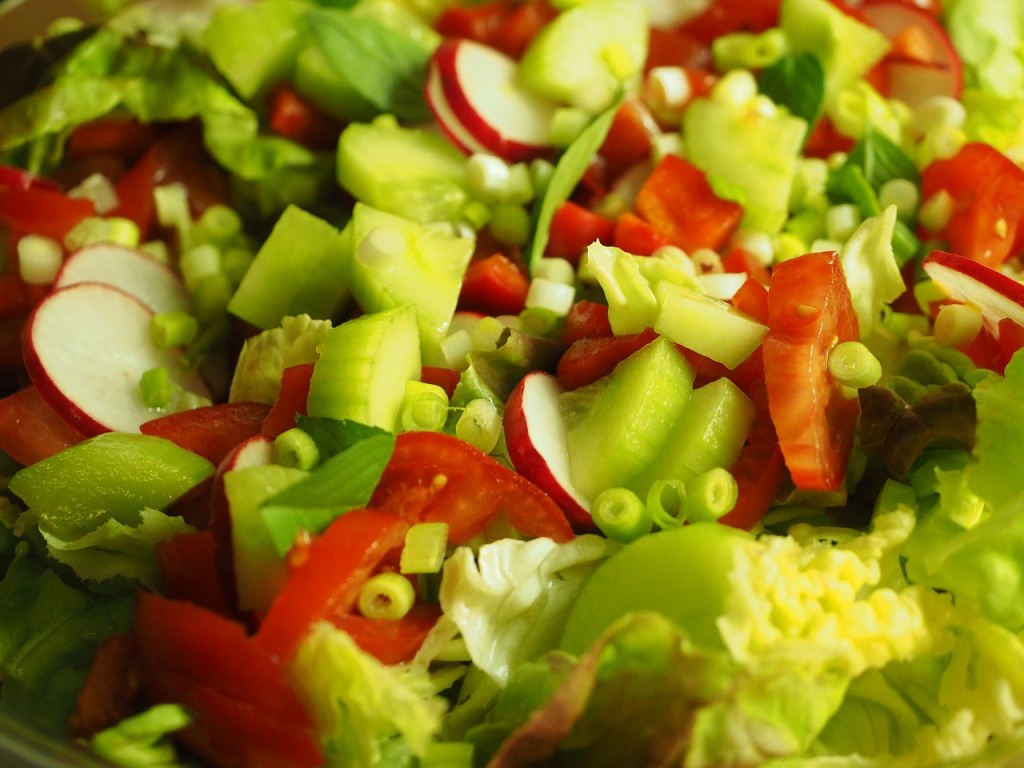 Dessert
Frozen Yogurt. Swap the rich and heavy ice cream with frozen yogurt! Adding fruit on top is equally pleasing for the taste buds and the eyes.
Popsicles. Toss chopped fruit into a Popsicle mold and top it off with coconut water for a refreshing homemade treat.