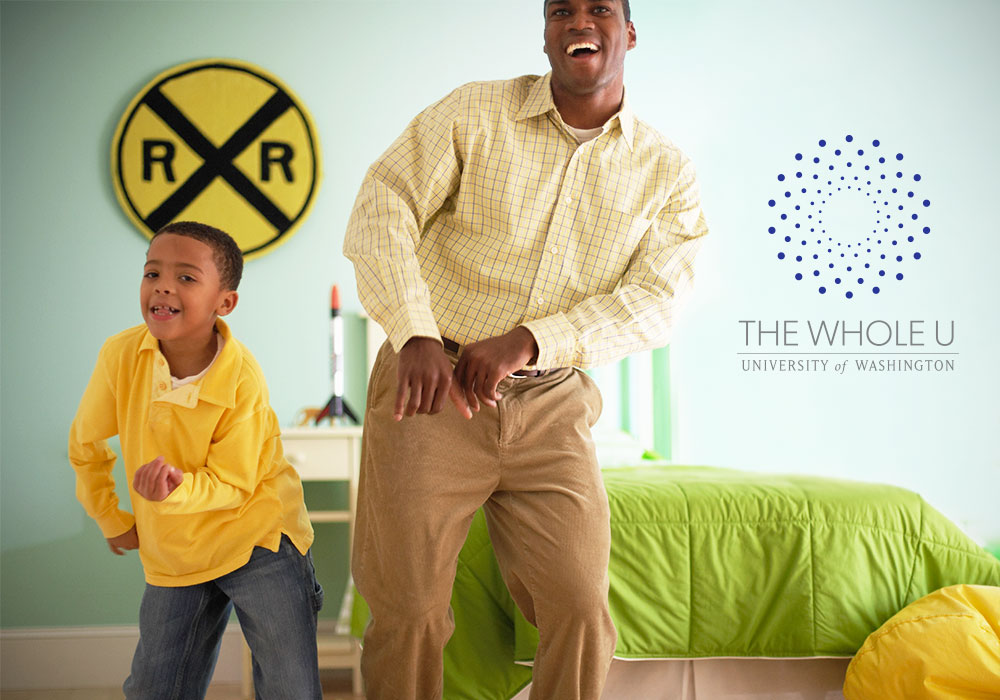 Week Six Dare to Do Challenge – Working out at Home
It's the sixth and final week of the Dare to Do Challenge and we are deep into February. With the rainy, foggy, and windy weather, it can be tough to stick to your favorite outdoor workouts. But that's no excuse to slack on your fitness goals! Here are a few suggestions for fun routines you can do inside — no need to rely on our unpredictable weather.
Jump rope
Bring this old-school recess activity into your own home! Try a combination of these jump rope workouts for a total of 15 minutes to add some cardio to your routine. Jumping rope can burn approximately 10 calories per minute. You can order a jump rope online or pick one up at your local sporting goods store for under $20. Try to pick one made of durable rubber; an adjustable length and handles with foam grips are great bonuses!
Try this workout set 2-3 times:
50 basic jumps: This is your typical, two-foot jump.
50 ski jumps: Keep your feet together and jump side to side (about six to nine inches out on each side), like a skier heading down the slope.
50 jumping jacks: Move your feet out to the side and back in, just like you would in a jumping jack..
50 scissor jumps: Jump over the rope and land with your left foot forward and right foot back (feet will be 8-12 inches apart). Then, jump over the rope again but reverse your feet.
25 double jumps: This one is a little advanced, but it's so rewarding to accomplish! To conquer this one, jump high enough so that the jump rope will pass under your feet twice in one hop. Be sure to swing the rope fast, too!
Hula hoop
Here's another childhood favorite to liven things up — and it does amazing things for your core! Hula hooping can burn approximately seven calories per minute. You can easily purchase a typical hula hoop for under $20 at your local sporting goods store, but try one of the weighted ones designed for adults (under $40) for the best work-out. Forgot how to hula-hoop? Try these simple steps for the most basic movements. Hula hooping can be tricky, so don't get discouraged.
Stand inside the hoop.
Put your right foot forward and hold the hoop against your lower back (try putting your left food forward if your right feels uncomfortable).
Keep your pelvis tucked, shoulders squared, and chest lifted, then bend your knees a bit
Move the hoop in a counterclockwise spin around your waist.
To keep it moving, shift your weight quickly between your front leg and back leg, moving your hips.
Try hula hooping for at least 20 minutes total.
Stairs
Since outdoor staircases can get a little slippery during Seattle's winter months, try getting your steps in at home or at work and burn approximately nine calories per minute. Join the Step On Up challenge and reach Mt Rainier in just 12 weeks. Stairs take very little time and add the intensity you need to gain energy throughout the day.
Dance party
This one sounds silly, but I promise you that it is SUCH a great workout. All you have to do is blast some music and get that body grooving! Try adding some dancing to your cleaning routine, jump around with the kids, or just dance for the fun of it. It's a great source of cardio, and you will burn approximately six calories per minute. Most importantly, you will be in a fantastic mood after you're done! Here are some fun songs to add to your playlist:
"Uptown Funk"- Bruno Mars
"Sexy Back" – Justin Timberlake
"Play That Funky Music (White Boy)" – Wild Cherry
"1, 2 Step" – Ciara ft. Missy Elliot
"Macarena" – Los Del Rio
"Cupid Shuffle" – Cupid
"Hey Ya!" – Outkast
"I Gotta Feeling" – Black Eyed Peas
Abs
Want to strengthen your core? Do some ab workouts during commercial break. The average commercial break in America lasts two to three minutes; in that time you can do four to six 30-second ab workouts. Here are some of favorites that I use in my daily ab routine.
Plank: Get into full push-up position with your palms on the floor directly below your shoulders. Hold this, making sure your arms and legs are fully extended, your abs are contracted, and your spine and head are aligned. Hold for as long as you can three times.
Air Bike: While lying on your back, put your hands slightly on either side of your head. Raise your knees up so that they're creating a right angle toward the floor and your calves are parallel with the ground. Then, paddle your legs as if you're riding a bike in the air, bringing your right elbow to your left knee as you bring it in and your left elbow to your right knee. Perform air bike for 30 seconds, take a 30-second rest, and then repeat two more times.
Regular Crunch: Lie on your back with you knees bent. Place your hands beside your ears keeping your elbows as wide as you can. Gently lift your should blades off of the floor, hold for one second, and then gently come back down. Perform as many crunches as you can three times.
Want to expand your indoor workouts at the gym instead? Check out our Discount Fitness Network for some great deals on memberships and classes! By popular request, we just added NW Fitness, located in Seattle and Tacoma. And, of course, the UW IMA is always a great choice! No matter what gym or studio you choose, be sure to take advantage of their classes — such as kick-boxing, barre, or spin — to mix up your traditional routine. The Whole U is offering a free barre3 class at the HUB on Monday, February 23 at 5:00 p.m. Register now.
Thanks to everyone who participated in the Dare to Do Challenge! We'll have an article detailing our collective results in the next couple of weeks.