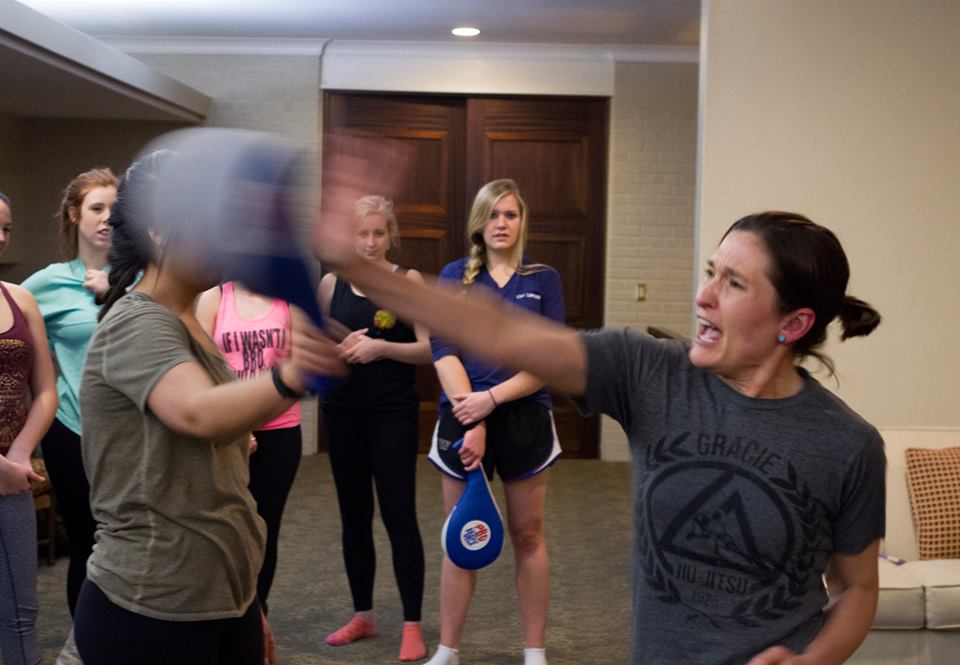 Changing Your Sense of Self: An Interview with Campus Self-Defense Instructors
Although no campus crime alert goes down easily, several recent and particularly chilling notices left me and colleagues more on edge than usual. At a time of year when few of us can avoid solo walks in the dark, self-defense is often on our minds…but rarely on our agendas. The good news: self-defense education is affordable and accessible not only to students, but also to faculty and staff. In chatting with Jennifer McClearen and Annie Beyer, instructors in the Self-Defense for Women course at the IMA, I'm excited to realize that self-defense training might do more than help me defend myself…it might just improve my entire sense of self. Read on to learn more from Jennifer and Annie about the all-inclusive self defense movement on campus, and how you can plug in.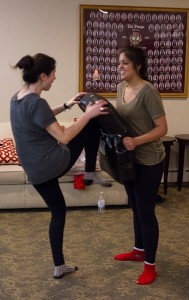 Jennifer, what got you interested in Self Defense?
I started training in martial arts in 2006 and quickly began noticing that I walked around in the world with an underestimated sense of physical confidence. Sure, training martial arts has increased that, but I also became more aware of the types of violence I should be concerned with and that even untrained women can fight back. This was a life-changing revelation for me that I wanted to share with others. I'm now a black belt in karate and train two other types of martial arts. I've been teaching women's self-defense since 2009.
How about you, Annie?
What inspired me to become seriously dedicated to martial arts was when people I care about experienced violence in their lives. I realized that if I were ever in that kind of situation, I would want to know that I was capable of defending myself as well as the people I love. Ultimately, it has become a passion of mine to learn how to protect others and myself from violence as well as empower people to do the same.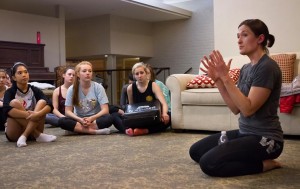 Jennifer, have you ever had to use self defense in a real-life situation?
Students often ask that same question. My answer is "every day." I walk taller. I make eye contact. I am more aware. I am not afraid. Prior to learning self-defense, I was a different woman in the world. I was afraid of violence. Now I know my body is my own and that it is my right to protect it. This confidence translates into my daily life so yes, I use the lessons of self-defense every day.
Jennifer, is there anything unique about the way you lead the Self-Defense for Women class?
I focus on increasing awareness and options, but I don't prescribe a list of dos and don'ts that women should follow to be safe like some other classes do. The reality is that we could spend a lifetime training and never cover all scenarios that are possible. Women often come to me with "I heard you should never…" and "I thought you shouldn't…" I don't believe in teaching absolutes. Rather, I describe scenarios and ask women to think of what options are available to them. I give suggestions, but mostly I encourage them to listen to and trust their instinct and engage with fight or flight sensations when they feel them. I don't teach complex techniques, I teach very basic ones that are easy to remember when needed.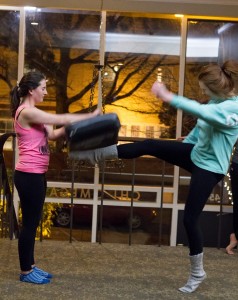 Annie, how do you think this class fits with the broader non-violence movement on the UW campuses and nationally?
This class teaches women that they have the ability to protect themselves against violence and also that it is their absolute right as a human being to do so. It is in full agreement and support of the non-violence movement happening on UW's campus and around the nation.
Jennifer and Annie hope to see YOU (well, those of you who identify as female) at their winter quarter Self Defense for Women workshop on Saturday, February 21 from 1-5 p.m. at the IMA. All students, faculty, and staff are welcome to register right here.

UW Self Defense Classes
There are several opportunities to study self-defense on campus each quarter. Find the right class for you!
*This is class is limited to those who identify as female. All other classes listed are inclusive of all genders.