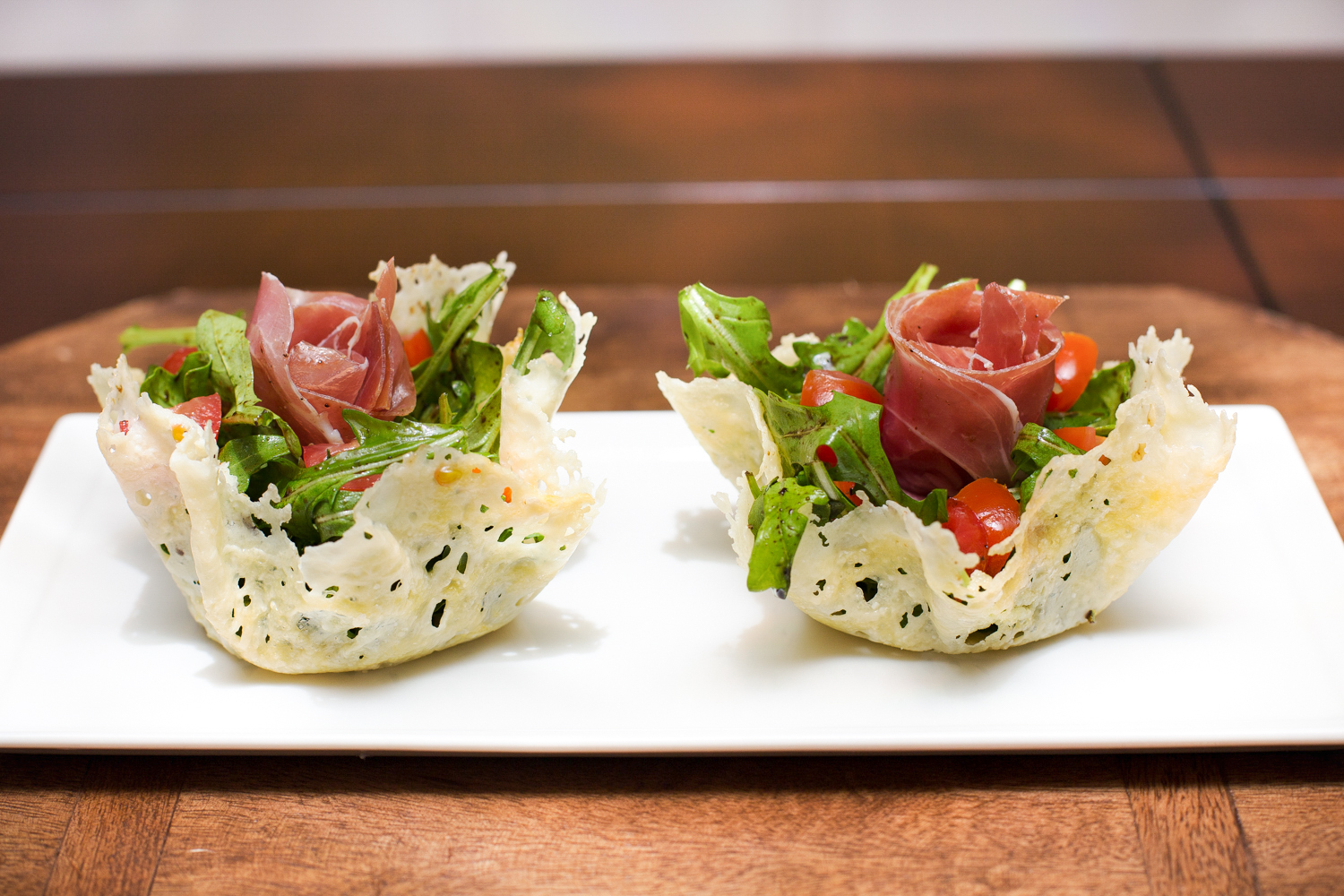 3 Impressive Meals That Are Deceptively Easy
I can't remember the last time I celebrated Valentine's Day outside of my dining room. An expensive dinner in an extremely crowded restaurant is just not the image that comes to my mind when I think of the ideal romantic date. What's the perfect Valentine's Day date for me? A nice dinner cooked with love at home, with dishes that look beautiful but are easy to make. After all, I don't want to spend all day cooking and then be too tired to enjoy dinner! Sometimes I like to surprise my husband with a home-cooked meal, but other times I like to prepare dinner with him and make the time spent together in the kitchen part of our date.
I was inspired by Valentine's Day, but these meals are great for any time you feel like celebrating. Whether you decide to surprise your special someone or make the dinner prep part of your date, you'll have a delicious, romantic dinner without the high price tag and big crowds. I've put together three menus based on meat, seafood, and vegetarian options.
As an Italian native, I'm sharing only Italian recipes (it turns out I'm a much better cook when I stick to my roots!). Most of these recipes have been in the family for years. I hope you enjoy them as much as my family and I do. And if you like cooking, be sure to sign up for the March Culinary Countdown to get recipes sent directly to you all month.
Meat Menu
Appetizer
Parmigiano Reggiano Baskets with arugula, cherry tomatoes, and prosciutto salad
I chose these Parmigiano Reggiano baskets because they are so fancy-looking but take only a few minutes to make. Do not use the pre-grated green-cylinder cheese. It's really worth it to buy a block and grate it as you need it.
Serves 2 people
6 tablespoons of freshly grated Parmigiano Reggiano cheese
2 cups arugula
¼ cup cherry tomatoes, quartered
1 ½ tablespoons extra-virgin olive oil
1 tablespoon balsamic vinegar
Salt and pepper to taste
2 slices of prosciutto
1 sheet of parchment paper cut out approximately into a 7-inch circle
1 drinking glass
Place parchment paper over 10-inch skillet and heat skillet over medium-high heat.
Sprinkle 3 tablespoons of cheese into a circle on the parchment paper.
Once cheese is completely melted, carefully remove the parchment paper from skillet and transfer over an upside-down glass with cheese-side down. Let it cool for a few seconds and carefully remove the parchment paper.
Allow cheese to cool completely and carefully transfer to a plate.
Repeat to make a second basket.
Pour olive oil and vinegar in a small bowl. Add salt and pepper to taste and mix well with a fork.
Pour vinaigrette over the arugula, add tomatoes, and toss well.
Take a slice of prosciutto and loosely roll it up. Flare the edges as you go to achieve the flower shape. Repeat with second prosciutto slice.
Carefully arrange the arugula salad inside Parmigiano Reggiano baskets and place the prosciutto rose on top.
Main Course
Lemon and Caper Chicken (Pollo al Limone e Capperi)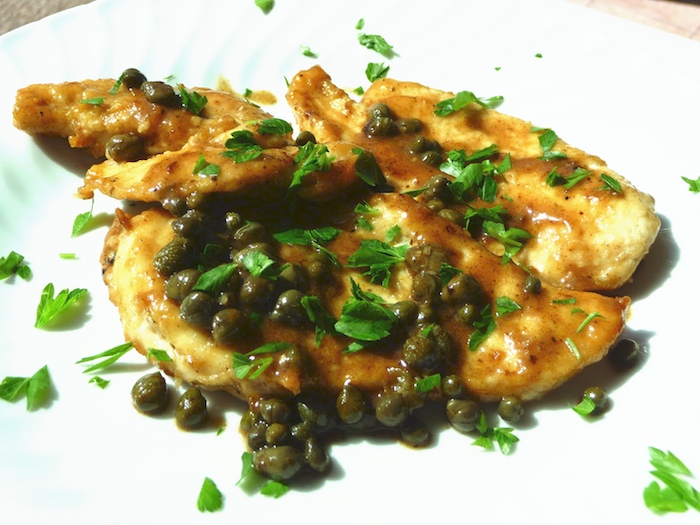 This is one of my favorite chicken dishes and it gets rave reviews whenever I cook it for my family and friends.
Serves 2 people
4 thin chicken cutlets
Flour
Salt and pepper
1 tablespoon olive oil
2 tablespoon butter
½ cup of white wine
1 cup chicken broth
Juice of 1 lemon
3 tablespoons capers
Chopped parsley
Season flour with salt and pepper. Dust each side of the chicken cutlets with it.
Heat the olive oil and the butter in a large frying pan. Fry the cutlets on each side over moderately high heat until golden. Remove them from the pan and wrap them with foil to keep them warm.
Pour the wine in the pan and cook over high heat until reduced by half. Add the broth and cook until reduced and thickened (about 5 minutes).
Stir in the lemon juice and capers and cook for about a minute.
Dessert
Strawberry Tiramisu (Tiramisu alle fragole)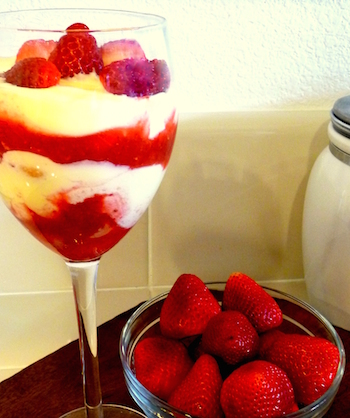 This is a twist on the traditional tiramisu recipe. You can either make the tiramisu in a baking dish and portion it later or assemble it directly in large goblets to make beautiful individual portions.
Serves 6 people
3 egg yolks
2 egg whites
10.5 ounces mascarpone
3 tablespoons sugar
7 oz. Italian ladyfingers
Strawberries
Make sure the eggs are very fresh. Beat the egg yolks with the sugar until creamy.
Add the mascarpone and beat until the mixture is smooth.
Whisk the 2 egg whites until foamy and add them gently to the mascarpone mixture.
Puree the strawberries in a food processor (if you like, you can add sugar to taste.) Divide the mixture into 2 parts. Process 1 part with 4 tablespoons of water, in order to obtain an adequate consistency for the soaking of the ladyfingers.
Dip each ladyfinger into the strawberry sauce diluted with water. Place each soaked ladyfinger in a 10-inch square baking dish until the bottom of the dish is covered.
Spread half of the thicker strawberry sauce over the ladyfingers. Spread half of the mascarpone mixture over the strawberry sauce. Add another layer of soaked ladyfingers and top with the remaining half of the mascarpone cream and the remaining half of the strawberry sauce.
Seafood Menu
Appetizer
Argula Salad with Smoked Salmon and Strawberries (Insalata di Rucola, Salmone Affumicato e fragole)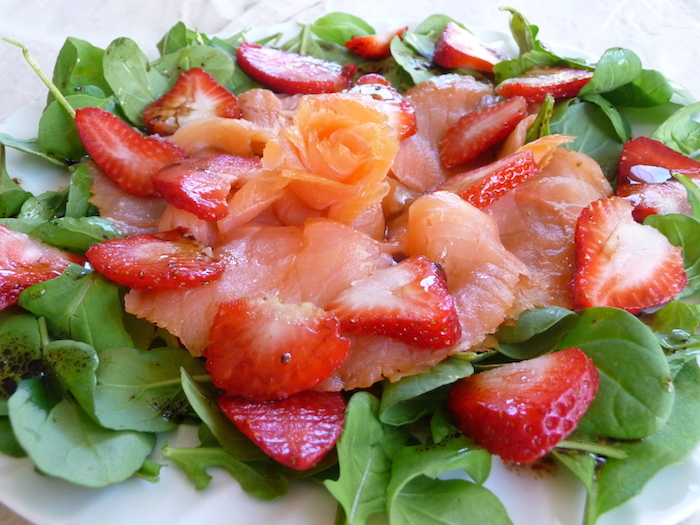 My family and I have been enjoying this salad for years at a local restaurant in my hometown. This is a brilliant dish that you can make in less than 5 minutes. Pineapple and kiwi are great substitutes for the strawberries as well.
Serves 2 people
5 ounces smoked salmon
2 cups arugula
1 cup strawberries, sliced
1 ½ tablespoons extra virgin olive oil
1 tablespoon balsamic vinegar
Salt and pepper to taste
Place the arugula on a serving plate.
Pour olive oil and vinegar in a small bowl. Add salt and pepper to taste and mix well with a fork or a whisk.
Pour 2/3 vinaigrette over the arugula. Toss well.
Place salmon slices and scatter the strawberries over the arugula.
Sprinkle the remaining vinaigrette over the salad.
Main course
Spaghetti with Clams (Spaghetti con le Vongole)

You might have tried this dish before at one of the Italian restaurants in town. Seems pretty complicated to make, right? Not at all. You just need to make sure to purge the clams from the sand in cold salty water for a few hours (better if overnight) before you can cook them. Simply place clams in a large bowl in a solution of 1/3 cup salt to 1 gallon cold tap water. Make sure the water covers the shellfish and cover with kitchen towel. Drain the clams after 1 hour and rinse. Repeat 2 or 3 times, changing the water each time. 
Serves 2 people
8 ounces spaghetti
¼ cup extra-virgin olive oil
1 garlic clove, minced
1 ½ pound clams, purged in salty water for at least 2 hours
½ cup dry white wine
Salt and freshly ground black pepper
1 big handful fresh parsley, finely chopped
Bring a large pot of salted water to a boil.
Meanwhile, heat the olive oil over a medium-high flame in a deep sauté pan and add the garlic. Add the clams, wine, and pepper to taste and cook until all the clams are open, about 10 minutes. Discard any clams that remain closed.
Once the water is boiling, add pasta and cook until al dente. Loosely drain, reserving ½ cup of water.
Add pasta to the pan and toss well. If the pasta should seem too dry, add some of the reserved cooking water and cook, tossing for about a minute.
Sprinkle with parsley and serve immediately. 
Dessert
Panna Cotta with Fresh Berries Sauce (Panna Cotta ai Frutti di Bosco)

Panna Cotta literally means "cooked cream." It is so easy to make that you will probably never order it again at a restaurant! It is just as delicious served with a chocolate or caramel sauce instead of berries.
Serves 4 people
2 cups heavy whipping cream
¼ cup sugar
1 teaspoon vanilla extract
1 packet powered gelatin
¼ cup cold milk
FOR THE SAUCE
2 cups mixed berries
1 tablespoon sugar
Pour milk in a medium-sized bowl and stir in gelatin powder. Let sit for 5 minutes.
Heat the heavy cream and sugar in a saucepan. When the sugar is completely dissolved, stir in the vanilla extract and remove from heat.
Pour warm mixture over the gelatin and stir until completed dissolved.
Divide the Panna Cotta into 4 custard cups and cool them at room temperature.
Once cool, cover with plastic wrap and refrigerate for at least 4 hours.
In the meantime, place 3/4 of the mixed berries and 1 tablespoon sugar in a pan and cook for 10 minutes. If sauce is too thick, add a couple tablespoons of water. Transfer to a bowl and chill.
Serve Panna Cotta cups with sauce and the remaining fresh berries.
Vegetarian Menu
Appetizer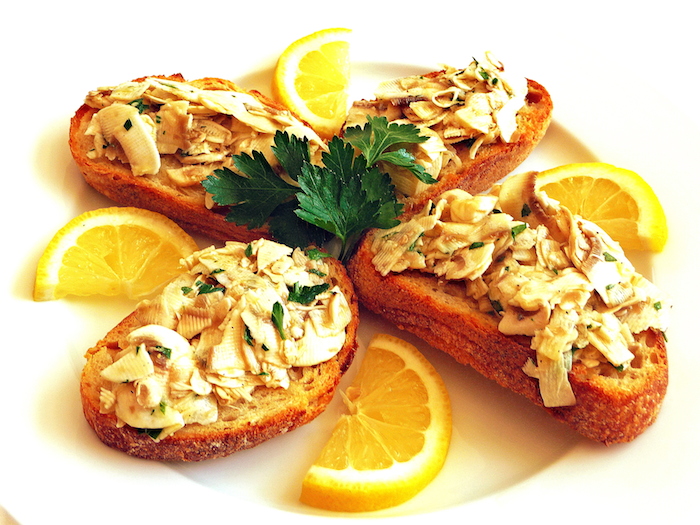 Bruschette with Mushroom Carpaccio (Bruschette al Carpaccio di Funghi)
This is one of my dad's recipes. They are a nice twist to the typical tomato bruschetta and look beautiful when served with a few lemon slices.
Serves 2 people
2 slices of bread, cut in half
2 cups of white mushrooms
½ lemon
1 garlic clove
1 big handful fresh parsley, finely chopped
Extra-virgin olive oil
Slice mushrooms lengthwise as thinly as possible with slicer. Place in a small bowl and drizzle with the juice of a lemon. Add extra virgin olive oil, parsley, salt and pepper. Let sit for 30 minutes.
Turn on the oven to 450°F to preheat. Once the oven has reached 450°, toast the bread until crisp.
Rub the garlic clove over the top of each bread slice. Place mushrooms on each bruschetta. Serve immediately.
Main Course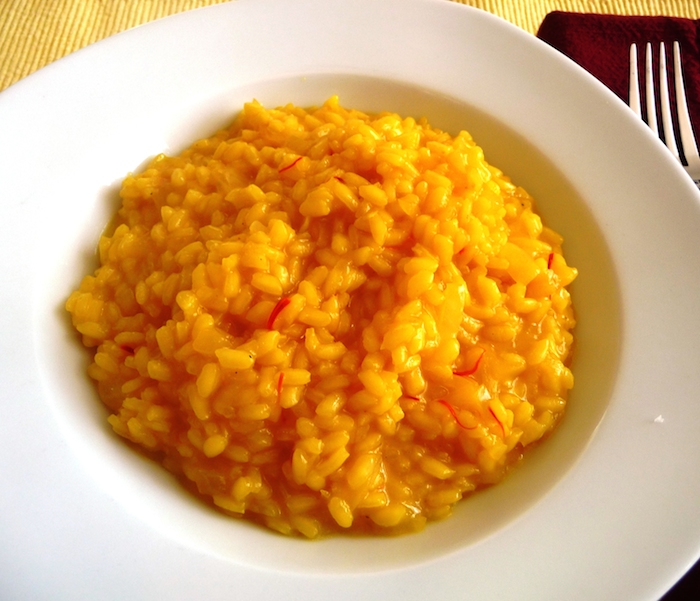 Saffron Risotto (Risotto allo Zafferano)
Risotto can be intimidating but it really doesn't need to be. Just follow the tips below and you'll be able to make this delightful dish from Northern Italy in under 25 minutes.
Serves 2 people
3 tablespoons unsalted butter
½ medium onion, chopped finely
1 pinch saffron threads
5 cups vegetable broth
1 cup Arborio rice
½ cup dry white wine
¼ cup freshly grated Parmigiano cheese, plus more for serving
Heat the broth in a small saucepan. Reserve one cup of broth, add the saffron and let it soak.
Melt 2 tablespoons of butter in a large saucepan over medium heat and add the onion. Cook until softened but not browned.
Add the rice and stir with a wooden spoon for a couple minutes.
Add the wine and stir until all liquid has been absorbed. Add the broth, starting with the one with the soaked saffron, one ladleful at a time and stir from time to time, waiting until all the liquid is absorbed before adding more broth. Cook until the rice is tender but still al dente. (You may not need to use all the broth.) The risotto should be thick, not too dry or too soupy.
Remove pan from heat and stir in the remaining tablespoon of butter and the Parmigiano. Mix well.
Let rice rest for a couple minutes and serve over warmed plates with additional Parmigiano.
Dessert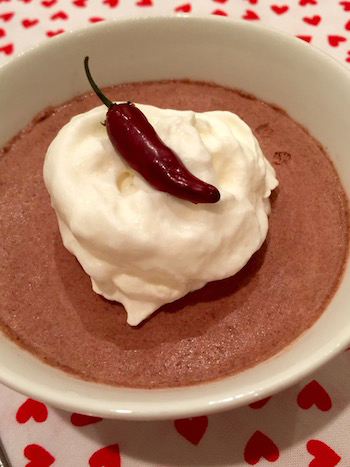 Spicy Dark Chocolate Mousse (Mousse di Cioccolato Fondente al Peperoncino)
What better occasion than Valentine's Day to spice up your dinner with this unusual dessert? Chocolate and hot pepper might sounds like an odd combination but it is actually a very ancient tradition that goes back to the Aztecs and Mayans.
Serves 2 people
3 ounces dark chocolate, coarsely chopped
2/3 cup heavy whipping cream, chilled
Ground red pepper to taste
Sweetened whipped cream for garnish, optional
Shaved chocolate for garnish, optional
Place chocolate in a microwave-safe bowl and run the microwave for about 2 minutes, in 30 seconds increments, stirring in between. Finish heating when most of the chocolate is melted. Stir the chocolate continuously until it is smooth, glossy, and completely melted.
Beat the whipped cream in a chilled bowl until it forms soft peaks.
Add the slightly cooled chocolate and a couple dashes of hot pepper to the whipped cream and mix gently. Pour the mousse in goblets, cover, and refrigerate for approximately 2 hour or until set.
Top with more whipped cream and shaved chocolate, if desired.
Are you going to try any of these meals yourself? Please let me know what you think, or comment below with questions!