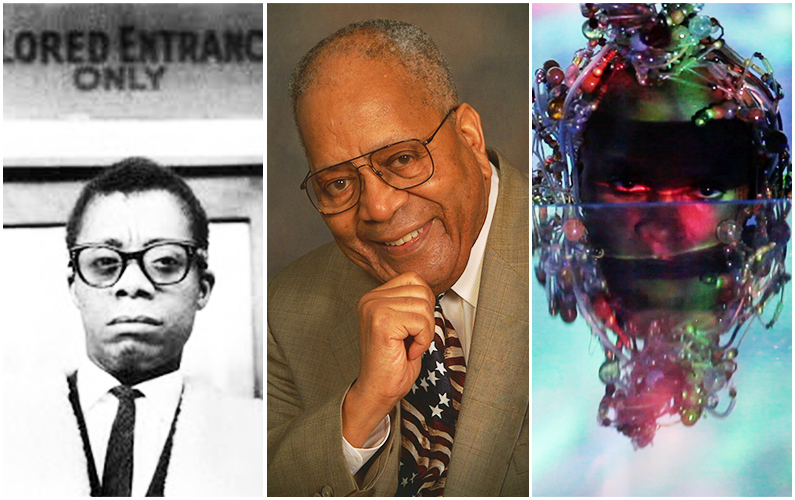 Celebrate Black History Month
As part of the United States Bicentennial in 1976, the federal government officially recognized February as Black History Month. President Gerald Ford urged Americans to use the time as an "opportunity to honor the too-often neglected accomplishments of black Americans in every area of endeavor throughout our history." We've compiled a list of relevant UW events on all three campuses. Not all of these events are specific to African American history month, but they honor the spirit of the month.
UW SEATTLE
As part of its Social Justice Movie Night series, the Ethnic Cultural Center is screening "Take This Hammer," a documentary about the renowned African American writer and activist James Baldwin. The film shows Baldwin meeting with black members of the San Francisco community in 1963. Baldwin would go on to help organize the March on Washington that year, as well as march from Selma to Montgomery in 1965. The screening will be Wednesday, February 11 from 6:00 to 7:30 p.m. More info here.
The Black Student Union is hosting several events that staff and faculty are welcome to attend. There will be a General Meeting on Black Love from 6-8 p.m. in the Black Room of the Ethnic Cultural Center on February 11. The ECC will also host Black Panther Breakfasts from 9 a.m. to 12 p.m. on 2/12 and 2/26. Finally, stop by the front of the HUB on 2/17 for the "Meet a Black Person" booth. More info on their Facebook page.
For an African-American history lesson, go here to learn about Samuel E. Kelly. And any time you want to learn more about African American history in the Pacific Northwest, visit UW's Seattle Civil Rights & Labor History Project. It provides a sweeping review of civil rights in the Seattle area. Read more here.
The Jacob Lawrence Gallery, named after the trailblazing African American painter, has decided to dedicate every February to "artists and ideas relating to the African diaspora in honor of the gallery's namesake and Black History Month." This month's exhibit, called HOWDOYOUSAYYAMINAFRICAN?, features work by writers, painters, filmmakers, musicians, and academics. It runs from Wednesday, February 4 to Saturday, February 28. More info here.
The 10th Annual Allen L. Edwards Psychology Lectures is called The Psychological Science of Inequity and Inequality. Faculty from the Department of Psychology will be joined by faculty from UCLA and Duke to discuss their research on issues such as discrimination, law enforcement, and inequality in healthcare. The free lectures include Implicit Bias: How Should Psychological Science Inform the Law? on February 18 and Orphaned and At-Risk: Responding Globally to the Needs of Children on February 25.
The Black Faculty and Staff Association seeks to foster a greater sense of community and mutual support among UW's African American faculty and staff. Learn more here.
UW BOTHELL
On Thursday, February 5, UW Bothell is welcoming author and activist Kevin Powell for a "campus-wide dialogue and interactive conversation around diversity, leadership, and pressing issues that face our community." The free town hall event will take place in Mobius Hall. More info here.
A Black History Movie Night will take place at North Creek Events Center from 3:30 to 5:00 p.m. on Wednesday, February 18.
On Monday, February 23, Associate Professor Wayne Au will present his current research on Serving All Children?: Inclusion, Exclusion, & Education Reform in Library Room LB1. The talk will consider the equity of market-based educational reforms within the context of education reform as a civil rights issue. More info here.
UW TACOMA
"Love & Solidarity," a film about nonviolence and labor rights, will screen on Wednesday, February 11 at 12:30 p.m. in William W. Philip Hall. It's a collaboration by Professor Michael Honey and cinematographer Errol Webber.
UW Tacoma is hosting a 2015 Diversity Summit: Oppression kNOw More from 12:30 to 5:30 p.m. on Friday, February 20 at William Philip Hall. The event is free to those of you who work on that campus. Students will also be welcomed. They keynote speaker will be Yoshiko Harden, Vice President for Diversity at Bellevue College. Register here.
There will also be a Faculty Development Workshop about Diversity as Pedagogy and/or Stereotypes and Microaggressions on Wednesday, February 18 from 12:30 to 1:30 p.m. Register here.
Do you know of other events during Black History Month? Please share in the comments.
Pictured in the featured image: James Baldwin, Samuel E. Kelly, HOWDOYOUSAYYAMINAFRICAN?