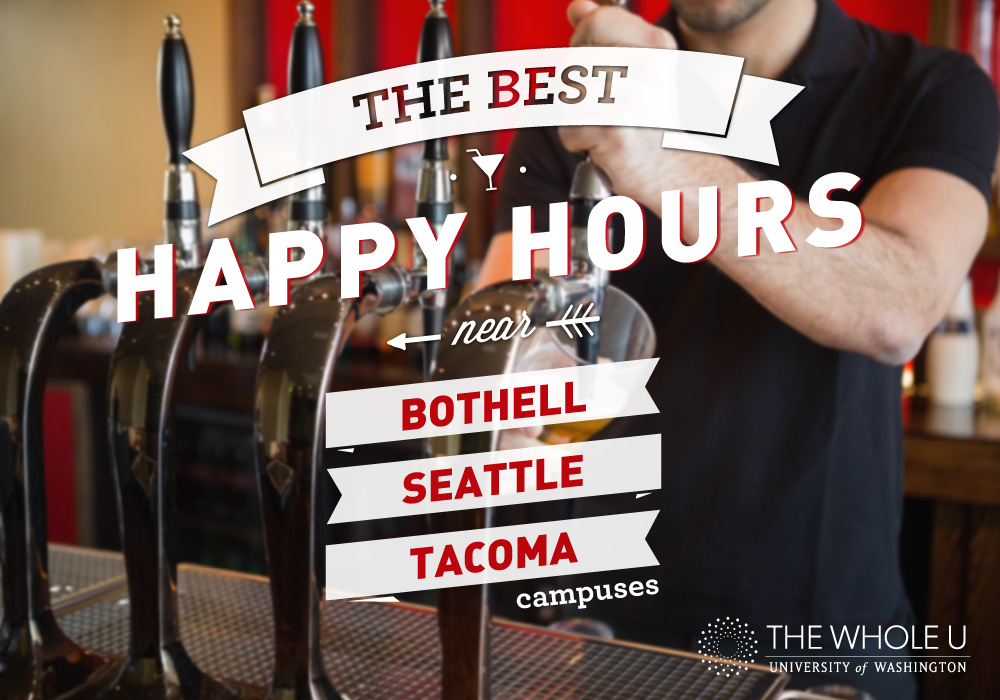 It's 5 O-Clock Somewhere: The Best Happy Hours Near Your Campus
If you say you don't love happy hour, you're lying. Everyone loves happy hour. Luckily, all three UW campuses are close to some amazing ones. I've compiled a list of the best options based on price, menu variety, taste, and restaurant atmosphere. So grab a colleague, some friends, or your significant other and celebrate your accomplishments of the day.
SEATTLE
Just a Little Hoppy Hour
Eureka: 2614 Northeast 46th Street (University Village)
From 2 to 6 p.m. or 9 p.m. to close, stop by to taste one of their 18 craft beers for $3-5 a pint and reduced price bar food, including truffle fries, corn dogs, and riblets. They have huge tables for big parties, or you can always snag a seat at the bar to catch a game! Every so often, they feature live music as well. This one is on our discount network with a 10% discount.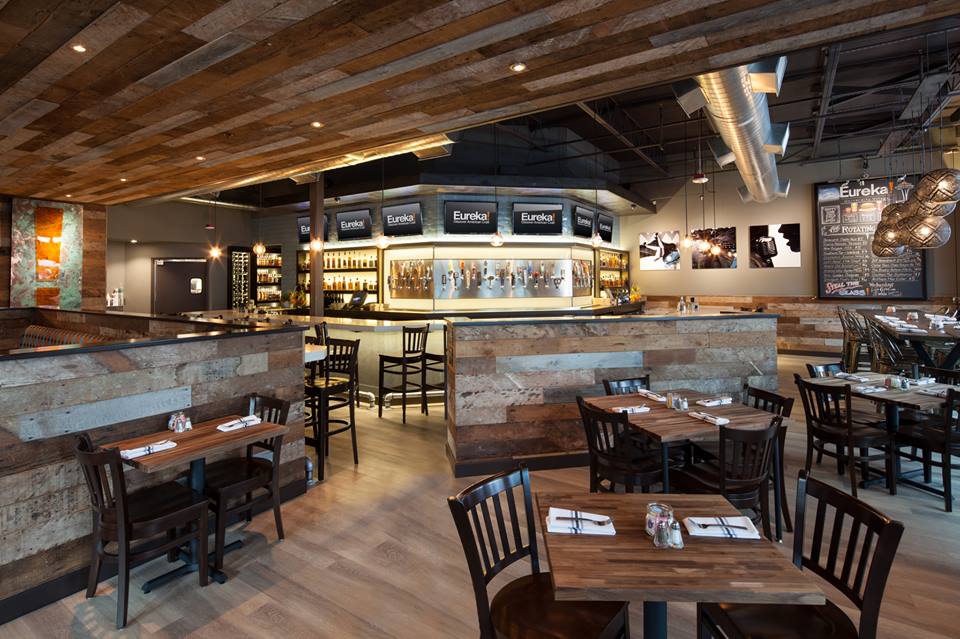 Extra Happy Sundays & Mondays
Mamma Melina: 5101 25th Avenue Northeast
This place has happy hours galore! Grab a seat in the bar Tuesday to Thursday from 3 to 7 p.m., Friday and Saturday from 3 to 6 p.m., or every night from 9 to 11 p.m. And get this: all day happy hour on Sunday and Monday. My picks: Rigatoni al sugo di carne, Margherita Pizza, Calamari fritti, and the Absolut Vodka Sicilian Blood Orange Martini.
Not Your Local Flower Shop
Flower's: 4247 University Way Northeast
This is a perfect place for vegans and vegetarians, and just an overall cozy spot for anyone! Head to this Ave favorite between 4 to 6 p.m. daily for $3.50 well drinks and draft beers. They also have awesome all-day specials including $4 hot toddies, hot cider, and margaritas and $5 mojitos and Irish coffee.
A Waterfront View
Agua Verde: 1303 Northeast Boat Street
You can get some tasty Mexican cuisine from 4 to 6 p.m. including $3.75 nachos, $1.75 chips, $3 beer, and $4.75 margaritas. They also have an extraordinary salsa bar. If you're feeling extra motivated to work off all that food on a sunny day, stop by the Paddle Club to kayak or paddle board!
Your New Favorite Burger
Jak's Grill: 3701 Northeast 45th Street
They've got $1 off draft beers, $5-7 cocktails, $5 house wine, and $5 well drinks if you're all about the discounted drink menu. My friend who was a waitress there says that the $6 half-pound burger and $8 NY & filet mignon teriyaki tidbits are to die for! Just be sure to pop in from 5 to 6 p.m. Monday through Thursday or from 4:30 to 5:30 p.m. Friday through Sunday for these deals.
3x the Locations, 3x the Fun
Neighborhood Grills: Eastlake, Green Lake, and Lake Forest
Between the hours of 3 to 6 p.m. and 9 p.m. to close, these three joints have quite the happy hour menu. Try their $6 cocktails, $4.50 premium well drinks, and $4.50 red and white house wines. Appetizers, entrees, and desserts range from $3.50 to $8. I love the chicken burger or cheeseburger; they are so filling that I can't even make it to the bottomless fries! Added bonus: extremely fun atmosphere at any of the three.
The One with the Margaritas
Rosita's Mexican Grill: 7210 Woodlawn Avenue Northeast
Discounted entrees run from about $3-5, which is a steal because you can get everything from fish tacos to tostada salads! You also have to try their homemade tortillas with fresh salsa — they make them right in front of you and they are oh-so-good. If it's nice out, be sure to stop by Green Lake, one of my favorite places ever.
TACOMA
Beer Connoisseurs Unite
Harmon Brewing Co & Restaurant: 1938 Pacific Avenue
With their food menu starting at $4, Harmon beer & house wine for $3, and well drinks for $4, this one is a must-try. Their happy hour runs seven days a week: it's from 3 p.m. to close,on Mondays and 3 to 6 p.m. on Tuesday to Sunday. I would have to say that the Brat on a Bun is my absolute favorite food item here, but the Rainier Nachos are ranked the best in Tacoma! Beer lovers: you must try one of their stellar brews.
Splurging… at a Discount
El Gaucho: 2119 Pacific Avenue
This one is a little more expensive than the rest, but definitely worth the price if you are looking for something extra special or a bit more upscale. Sip on $6-7 cocktails, $4 draft beers, or $6-10 wine to celebrate that long day. You can also dine on fancy bites for $9 (think oyster shooters or bacon mussels) or $12 (think steamed clams or tuna tartare). Varied happy hours: 4 p.m. to close on Sunday to Thursday, 4 to 6 p.m. and 9 p.m. to close on Friday, and 9 p.m. to close on Saturday.
If you're Picky, They Have a Large Variety
Meconi's Tacoma Pub & Eatery: 709 Pacific Avenue
Meconi's is located on one of the oldest streets in Tacoma in the oldest standing building, and they've got some great specials for you. Stop in between 3 to 6 p.m. for their great drink specials. If you're hungry, you can choose from their list of 14 delicious "happytizers," which you can enjoy from 3 to 6 p.m. or 10 p.m. to close on the weekdays. Plus, be sure to check out their daily specials — they have a ton!
A Tacoma Gem
Pacific Grill: 1502 Pacific Avenue
Gordon Naccarato, the spectacular chef and owner of Pacific Grill, is a past winner of Food & Wine's coveted Top Ten Best New American Chefs. They have $6 wine, $5.25 well drinks, $4 draft beers, $5 Guinness & seasonal beers, and a whopping 50% off bar food! Varied hours: 11:30 a.m. to 10 p.m. Monday to Thursday, 11:30 a.m. to 11 p.m. on Friday, 5 p.m. to 11 p.m. on Saturday, and 5 p.m. to 10 p.m. on Sunday.
If You Want to Get Saucy
The Forum: 815 Pacific Avenue
Relax after work any day from 2 to 6 p.m. or late night Sunday through Thursday from 9 p.m. to close at The Forum, located in the historic Olympus Hotel. With $3.50 well drinks, house wines, and draft beer, $5 Mai Tai, $2.75 Rainer bottles & PBR drafts, and food specials from $4.99 to $6.99, you're bound to find something you'll love! The best feature of this place? They have 11 different gourmet dipping sauces!
Fun Weekday Specials
The Swiss Restaurant & Pub: 1904 Jefferson Avenue
Now if you like weekday specials, this is the place for you! No worries if you work odd hours–you have plenty of opportunities to snag these deals. During all happy hours, they offer $3.75 well drinks, $4 well margaritas and bartender's choice micro draft, $5 select wine pours and bartender's choice cocktail, and $6 well martinis. Bonus: on weekends they serve $3 Tacoma Mimosas, $4 Bloody Marys, and $5 Hawktails. Happy hours are 4 to 6 p.m. and 9 p.m. to close Monday to Thursday, 4 to 6 p.m. on Friday and Saturday, and 11 a.m. to 6 p.m. on Sunday.
BOTHELL
An American Roadside Tavern
The Hollywood Tavern: 14508 Woodinville Redmond Rd NE
This one is a little over four miles from the campus, but SO worth it! They've got seven amazing food items listed on their happy hour menu, as well as discounted wine, $10-12 cocktails, $3-6 beers, a whole lot of whiskey, and WHISKEY MILKSHAKES! Their happy hour runs 2-6 p.m., so be sure to hustle over (by bike, maybe?) for some wildly amazing deals. Can't make happy hour? Hollywood Tavern is also on our discount network and offers a 10% discount!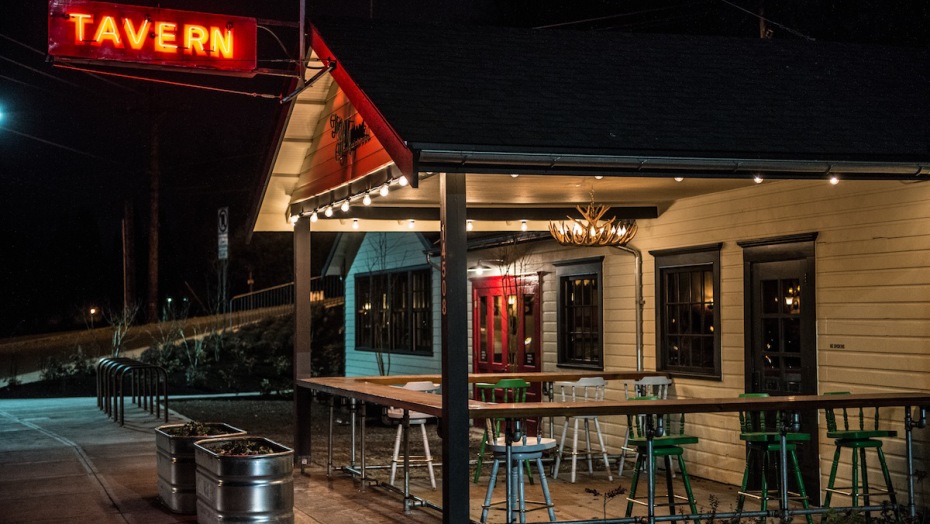 Proud and Local
Preservation Kitchen: 17121 Northeast Bothell Way
If you work a nine-to-five shift, you'll be able to make it to this 2 to 6 p.m. happy hour just in time. They've got appetizers ranging from $3-6 with a wide variety of options: jalapeno poppers to cheesy bean dip. Don't forget the drink menu: infused vodka drinks and other cocktails for only $6-7! What says "Goodbye, workday!" better than a pineapple martini or a raspberry kamikaze?
Classic Candlelit Italian Spot
Amaro's Bistro: 18333 Northeast Bothell Way
If you like wine and Italian food, you have to try this place out. They have happy hour daily from 3 to 6 p.m. and 10 p.m. to close with stellar deals. Nibble on $3 food items such as the Grilled Italian Sausage Crostini or $4 food specials like the Rigatoni Bolognese. And for the wine: only $6 for two select reds and two select whites.
Feeling Fancy?
Canyons Restaurant & Tap Room: 22010 17th Avenue Southeast
I would call this more of an upscale happy hour, but a great deal on exquisite food nonetheless. They offer quite the list of discounted appetizers including $4 street tacos, $6 tiger prawns, and $8 crackling dry ribs. Canyons also has an extensive cocktail list on the happy hour. How about a $7 Moscow mule or $8 peach bellini? Just be sure to swing by from 3 to 6 p.m. or 9 p.m. to close to snag these enticing treats!
Is there an amazing happy hour near campus that I missed? Please let me know below!