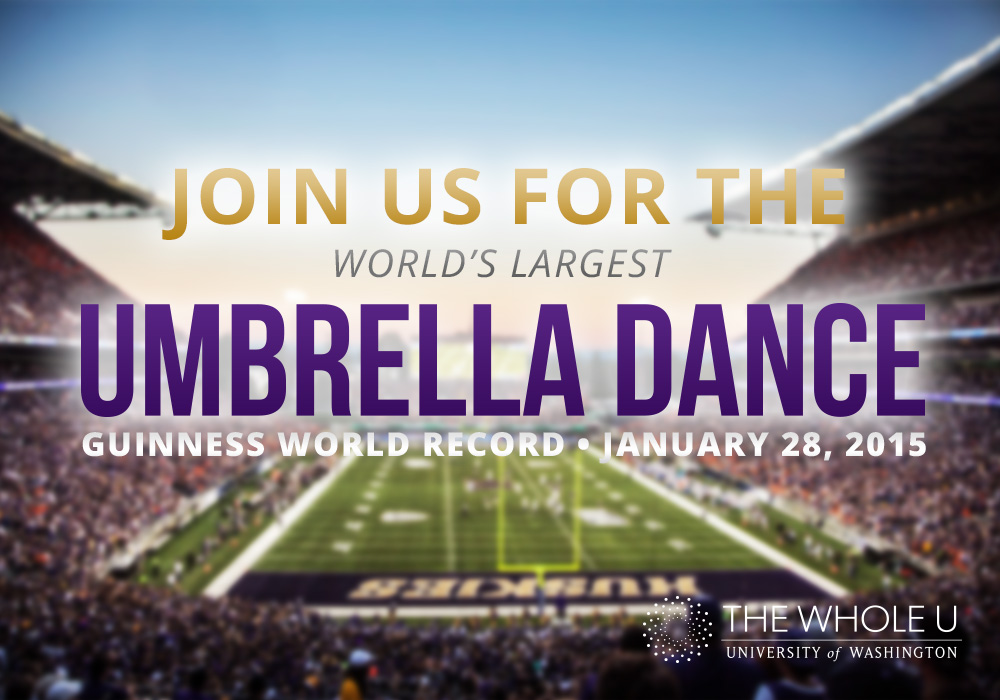 Make History & Break Another World Record with The Whole U!
When we launched The Whole U, we knew we had to do something big. So, we invited 1,200 UW faculty and staff from all three campuses to make history. Together, they set the Guinness World Record for the largest kettlebell class ever. In 2015, we are going to do it again, but this time we're taking over beautiful Husky Stadium and showing the world we're not afraid of a little rain.
Together we will twist, box step, and shake our way into history with the world's largest umbrella dance. All participants will receive:
Free limited edition Whole U umbrella
Free t-shirt to commemorate breaking the record
Free snacks for recharging as you triumphantly leave the field
Opportunities to win prizes
There are only 2,000 spots available for this once-in-a-lifetime event. Faculty, staff, and retirees receive priority registration December 1 – 31. After that we will open up registration to students and family members at least 12 years of age. Once you register, you will receive a video of the dance. We'll also be practicing all around UW in January to get ready.
Shake off your winter blues and dance your way into history with The Whole U! Reserve your spot in the records book now:
Date: Wednesday, January 28, 2015
Time: Noon – 1:00 p.m.
Location: Husky Stadium (Seattle), Husky Hall (Bothell), William Phillips Room (Tacoma)
This past year I have loved seeing the commemorative shirts from the world's largest kettlebell class all over Seattle. Every person who was part of that event shares a common experience. Let's continue to build community among UW faculty and staff and make history again. Take this chance to step (dance?) outside of your comfort zone and do something BIG.
Special thanks to UW Medicine, UW Athletics, the UW Book Store, Coca Cola, and Whole Foods for sponsoring this Whole U event.