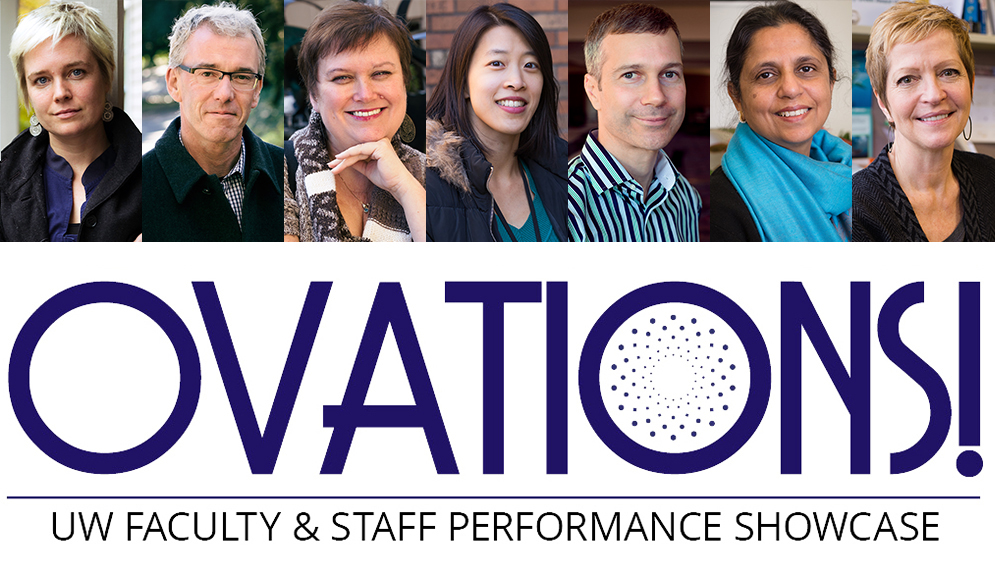 Can you believe that Ovations is just one week away? (If you haven't registered yet, do it here!) So far we've introduced you to 17 of our tremendously talented performers. Here are the final seven.
Eliza Segell, Jazz Singer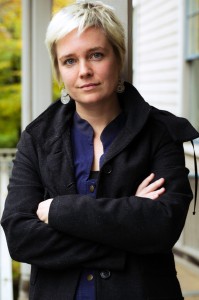 Position: Lead Research Coordinator, Department of Psychology
Alma mater: Williams College
Hometown: New York, New York
Favorite musician: My grandfather
Favorite movie: The Fast Runner (2001)
What do you do at UW?
I supervise a group of research assistants who are doing interviews with families who enter a study. My specific area is working with the Spanish-speaking families. I also do some orientation and training of therapists out in the field.
Tell me about your jazz quartet.
We really like old jazz from the 1930s and 40s. I'll be singing. We've only been playing together for six months, but we've all had musical lives before this.
What will you be singing?
A song called "Mood Indigo." It really kind of fits my feelings about living in Seattle. We're alternating times: there's sort of a peppier aspect, and a slow ballad piece, too.
Michael Partington, Classical Guitarist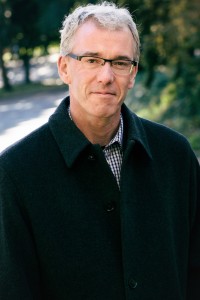 Position: Artist in Residence
At UW since: 2006
Alma mater: UW
Hometown: Raglan, Wales
Favorite movie: RoboCop (1987)
What does it mean to be an artist in residence?
As instrumental faculty, we are both teachers and purveyors of the arts. I'm a performer — I go out and perform around the world and make recordings. Part of the benefit for students who are studying with me is that they're aspiring to do what I do. The idea is that I am an artist and I'm here in residence.
Why do you like teaching at a university?
I teach a lot of adult amateurs outside of the university, but they have other priorities: jobs, families, things like that. If I'm in a university, I can teach people for whom this is essentially the most important thing in their life.
What will you be performing?
I'm going to play a piece by the Spanish composer Isaac Albéniz called "Cadiz." The guitar has a very long history in Spain; a lot of people think of the classical guitar as the "Spanish guitar."
You've played on some big stages and released some CDs. Why did you want to perform a 3-minute set in Ovations?
Almost any opportunity to present classical guitar music to people is a good one, as far as I'm concerned. Classical music is sort of on the periphery of a lot of people's cultural awareness. An opportunity to play it live is a great way for people to experience it.
Eleanor Stallcop-Horrox, Opera Singer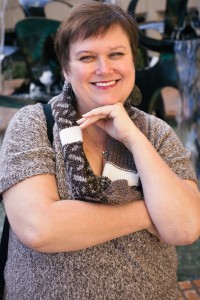 Position: Patient Financial Services Specialist II, UW Medical Center
At UW since: 2005
Alma mater: Central Washington; Curtis Institute of Music
Favorite singer: Renata Tebaldi
Last book read: The Sunday List of Dreams
What do you do on a day-to-day basis?
We handle both sides of outstanding self-pay balance. We review people for charity and we also unfortunately send people to collections.
How long have you been a singer?
I sang my first aria probably 40 years ago. I didn't start getting paid to sing until about 30 years ago. I'm a member of the regular chorus of Seattle Opera. I do anywhere between two and five operas a year with them.
What will you be singing at Ovations?
"Vissi D'Arte" by Giacomo Puccini from the opera Tosca. The title character sings this under great duress. It's very near and dear to my heart. It speaks of giving your all for your art and your faith. It's in Italian.
What will people who don't speak Italian get from the performance?
The sincerity of the character — that she's opening her soul.
Haeda Yasui, Soul Singer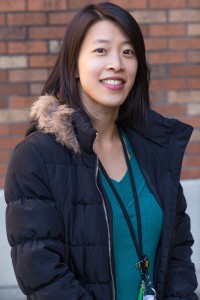 Position: Administrative Coordinator, Civil and Environmental Engineering
Alma mater: UW
Hometown: Seattle, Washington
Favorite singer: John Newman
Favorite movie: Olive, the Other Reindeer (1999)
What does your role at UW involve?
I'm liaison between students, faculty, and staff of the Civil and Environmental Engineering department.
What is your talent?
I love to sing. "Make You Feel My Love" by Adele.
Why are you excited about Ovations?
Some people hide their talents from their work life, but it doesn't necessarily have to be that way. I think there's a lot of untapped talent in our faculty and staff. And I think if I can do it, anybody can do it.
Tim Stetter, Guitarist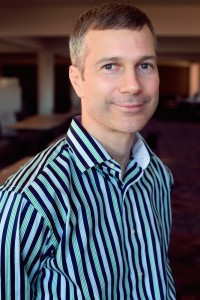 Position: Director of UW in the High School, Educational Outreach
Alma mater: University of Delaware; Antioch University
Hometown: Harrisburg, Pennsylvania
Favorite guitarist: Jerry Garcia
Last book read: Robert's Rules of Order
What does UW in the High School do?
High school teachers all over the state are partnering with faculty on campus and being approved and trained, and the high school teachers are actually teaching UW coursework for UW credit in their classrooms. Students from Spokane and Soap Lake to Everett and the Tri Cities are earning their first UW credits.
When did you first pick up a guitar?
I've been playing for close to 30 years. Over the years I've shifted from the straight singer-songwriter stuff to more improv instrumentals. Most everything I do is original.
What excites you about Ovations?
This is a really cool opportunity to play in front of a big group of people. I'm looking forward to seeing all the other acts that are up there, as well.
Deepa Banerjee, Classical Indian Music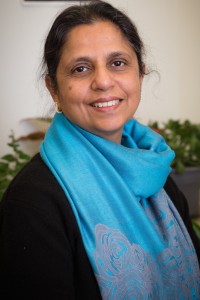 Position: South Asian Studies Librarian, Suzzallo
At UW since: 2006
Alma mater: Agra University; Charles Sturt University
Hometown: Agra, India
Favorite musician: A.R. Rahman
Last book read: The Music Room: A Memoir
What do you do at the library?
I'm responsible for the collection development for South Asian Studies. I work closely with the Jackson School of International Studies. I provide consultation and instructions and participate in other library committees.
What is your favorite part about working here?
I love interacting with the students: getting to know their research, going over the resources. The opportunity for collection development is also interesting. Things are constantly changing.
What kind of music do you perform?
North Indian classical music, because I grew up in northern India. I've been singing all my life. Music was in my family, so I inherited it.
Bethany Staelens, Jazz Singer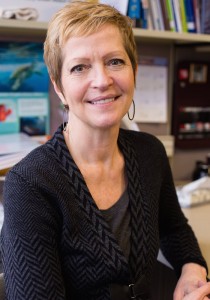 Position: Assistant to the Vice Provost, Educational Outreach
Alma mater: University of Bridgeport; University of Alabama
Hometown: Massachusetts
Favorite singer: Cleo Laine
Favorite movie: Where's Poppa? (1970)
What does Educational Outreach do?
We cover most fee-based degrees, certificate programs, international and English language programs, and UW conferences. We have our fingers in a lot of pies.
How long have you been playing music?
Most of my life. Professionally since I was about 21.
What type of music will you be playing?
I have a 19-piece big band that my husband and I run. We play at Tula's, the nightclub in Belltown, on the first Wednesday of every month. But it's kind of not practical to get 19 people on a stage, so I'm doing a cut-down version of a big band chart that I have.
What song?
A blues variation of "Since I Fell For You," which was a big hit in the 60s.
You've officially met all 24 of the UW faculty & staff who are participating in Ovations. See you next week!