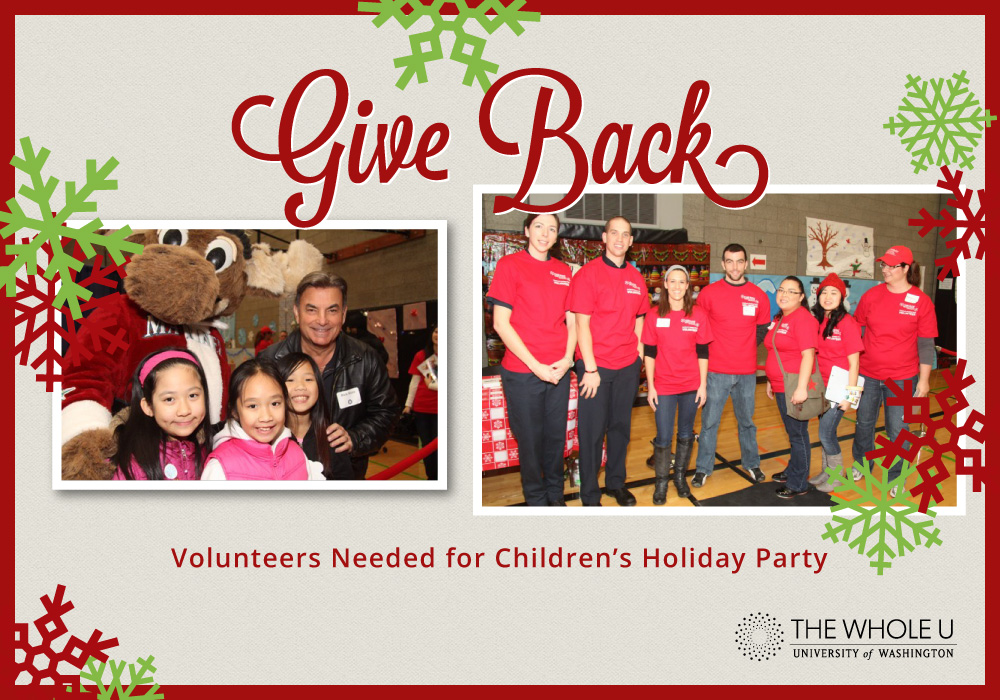 Week 3 – Stress Less through the Holidays by Giving
We are in week three of The Stress Less Holiday Challenge! This week's challenge is to find a way to give back. Last year my husband and I tried it. Instead of our typical couples date night, we cooked a meal for families in need. As we served the meal it was overwhelming to learn their stories and see their smiles while enjoying a home cooked meal. We had such a wonderful time and left that evening with a new perspective, a sense of gratefulness, and a warm feeling about what we just did. Suddenly so many of our stresses disappeared. We decided to make it a tradition to volunteer somewhere every year.
Would you like to give back this season? Harborview Medical Center is seeking volunteers for their annual Children's Holiday Party on Saturday, December 6. The party has been a steadfast tradition at Harborview for over 27 years, giving us an opportunity to give back to youth in the surrounding community. Over 1,000 Harborview pediatric patients are expected to attend.
The theme for this year's party is Frozen Wonderland. Children will have the opportunity to enjoy live entertainment, craft making, and interactive educational presentations by Safe Kids Seattle on topics such as home safety, fire safety, and burn and scald prevention. Each child will also receive a gift and will have the opportunity to meet several costumed characters, including Batman and Cinderella, and members of our sponsorship organization, the Mariners Real Baseball Involvement Club.
You can choose how you help: preparing gift bags, dressing up in costume, or helping educate children about safety. We will also rely on our volunteers to help direct children from the hospital to the Yesler Community Center, located two blocks away on Broadway and Yesler.
Shifts are Friday December 5 from 3-6 p.m. and 4-7 p.m., and Saturday December 6 from 7-11 a.m., 9 a.m.-1 p.m., and 1-3 p.m.. Feel free to sign up for as many shifts as you like! Friends and family are welcome. They will accept registration forms until November 25, at 5 p.m. Please sign up by filling out the registration form (PDF) and emailing, faxing it, or hand delivering it to the office of Volunteer and Community Services. (hmcvol@uw.edu. Box 359788. Fax 206-744-2989. Phone 206-744-3547.)
Want a preview? Check out the 2013 Children's Holiday Party Video
Start a new tradition with your coworkers or family this season. Experience the impact that giving provides. I would love to hear how you give back over the holidays. Let us know in the comments and you will receive a Whole U t-shirt.