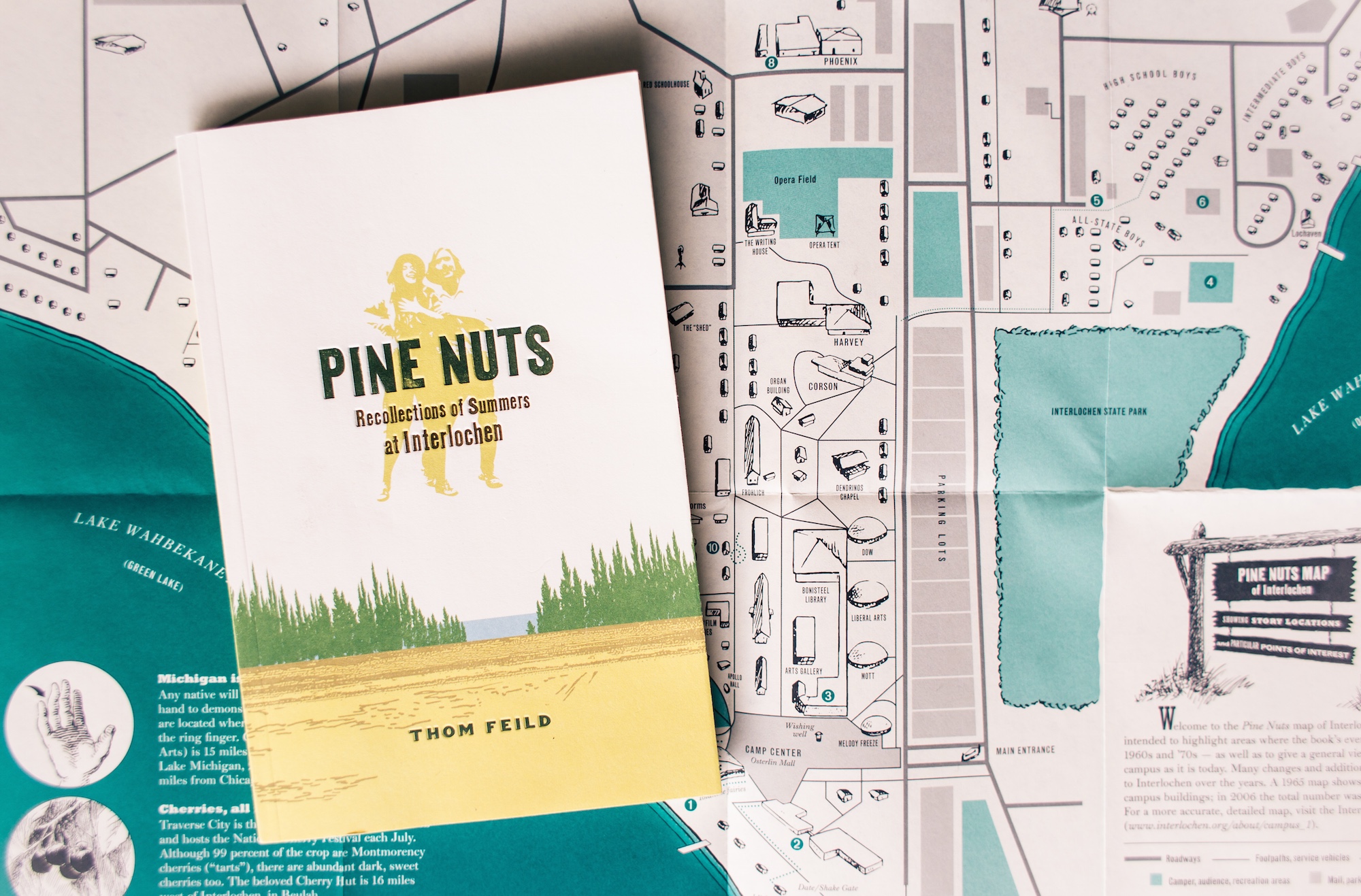 Staff Member Journeys Back to Summer Camp in New Book
Did you ever go to summer camp? I did, and I remember some bits about it here and there — mainly the marshmallows. But the camp I went to doesn't begin to compare to Interlochen, a summer arts camp that Thom Feild attended. When I say "arts," that includes music, theatre, visual arts, film, creative writing, and dance! Perhaps that experience brought Thom to UW in a roundabout way; now he's the creative production manager for UW Marketing.
Interlochen was a summer home to famous artists and thinkers including Norah Jones, Josh Groban, Linda Hunt, Tom Hulce, Mike Wallace, Larry Page (Google co-founder), and Gerard Schwarz (former longtime music director of Seattle Symphony).
Thom was a camper at Interlochen in northwest Michigan for two summers and returned later as an instructor. He wrote and illustrated a book titled Pine Nuts: Recollections of Summers at Interlochen about his experiences there. Although Thom had thought about writing the book for years — decades, in fact — he didn't start until after a meeting with an editor friend who encouraged him, saying, "Thom, don't get it right, get it written." He went home and began writing the book that day.
I talked with Thom about Interlochen and why it made such an impact on him.
How did you hear about Interlochen?
I grew up in Michigan and my family did summer farm stays in Boyne City. My family heard about Interlochen from Karl Haas, a gentleman who was also staying at the farm. Mr. Haas was a music educator and talked my parents into letting me go.
I concentrated on theatre and set design during my first summer, but switched to radio as a major in 11th grade. I also had the opportunity to take classes in music composition, harmony, and piano tuning.
Is most of Pine Nuts about your time spent as a camper or as an instructor?
The book is primarily about my return as an instructor, with flashbacks to my own days as a camper in 10th and 11th grade.
During the time you were at Interlochen as a student, did you think it was something special, or did you realize that later?
I was mostly "in the moment" when I was a camper. The staff at Interlochen kept us really busy – we had five classes each day, six days a week, for eight weeks. We could also attend as many performances as we could fit in. Something was always happening!
Did you form any close friendships while you were at Interlochen, either as a student or instructor — or both?
Over the years, I've kept up with four or five friends from Interlochen, and in the process of working on the book, I found over a dozen more. It was quite amazing. Nine of us, most of the "main characters" in Pine Nuts, couldn't resist meeting up in again NYC in 2005.
In the book, you explain parts of the Interlochen uniform: blue corduroy trousers for boys and blue corduroy knickers for girls. Did you and your friends reminisce about corduroy when you reunited?
Yes, a few people show up in them when they gather as adults at reunions anywhere (I went to a party in NYC a few years ago, and three of us showed up in corduroys with our original badges). The uniform has relaxed in recent years, "shockingly so" to earlier inhabitants (shorts, light blue polo knit shirts, etc.) I know more about this subject that you could ever believe. The rule is still that the original corduroy pants and knickers must be worn for concerts.
Where can people buy a copy of Pine Nuts?
Pine Nuts is available online.
I read Pine Nuts and loved it, so much that I checked out the Interlochen website. Lo and behold, they have adult arts programs. I'm ready to go. I'll even bring my own marshmallows.