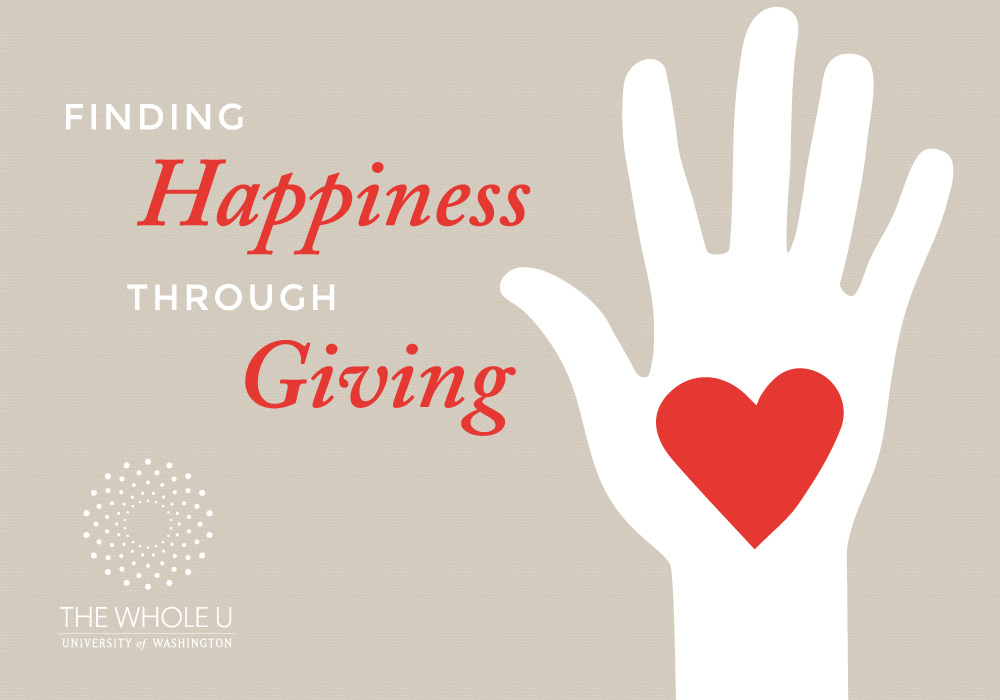 One Easy Way to be Happy over the Holidays
Happiness is not something ready made. It comes from YOUR own actions. – Dalai Lama
Take a break from wrapping gifts, baking sweet treats, and planning holiday travels. If you're looking for one thing that will warm your heart and put a smile on your face this season, volunteer.
Join us for the next Whole U Speaker Series to learn how the gift of giving your time has the power to transform lives. Hear how you can teach your family this important lesson and learn what you can do to make a difference in your own community this holiday season.
Finding Happiness Through Giving
Dr. Ellen B. Taylor and Joe Gruber
Monday, November 24, 2014
Noon – 1:00 p.m.
HUB 145
In this session Ellen B. Taylor will share stories about how the act of volunteering creates personal energy, validation, and the opportunity to get more out of life. Dr. Taylor is the director of the UW Counseling Center as well as Assistant Vice President for Student Life, providing oversight and support for Disability Resources for Students, Student Conduct, the Career Center, and Health & Wellness.
Joe Gruber is the executive director of the University Food Bank. Hear how his search for happiness led him to a volunteer opportunity at the Food Bank. He left his financial consulting role for the opportunity to work at a non-profit full time, because it made him happy! Joe will share stories about volunteers who make a difference everyday to Food Bank customers over the holiday season.
You will leave inspired, ready to give back, and HAPPY.