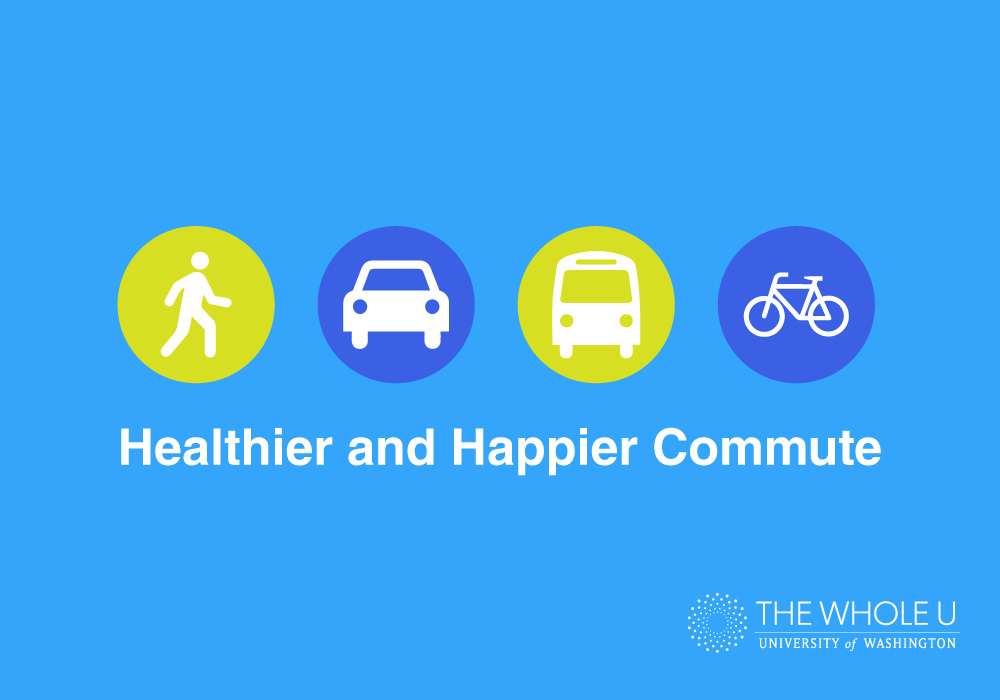 Use Commute Concierge for a Healthier, Happier Commute
What do a Midwest gal, new discoveries, great calves and a helping hand have in common? Read on to find out.
Transportation Services' Commute Concierge program, presented by U-PASS, is here to help you find your story of a happier, healthier commute. The Commute Concierge program is a personalized customer service program designed to help you find a commute that best fits your needs. Regardless of your distance from campus or the time of day you commute, we're here to help! Our staff is available to answer all of your commuting questions, build you a customized commute options kit, or design a personalized commute plan for you!
Call us at 206-221-3701 or stop by the University Transportation Center Monday through Friday from 9 a.m. to 5 p.m. You can also visit us online.
I'm so excited about the Commute Concierge program because I've experienced firsthand the huge effect the way I get around has had on my quality of my life. In the weeks before my 16th birthday, it was brought to my attention that I had to make a major life decision. My parents gave me two options: buy a car or lose my social life (hang out with my parents every weekend). So I made the only decision I felt I could—I bought a car. I was elated – this car was my Midwestern ticket to freedom.
A few years later, I was sent off to get a college degree at a large school in a small town in Iowa. My parents, again, gave me two options: leave your car at home for your sister or pay the outrageous parking fees on campus. Since I was in no position to be spending any money, I shed a tear and left my car at home. I remember heading to college imagining my future being filled with dorm exile and the inability to get to the grocery store.
It took a few weeks to get used to my new situation, but during that first year I not only discovered the joys of reading a book on the bus but my friend, Allyson, introduced me to bicycling. Not wanting to wear spandex or race, I shied away from her first invitation to ride. However, I soon learned that she biked in cute skirts and cruised down pretty trails; she rode her bike for transportation. After growing up relying on a car to get from point A to point B – regardless of the distance – this blew my mind. "You got here how?" I remember asking Allyson at a concert a whopping four miles away from her home. I was completely jealous of her independence, style, and never-ending energy – I quickly became bike-curious.
I went down to my basement later that week with a flashlight and a rag to dust off my old bike. Beginning to bike around was a process–gradual, slow, and kind of sore, I started biking the one mile from my house to class and back home again. But once I gained some muscle and confidence, and started to fall back in love with the joys of biking, I expanded my adventures beyond campus. Before I knew it, I was going to the grocery store, work, and my friends' houses all by bike.
The freedom that came with my newfound bike commute was eye opening – I wasn't waiting for the bus and I could get anywhere in the same amount of time, if not faster. It wasn't just freedom and fun that came with bicycling. My legs were getting stronger, my savings account was getting bigger, and my waist was getting smaller.
Years later, I find myself back on a large college campus – this time in a city with a car and a phenomenal transit system. It might be a different situation, but I still choose to ride my bicycle because the feeling remains the same – my commute is one of the best parts of my day. I am happier, healthier, and I have a little extra change sitting in my metaphorical pocket each day I arrive by bike.
We are so fortunate here at the University of Washington to have many commute options available. Bicycling might have been the best option for me, but different options fit different people at different times in our lives. We'll work together to discover what your best options are —from walking and biking to transit, carpool, vanpool, or teleworking. Give us a call, stop by our office, or fill out our online request form and find out what your commute options are today!