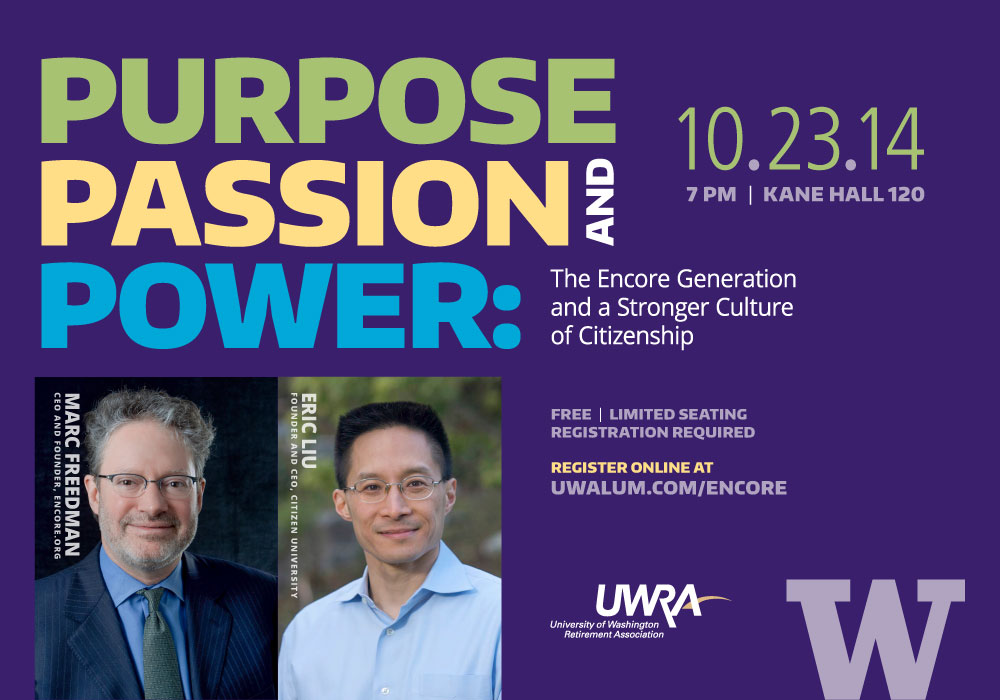 Encore & UWRA Bringing Speakers to Kane Hall
What would you like to do with the rest of your life?
What used to be called "retirement," that seemingly empty space after full time work ends, is acquiring added meaning as we Baby Boomers reach our 50s and 60s. On the evening of October 23, we'll have a rare opportunity to participate in a conversation with two individuals who have thought deeply about this question and will provide some ideas, focused on social change, social entrepreneurship, and public service.
The UW Encore Initiative and the UW Retirement Association are hosting a conversation between Marc Freedman, CEO and founder of Encore.org, and Eric Liu, founder of Citizen University, local author, television host, and UW faculty member who has recently been nominated by President Obama to serve on the national board that supervises AmeriCorps and VISTA, as well as other service programs.
Liu and Freedman will discuss "Purpose, Passion and Power: The Encore Generation and a Stronger Culture of Citizenship," from 7 to 8:30 p.m. on Thursday, October 23 at 120 Kane Hall. Admission is free but advance registration is required.
Baby Boomers, and I count myself as one, have prided ourselves on remaking the rules and shattering stereotypes as we worked our way through American society. Freedman has predicted, with some powerful evidence, that we are about to change "retirement." A 2011 national survey found that 31 million Americans want encore careers, which he has succinctly describes as "second acts for the greater good."
Freedman believes that the Encore Generation will change society: "What if, over time, 100,000 people were persuaded to launch 10-year encore careers? What if we could persuade a million more to do so? Applying this human talent and experience to the big challenges of our time could be as profound a contribution as those made possible by new technologies or even massive infusions of philanthropic dollars."
Liu, who served as a speechwriter for President Bill Clinton and later as the president's deputy domestic policy adviser, created Citizen University, bringing together leaders, activists, and practitioners to teach the art of effective and creative citizenship. His work complements that of Freedman, who is a friend and colleague.
It is not happenstance that this conversation is taking place on campus. The UW is moving to the forefront of the Encore movement within higher education. Laura Saunders, who has had a long and distinguished career in state higher education, and I serve as Encore Innovation Fellows for 2014 at the UW, hosted by UW Retiree Relations and the UWRA. These appointments enable us to work through the UW Retirement Association to develop pathways for service and civic engagement for members of the UW community. UW President Michael K. Young and Provost Ana Mari Cauce have voiced their support for this endeavor, to provide continued university and community connections for so many who have served the university well, including faculty and staff and expanding our impact to include UW alumni and other friends of the UW.

Bob Roseth retired in December after more than 35 years at the UW, of which 30 were spent as the director of News and Information. In addition to his Encore fellowship he is studying piano, learning Spanish, and writing a murder mystery.