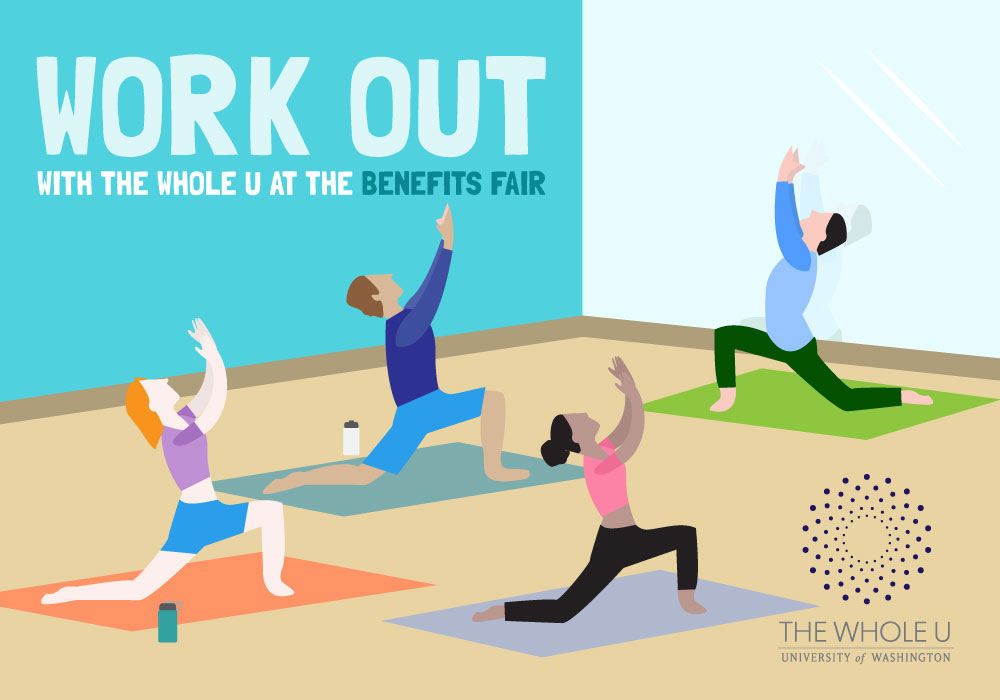 UW Benefits Fair: Free Workouts with The Whole U
Wouldn't it be amazing to learn about your UW benefits AND fit in a 20-minute workout all in a lunch hour?
You can! Join us on Thursday, November 6 in the HUB at the UW Benefits Fair.
Stop by the HUB North ballroom between 10:00 a.m. and 3:00 p.m. to explore the great programs and services offered as part of your UW benefits. Representatives will be available to talk to you about products and services such as: medical and dental insurances, retirement plans, investment programs, and loan programs.
Then visit The Whole U and our Fitness Network partners in Hub 145 starting at 11:00 a.m. Enter The Whole U raffle, enjoy giveaways, and try a free 20-minute workout from trained instructors, including Coach Marti Young.
Choose between zumba, "pocket" crossfit, cardio, or a strength class. No equipment is necessary and all classes will be self-paced so you can make it as easy or difficult as you like. All you need to do is wear comfortable clothing and shoes and register to reserve your spot!
11:15 – 11:35 a.m. Strength class – YMCA
12:15 – 12:35 p.m. Zumba class – UW Staff – Meghan Fitzpatrick
1:15 – 1:35 p.m. "Pocket" Crossfit workout – Coach Marti Young
2:15 – 2:35 p.m. Bodyweight Cardio class – Vertical World
Try a workout from a new instructor in 20 minutes. Maybe you'll discover a love for a new exercise style or meet a motivational instructor that inspires you to join a gym or a class. Either way, we guarantee you'll have fun and you'll leave feeling refreshed and energized.
If you can't make it to the Seattle Campus on November 6, The Whole U will also have a table with raffle prizes and giveaways at the November 4 Benefits Fair in Health Sciences and the November 5 Benefits Fair at Harborview Medical Center. Details for all three Benefits Fairs can be found here.