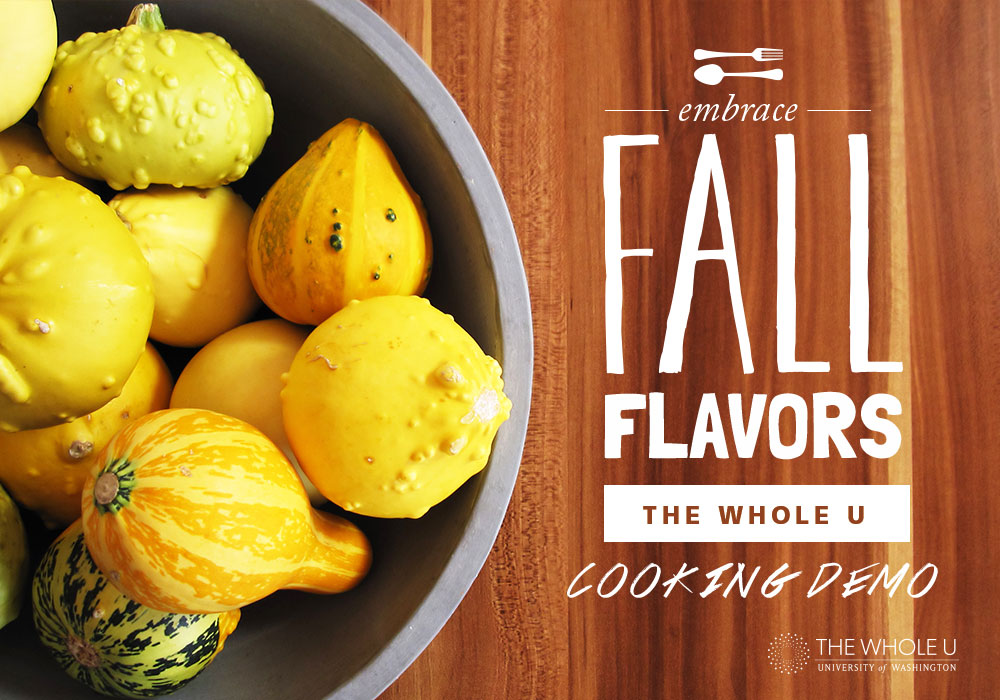 Embrace Fall Flavors at The Whole U Cooking Demo
This year I've decided to fully embrace everything about the fall. I'm ready to pull out my boots and scarves, tackle my reading list, and explore some new recipes. It's a great time to reconnect with family and friends over food. And with the days getting darker, there's more time to spend in the kitchen trying out new recipes.
Imagine your next dinner party. Put on some festive music and invite good friends over. Wouldn't it be wonderful to fill your home with warm, tasty, sweet, home-cooked smells?
Embrace all of the flavors of fall at the next Whole U Cooking Demo.
On Thursday, October 30 at 5:00 p.m. join UW Executive Chef Tracey MacRae and The Whole U for a deliciously good time.
At the demo, Chef Tracey will share her recipe for Autumn Chicken Sausage Stew. Learn how to use the best fall produce the Northwest has to offer including parsnips, winter squash, pumpkin, and apples. You'll take home a copy of the recipe and be able to sample the dish. Registration is limited to the first fifty participants so register now!
Learn how to make this stew then try it at your next fall gathering. The amazing smells will leave your dinner guests drooling for more and begging for the recipe.
What are your favorite flavors of fall? Tell us in the comments below!