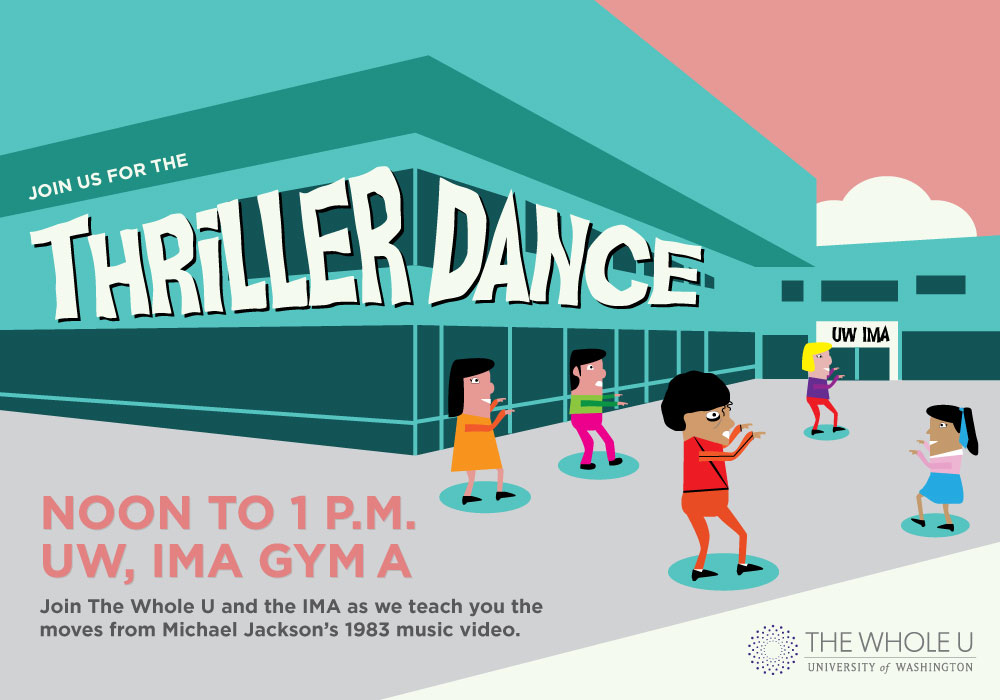 Why dance? Cause this is THRILLER
Darkness falls across the land. The midnight hour is close at hand. Creatures crawl in search of blood to terrorize your neighborhood.  –Michael Jackson
Don't let another Halloween go by without learning the Thriller Dance. Join The Whole U and the IMA as we teach you the moves from Michael Jackson's 1983 music video.
Register now for the group dance session on Friday, October 31 at noon at the IMA. You don't need to be a member to join the fun. Enjoy 30 minutes of Thriller dancing, meet like-minded zombies, and reap the benefits of physical activity on your lunch break.
In the meantime, check out this video by IMA instructors. In less than five minutes, you'll be moving like the King of Pop and will be ready to show off your moves on October 31.
Why dance? According to EverydayHealth.com there are 9 health benefits associated with dance:
Boost Memory – Studies show that dancing may boost your memory and prevent you from developing dementia as you get older.
Improve flexibility – Those plies that ballet dancers practice aren't just for aesthetics — they also increase flexibility and reduce stiffness.
Reduce stress – Researchers found that dance and musical accompaniment help with stress relief.
Diminish depression – Dancing really does lift your spirits. Got the blues? Grab a friend and dance.
Help your heart – Dance is a great activity for those at risk for cardiovascular disease.
Lose weight – Aerobic dance training is just as helpful for losing weight and increasing aerobic power as cycling and jogging.
Balance better – Dancing requires fast movements and good posture which helps stabilize and gain better control of your body.
Increase energy – Can't seem to find your get-up-and-go? A weekly dance program could improve physical performance and increase energy levels.
Make friends – A dance class is the perfect setting to make new friends and branch out socially. Join us for the fun!
Watch the video, learn the dance, and come prepared to show off your moves!
But that's not all – it's Halloween, so dress up and enter the optional costume contest. Go big with hair, makeup, an outfit, or all three! Dress up as Michael Jackson (any era!) or come as a Thriller zombie. Anything goes — just as long as you dance! Prizes will be awarded for best individual and group costumes. You can also sign up for an optional tour of the IMA after the dance.
Remember, you're fighting for your life inside a killer. Register before it's too late!