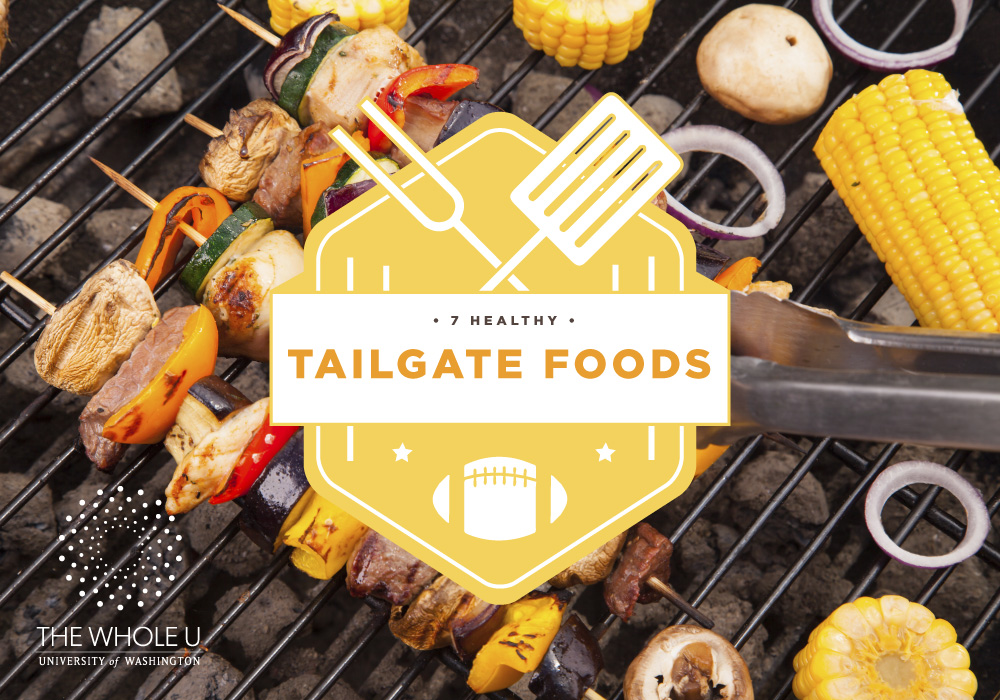 7 Stealthily Healthy Tailgate Foods
You staked out your spot for your tailgating tent in the parking lot, surrounded by hundreds of other fans of all ages. Or maybe you're in the comfort of your own home, family and friends squeezing into the living room to get a glimpse of the TV. Wherever you are, the important thing is…it's game day.
With these healthy tailgate or football party recipes, the only thing you'll need to worry about on game day is the score. Plus, your guests won't even notice that you've swapped typical ingredients like sour cream or greasy chips with healthy alternatives.
Grilled chicken, corn, & bean salad: Skip the seven-layer dip and try this protein-packed snack. Sometimes carb-loaded dips make us sleepy, but this recipe will keep you cheering throughout the whole game. Toss together grilled chicken, corn, black beans, tomatoes, cilantro, and fresh lime juice. Serve chilled with some whole-wheat tortilla chips.
Grilled Chicken & Veggie Skewers: Swap out hotdogs and hamburgers with some tasty and colorful skewers. They're easy to make, easy to store, and easy to eat–a triple threat! Grill chicken (or pork) and your favorite veggies (personally I like bell peppers, onions, and cherry tomatoes) the night before the game so you don't miss a touchdown.
California Flatbread Pizza Squares: Who doesn't LOVE pizza? Luckily that greasy treat can be healthy. Use whole wheat dough (many health food stores like Trader Joe's and PCC sell it), low-fat mozzarella cheese, and white turkey meat, tomato, and sliced avocado as toppings. Pop the pie in the oven the morning of the game for 20 minutes at 400 degrees and you'll be ready for kickoff. Try putting it on a pizza stone for even better flavor.
Baked Sweet Potato Fries: Try the health-conscious cousin of French Fries: baked sweet potato fries. No deep fryer needed! After preheating oven to 375 degrees, wash and peel potatoes, cut in half lengthwise, and cut each half into six wedges. Then, combine potatoes and oil in a bowl and toss. Throw them in the oven on a baking sheet for about 25 minute. Delicious and healthy…score!
Turkey Chili: Chili can be healthy with just a few recipe changes. This one is a little more involved than the other recipes so far, but not too difficult. Heat 1 ½ teaspoons of olive oil in a large pot over medium heat and add 1 pound of ground turkey. Stir in 1 chopped onion and cook mix until tender. Then, pour 2 cups of water into the pot and mix in 1 (28 oz) can of crushed tomatoes, 1 (16 oz) can of kidney beans (don't forget to drain, rinse, and mash beforehand), and 1 tablespoon of mixed garlic. Last, season with ½ teaspoon each of paprika, dried oregano, cayenne pepper, ground cumin, salt, and ground black pepper. After bringing to a boil, reduce heat, cover and simmer for 30 minutes.
Creatively Displayed Veggies: Instead of simply setting raw veggies out on a tray, display them in plastic cups- it's super simple but definitely makes them more eye catching to guests. Fill the bottom of 6 or 8 oz plastic cups (as many as you'll need for your tailgate or party) with 2 tablespoons of reduced-fat ranch dressing. Then, add your favorite raw veggies (I think red & yellow bell peppers, celery, and carrots looks great). All you have to do is cut them into about 4 inch long strips and vertically arrange them in the cups. If you want to be exact, 4 carrot sticks, 3 celery sticks, and 2 of each bell pepper fit nicely. How easy is that?!
Potato Salad: I'm not talking about the creamy mustard-and-mayonnaise-filled kind. This one is packed with veggies and other good stuff that'll save you from feeling groggy by half time. After preheating oven to 425 degrees, heat 1 teaspoon of olive oil on a baking sheet for 2 minutes, then spread 1 pound of red potatoes (washed and cut into 1 inch wedges) onto the sheet and bake for 10 minutes. Turn them and bake for 10 more minutes, until golden brown. In the meantime, cook ½ pound of green beans (snapped in half) in boiling water for 5 minutes until bright green. Remove the beans but use the same boiling water to cook ½ cup of sun-dried tomatoes halves until they are plump, then cut them into bite-sized pieces. For a great rosemary vinaigrette, put 2 tablespoons each of extra-virgin olive oil and red wine vinegar, 1 teaspoon of Dijon style mustard, and ½ teaspoons of chopped fresh rosemary into a jar and shake! Last, throw it all into a bowl (plus ½ cup of slice red onions), mix, and serve!
Be sure to try these out this football season — there are still eight more Dawg Saturdays and 13 more Seahawks games to attend or watch on TV!
Do you have a favorite tailgating recipe? Please share in the comments!
Sources: Men's Fitness, Everyday Health, All Recipes, Center Cut Cook, and Health Source websites.