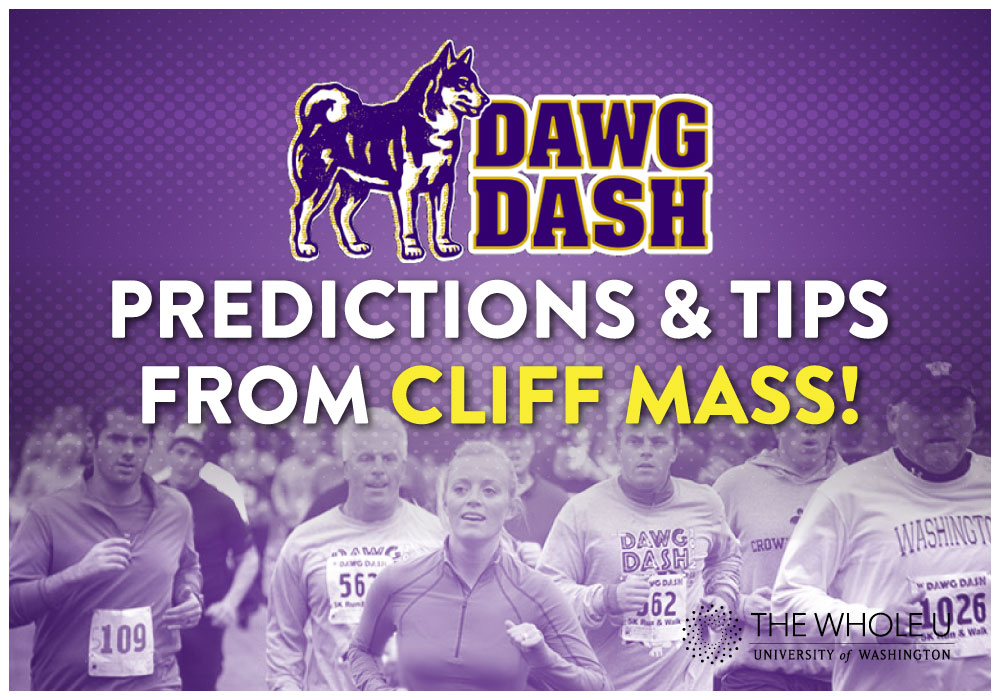 Dawg Dash Predictions & Tips from Cliff Mass!
You may know Professor Cliff Mass as the UW weather guru famous for his Northwest Weather blog but what you might not know is he is an avid supporter of the annual Dawg Dash and once was the unofficial weatherman for the race!
Professor Mass has run the race eight times and is looking forward to making this year number nine!
If you haven't registered for the Dawg Dash yet… What are you waiting for? Here are Cliff's top three reasons you should participate:
It's an opportunity to enjoy the beauty of UW.
"The Dawg Dash is a nice way to tour the campus, often when it's pretty with lots of fall colors."
The camaraderie is like no other event in Seattle.
"Bring your dog, your family and your friends. Enjoy the sense of community, the folks cheering us on, the snacks and freebies at the end! And the shirt…. it's so great, I wear it throughout the year!"
And the FORECAST is…
"We have a 75% chance for a dry day! The race is often near the boundary between our wonderful fall weather and start of the rainy season. Most years it has been decent, but there have been a few wet ones. There is at least a 75% chance it will be dry during the race based on climatology for that time of year!"
BONUS tip: "Get there early to enjoy the crowd and ensure you get a good parking spot. Check out the weather radar before coming so you know how to dress and what to expect."
If you need a little motivation, try one of The Whole U's training plans or run/walk with us every week! Starting October 8, meet us every Wednesday at noon for a fun, fast-paced 30 minute workout. Each week we'll do a workout to improve your running/walking performance. Meet at Drumheller Fountain. All levels of runners and walkers welcome. Sign up here.
Join Cliff, Abby, The Whole U, and the rest of the Dawg Dash Seattle pack for the 10K run or 5K run/walk through the UW's beautiful Seattle campus on Sunday, October 19. Learn more about how Dawg Dash supports higher education and register at Dawgdash.com.