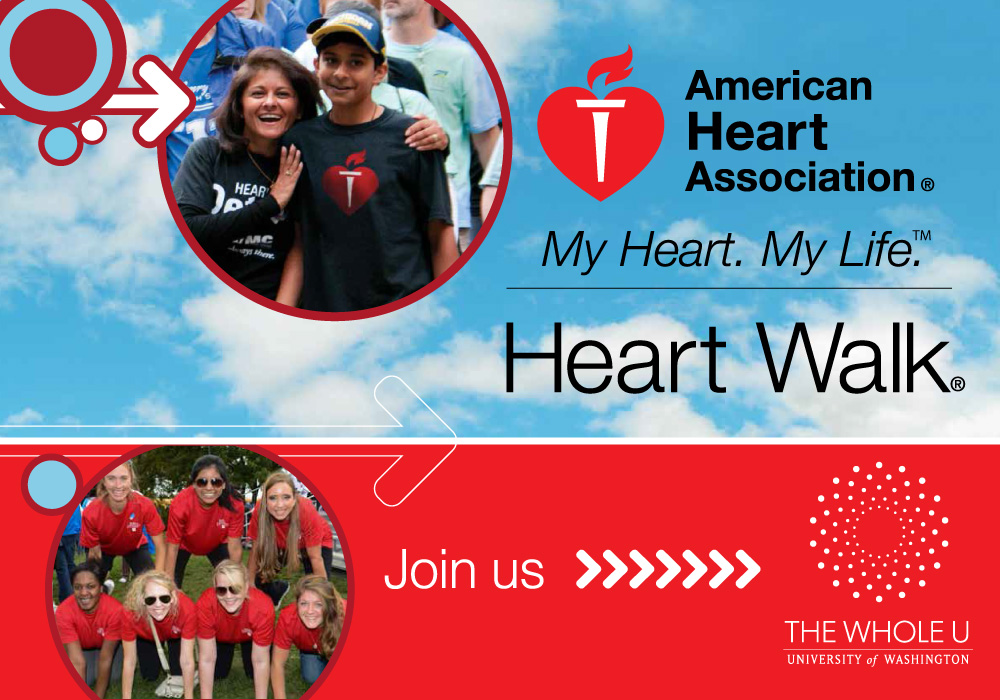 UW Medicine Heart Walk Team is Half Way to Goal!
Dr. Paul Ramsey, chair of this year's Heart and Stroke walk, has challenged the UW to have 2,000 walkers. Right now we have over 70 teams and 900 walkers registered. Will you help us fight heart disease?
This is a family friendly event and everyone on a UW team will receive a free t-shirt. Why not JOIN The Whole U team? The walk is on Saturday, October 11 at 9 a.m. and starts at the Seattle Center.
Whole U Ambassadors at Harborview and UW Medicine are taking it to the next level by hosting cooking and sampling events to bring awareness to the UW Medicine team and the Heart Walk.
Harborview:
The Harborview Cafeteria (across from the Espresso Bar) will be hosting a cooking demo with a healthy salad on Thursday, September 25 from 11:30 a.m. – 12: 30 p.m. FREE samples along with the recipe to take with you. The Harborview Heart Walk team will also have some giveaways and a chance to sign up for the HMC team.
UWMC Plaza Café:
Healthy Heart Day at the Plaza Café will take place on Wednesday, October 1 from 11:00 a.m. to 1:00 p.m. Try samples of sweet potato and black bean salad. They will also have a table where UW faculty and staff can sign up for the team.
Charles Zielinski, director of Food and Nutrition for University of Washington Medical Center says "balancing nutrition and exercise is a key component to good health. When the two are combined real results can be obtained to help people fight heart disease, obesity, and diabetes. At UWMC we have a health and wellness initiative that focuses on education, the evidence behind specific foods, and offering those foods in our operation. We hope you will participate with this year's heart walk and use it to support a great cause while taking steps to improve your own health."

This Heart Walk has raised nearly 1 million life-saving dollars for:
Putting up-to-the-minute research into doctors' hands so they can better prevent and treat heart disease among patients.
Groundbreaking pediatric heart and stroke research. About 36,000 babies are born with heart defects each year —research is the key to saving babies' lives.
Getting life-saving information to those who need it most – information that can save a life, like how to eat better, how to recognize the warning signs of heart attack, and how to talk to a doctor about critical health choices.

Let's keep going!
See you on October 11 to have fun and make a difference!