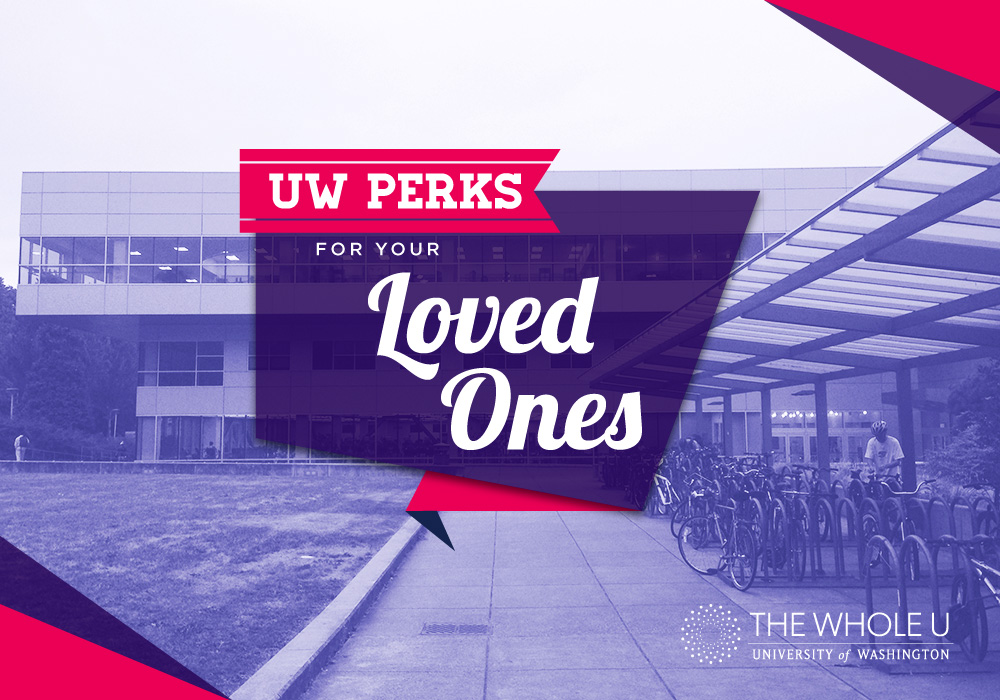 UW Perks for Your Loved Ones
If you've ever taken a look at The Whole U's discount page, you know that UW and its partners gives us the gift of savings, but what about the ones we love – our spouses/partners? What can they get?
Some perks for UW spouses/partners include:
Spouses and individuals that reside in your household (16 years of age or older) can stay fit through the IMA! If you currently have an IMA membership, you can purchase a Spouse or Plus One membership. Depending on your own membership, you can either purchase an annual membership ($355+tax) or a quarterly membership ($105+tax) for your Spouse or Plus One. For Spouse memberships both parties must be present.  Your Husky Card and a Marriage Certificate will be needed to purchase a Spouse membership.  For Plus One memberships both parties must be present.  Your Husky Card and documentation showing you live together will be needed to purchase a Plus One membership. For an additional fee, Spouse or Plus One members can have access to the CRAGS indoor climbing center, personal training, and fitness classes at the IMA as well.
Spouses or domestic partners of UW faculty, staff, academic personnel, visiting scholars, administrative personnel, and retired faculty and staff can be issued a free borrower card. Not only does this mean free access to computers, the internet, and TONS of books, but also movies! Contact Library Account Services for the type of verification required.
Access to Social Groups

Kayaking Club – University Kayaking Club is not just about kayaking; it's open to all forms of paddling (i.e. canoeing and rafting). UW students, faculty/staff, and their spouses are eligible for membership. The club hosts pool sessions (lake sessions during the summer), organizes outings, and provides equipment and instruction for club members.
Rowing Club – The Union Bay Rowing Club caters to novice and experienced rowers. Members often row as a team for fun and exercise but will also row competitively subject to voluntary participation by its members. Novice training is required. Training classes are offered at the beginning of summer and fall quarters through the IMA Sports Skills Classesbut can be waived at the head coach's discretion if you have substantial rowing experience.
Washington Yacht Club – Annie Garrett, a fitness coordinator for the Department of Recreational Sports Programs, recently wrote about her experience with the Washington Yacht Club. As a staff member, Annie and her spouse were able to join the UW-student-run club. Members can choose to pay a quarterly or annual fee on top of the initiation fee. Lessons are free with membership and vessels are rentable at a very fair rate. 
UW CareLink provides easy access to trusted experts, including counselors, attorneys, financial advisors, and child and adult/elder care consultants. It's available to benefits-eligible faculty and staff, their dependents, and household members. In addition, counseling sessions can include anyone who may be involved in the issue, such as a friend or relative.
If you and your spouse/partner have come across other perks, please leave a comment down below. Share the love with the UW family!