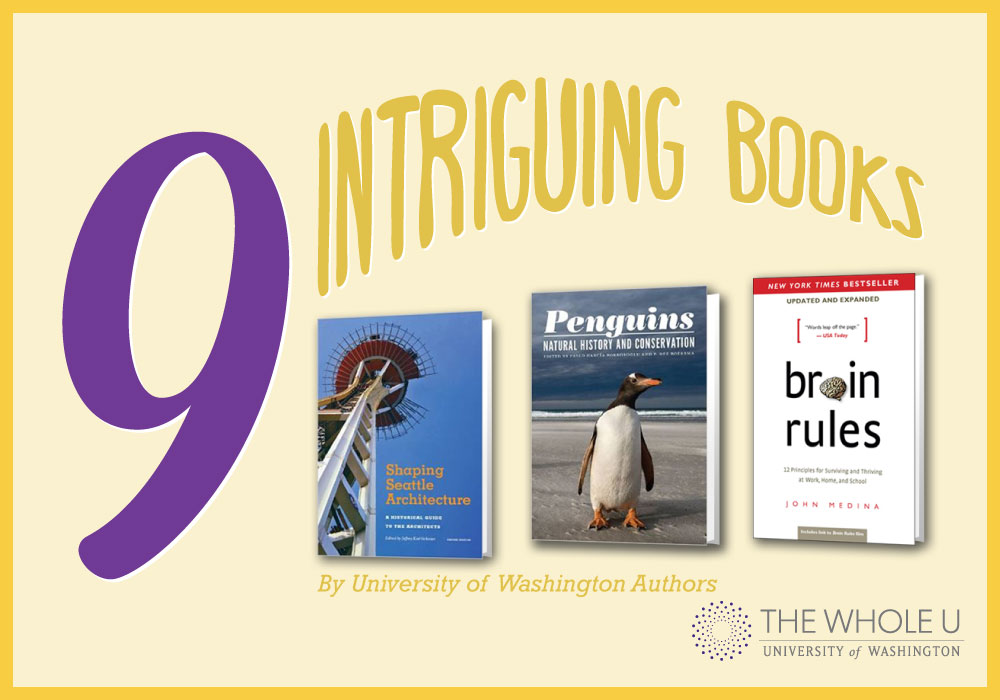 Why not consider a book penned by a UW author for your next read? There are books ranging from the serious (World War II) to not-so-serious (a protagonist named Hester Freelove McGarrigle) to penguins.
Let's start with some history:
Confronting Memories of World War II edited by Daniel Chirot, professor, Jackson School of International Studies; Gi-Wook Shin and Daniel Sneider. The University of Washington Press describes this book as a great explanation of how World War II continues to impact today's politics on a worldwide scale. The authors incorporate information from a wide variety of experts, showing how WWII has truly influenced society's memories and reflections of war.
Homebase by Shawn Wong, professor, English. A coming-of-age novel set in the 1950s and '60s in California, this tells the story of young Chinese American Rainsford Chan who colorfully describes his and his family's life in the United States. Professor Wong is also the director of the Honors Program at the UW.
Moving the Rock: Poverty and Faith in a Black Storefront Church by Mary E. Abrums, associate professor, Nursing Program. The Amazon review explains, "Abrums, an anthropologist and registered nurse, examines the lives of African American women members of the Morning Sun Church in the Central District of Seattle. Abrums spent 18 months observing and interviewing the women of Morning Sun, and the resulting stories are deeply engaging as individual narratives and compelling when taken as a whole. The work positively sparkles with the voices of these women…"
Shaping Seattle Architecture: A Historical Guide to the Architects by Jeffrey K. Ochsner, professor, Architecture; associate dean for Academic Affairs, College of Built Environments. Twenty years after the first edition published in 1994, this second edition updates and expands on the original. The newest book dives deeper into Seattle architecture with 54 essays about the prominent architects, their careers, and their magnificent works. Read an interview with Professor Ochsner in UW Today (UW Press).
We can take a good look at ourselves:
An entertaining look at how our brains work: Brain Rules by John Medina, affiliate professor, Bioengineering. Amazon's review gives us a little insight: "Medina's fascinating stories and infectious sense of humor breathe life into brain science. You'll learn why Michael Jordan was no good at baseball. You'll peer over a surgeon's shoulder as he proves that most of us have a Jennifer Aniston neuron. You'll meet a boy who has an amazing memory for music but can't tie his own shoes." Medina is a development molecular biologist and research consultant and also wrote national bestseller Brain Rules for Baby.
Observing some of the deepest oddities and mysteries of humans to-date is Homo Mysterious: Evolutionary Puzzles of Human Nature by David P. Barash, professor, Psychology. Amazon states that Barash is "the author of 30 books, dealing with various aspects of evolution, animal and human behavior, and peace studies. He is a Fellow of the American Association for the Advancement of Science and has received numerous awards."
Add in a little creativity and whodunit:
In the Spirit of the Ancestors – Contemporary Northwest Coast Art at the Burke Museum edited by Robin K. Wright, professor, Art History, School of Art and Kathryn Bunn-Marcuse. The Burke Museum notes that this book is the first in the Bill Holm Center Publication Series. The authors delve into a variety of topics on Native Art of the Pacific Northwest, from politics to social commentary.
A mystery involving a Portland bookmobile and a librarian named Hester Freelove McGarrigle: Corpse of Discovery by B.B. Cantwell, gifts technician, Libraries Gifts. According to Amazon's review, enjoy a "tale of mayhem, intrepid librarians and quirky bookmobile patrons" as McGarringle and her cat "follow the clues with dishy, trail-running, slightly OCD-ish Detective Nate Darrow."
And, as promised, penguins:
Penguins by Pablo Borboroglu and P. Dee Boersma, professor, Biology, is an interesting and beautifully illustrated book about all 17 species of penguins. UW Press notes that this book thoroughly explores all 18 species of penguins; they provide information on things like their threats to survival and legal protection. The book also includes gorgeous illustrations that truly show each species' true characteristics.
This summer, enjoy the new perspectives brought to you by our own UW authors!