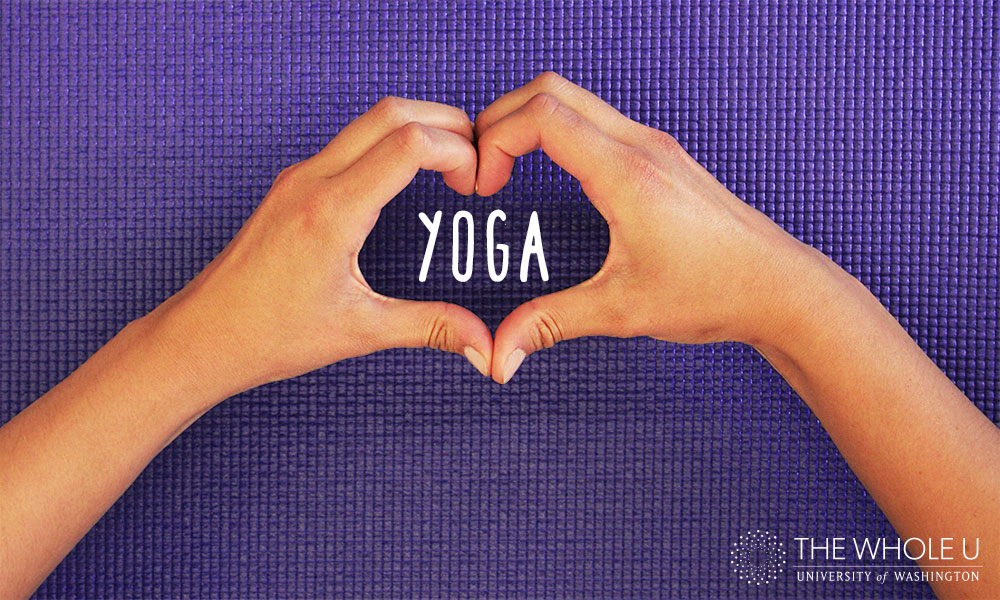 Yogi's choice: Top 10 Ways to Participate in Yoga Month
It's here! Yoga Month is finally here and The Whole U is excited to celebrate with you! There are yoga contests, classes, discounts, and events…it's your choice! Participate in all or a few of these super cool options:
1. Enter our Yoga Break Contest.
Do you and your colleagues need a Yoga Break? Let us know why your team is awesome and share a photo. You could win a FREE Yoga session with one of The Whole U Yoga Partners where you work! Email us at wholeu@uw.edu or share on our facebook by September 30. We're giving away classes in Seattle, Bothell and Tacoma so there is a big chance of winning. Just think…you might become the "Yogalebrity" of your team!
2. Get loosened up with FREE Yoga at Harborview.
Every Thursday from 6:30-7:30 a.m. at Harborview R&T building with Dr. Joe Merrill. Do you know of another free UW hosted session? Share it with us in the comments section!
3. Participate in the 21-day challenge.
Sign up to receive a daily pose sent to your inbox. Learn the benefits of each pose and see the adjustments/modifications. You'll be entered into a raffle for a month of free yoga just for signing up. Dust off your yoga mat; it's not too late!
4. Snap a pic of yourself doing yoga in a non-traditional location.
Have you seen someone doing dancer pose in Suzzallo? What about eagle in the Quad? Post it to Facebook, Twitter or Instagram …It's yoga month, anything goes!
5. Try a yoga discount from our fitness network.
Aditi Yoga and Massage – 20% discount
Balance Yoga Studio – $100/month membership (regularly $165)
Bikram Yoga – U District – $10 off/month
Breathe Yoga Studios – 20% discount
Classical Hata Yoga – 15% discount
Core Power Yoga – $109/month membership (regularly $135)
Edgeworks Climbing (offers yoga) – 20% discount
Exhale Pilates (offers yoga) – 15% discount
Expand Yoga – 10% discount
Fruition Yoga – 20-25% discount
Highline Athletic Club (offers yoga) – 20-25% discount
Jasyoga at Hec Ed – $3 discount per class
Levitas Studio – 25% discount
Tacoma Yoga – 10% discount
Vertical World (offers yoga) – 10% discount
YMCA (yoga classes) – Free enrollment
Zum Fitness (yoga classes) – 20-25% discount
6. ASK a Yoga instructor
Do you wonder…What is the best time to do yoga? Which mat should I use? What type of yoga is right for me? Submit questions to wholeu@uw.edu with subject line #UWYoga and we'll anonymously pass them to a certified yoga instructor.  All your questions will be answered in an upcoming Whole U article in September.
7. Check out #UWYoga on tagboard.
Stay up to date on Yoga Month activities. Post a pic of your "down-dawg" and use #UWYoga on Facebook, Twitter or Instagram.
8.Try out Desk Yoga with a video featuring faculty & staff.
Ahhhh…feel those shoulders becoming un-hunched while your diaphragm expands with a deep breath. A special thanks to Dr. Gary Martin (a.k.a. Yoga Gary) for inspiring us. Videos available on our Facebook page every Monday in September!
9. Get inspired. Learn a new yoga style from the pros at the IMA. 
UW IMA instructors introduce us to 7 styles of yoga.
10. PRINT out this infographic to stay motivated.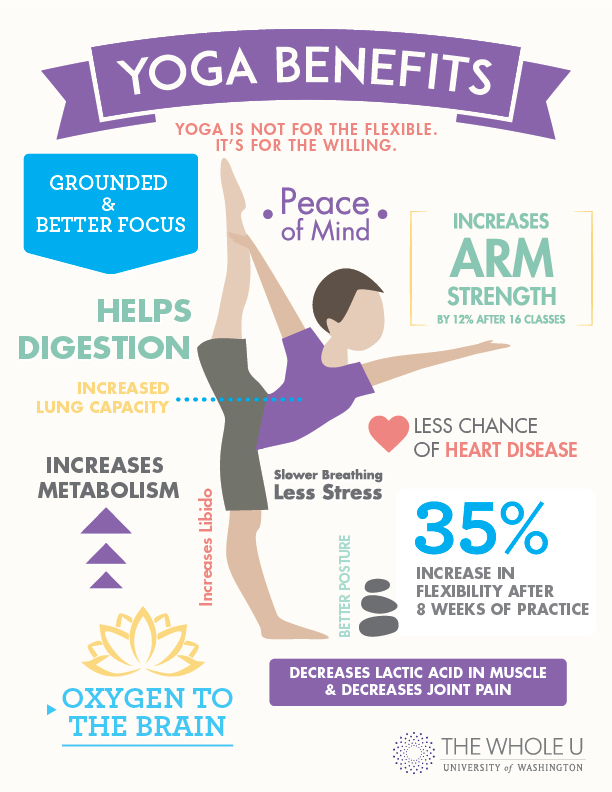 You just gained all of these benefits by practicing yoga. Good work Yogi!
We look forward to continuing this celebration with you.