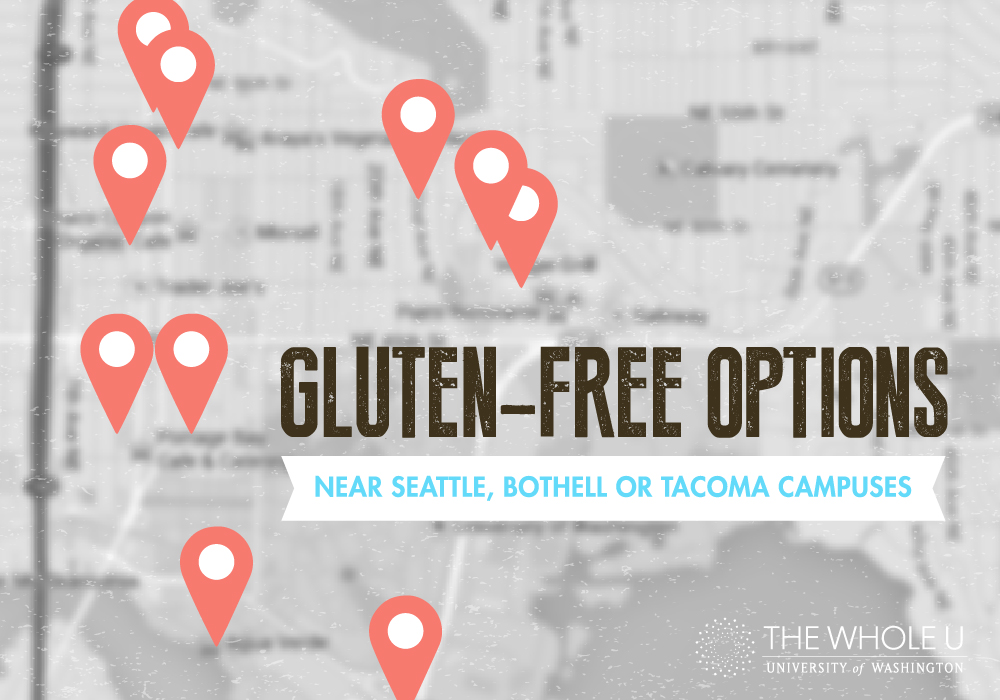 14 Gluten-Free Options Near Seattle, Bothell or Tacoma Campuses!
Back in May, Julia Marnadi, a registered dietitian at UWMC, wrote a great article on gluten-free diets. We then had a request to help locate some gluten-free-diet-friendly restaurants near campus. So for those of you with a gluten-free diet looking for places to eat during your lunch break, I've created a list of some great options. Each restaurant is within a mile from the Seattle campus, so walking is definitely an option!
Plaza Café

– 1959 N.E. Pacific St.: Located in the UW Medical Center, Plaza Café offers a few gluten-free options on their weekly menu, such as clam chowder, pizza, cookies, and brownies.
Araya's Vegetarian Place- 5240 University Way NE: Known for vegan Thai food combined with gluten free options, this place has a great bakery for this type of diet. For some sweet-tooth cravings, try the Oh My Goodness layered cake, Banoffee cake, or Jasmine crème brûlée. Find this restaurant in our

discount network

.
Chaco Canyon- 4757 12th Ave NE: With a large vegan menu, there are many gluten-free options to choose from, including sandwiches, salads, grain bowls, soups, and some yummy desserts! From French toast to beer to sweet potato biscuits, you can't go wrong with these gluten-free choices. Receive a

discount

here too!

Bombay Grill- 4737 Roosevelt Way NE. This restaurant serves authentic Indian cuisine with a variety of gluten-free options and is now even serving gluten-free Naan bread! 

Agua Verde- 1303 NE Boat St: Their menu is super easy to navigate for those on a gluten-free diet. All of their enchiladas, sauces, sides, and corn tortillas and most of their ensaladas and tacos are gluten-free. Many dishes can be made gluten-free by request as well!

Guanaco's Tacos Pupuseria- 4106 Brooklyn Ave NE: Most of their food is made with corn flour, which contains no gluten at all!

Piatti- 2695 NE Village Lane: As another great option in University Village, Piatti has a separate gluten-free online menu listing all lunch and dinner options. Some choices include an Alaskan salmon dish and Minestrone soup!

Portage Bay- 4130 Roosevelt Way NE: They are sure to mark their gluten-free items clearly and accurately. They even make their own gluten-free bread for toast and French toast! And you most definitely cannot miss out on the French toast bar!

Veggie Grill- 2681 NE University Village St: They have a list of gluten-free options right on their website, so you can check it out before you go. You can choose from plenty of starters & sides, entrée salads, home-style plates & bowls, and soups & chili.

Wayward Vegan Café- 5253 University Way NE: This restaurant is popular for its veganized American comfort food, and offers gluten-free options such as sandwiches. A popular choice is the Bikini Bowl, a hearty meal including quinoa, tempeh cutlet, and a bed of steamed kale.
I've also found some gluten-free friendly eateries near the UW Tacoma and UW Bothell campuses!
UW Tacoma:
Harmon Brewery & Eatery- 1939 Pacific Ave: Known for their beer and burgers, Harmon is accommodating with an array of gluten-free menu items. To name some, they have a bacon wrapped filet, sesame salad, and chipotle marinated spinach salad.

The Rock Wood Fired Pizza- 1920 Jefferson Ave: The Rock has delicious options for the gluten-free dieters–even pizzas and pasta! They offer a 9"crust and list all toppings that are safe to eat as well.
UW Bothell:
The Den Coffeehouse & Café- 10415 Beardslee Blvd: Along with the tasty espresso drinks, this café can substitute gluten-free bread so you can enjoy their variety of sandwiches. They also have a mouth watering gluten-free bakery menu, featuring cookies and pie!

Garlic Jim's Famous Gourmet Pizza- 18404 120th Ave NE: Gluten-free pizza may seem a little odd at first, but everyone loves their gluten-free pizza pies! They have a separate menu dedicated to it offering over 10 different pizzas to choose from.
So next lunch break, no need to fret over where to eat; you have plenty of gluten-free options to choose from!