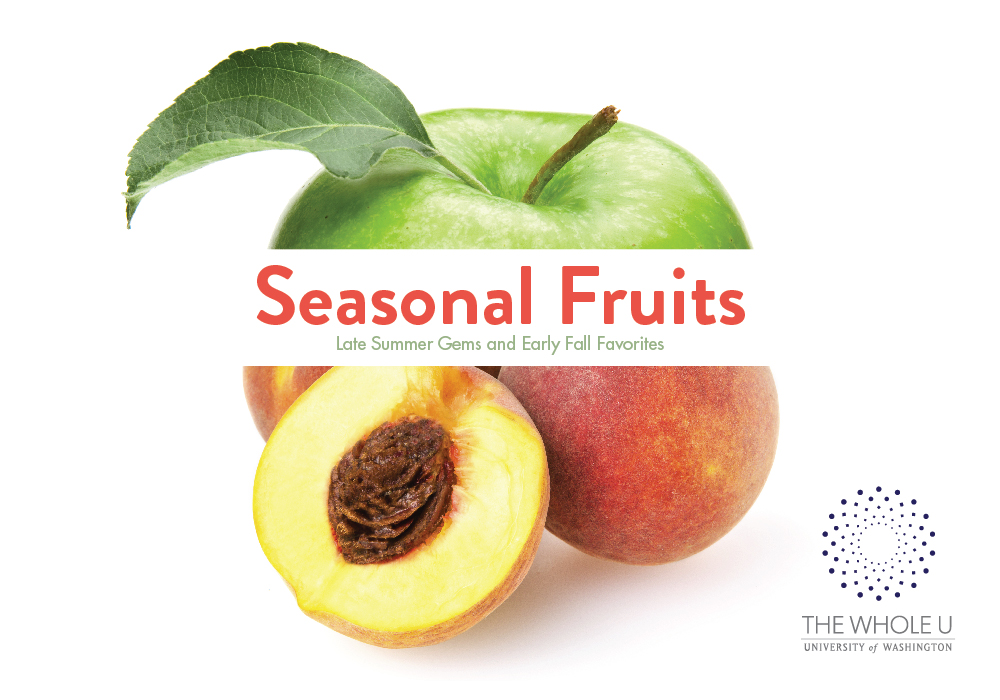 Seasonal Fruits: Late Summer Gems & Early Fall Favorites
At my local Farmers Market this weekend, produce of all hues of the rainbow colored the booths while the air was filled with the aroma of fresh-picked seasonal crops. When you purchase fresh in-season produce, you are buying them at the best time of the year – when they are brimming with more mouth-watering flavor and packed with more good-for-you nutrients than their bland out-of-season counterparts. Because there is generally an abundance of in-season produce harvested, they are sold at a cheaper price than other times of the year. This means that buying seasonal produce may be easier on your wallet too!
With summer bowing out soon, there are still plenty of delectable seasonal fruits to choose from. Here are a few late summer highlights at their peak:
Peaches and Nectarines are loaded with:
Fiber, which helps with lowering cholesterol and bowel regularity
Antioxidants that fight infection and free radical damage
Potassium, which keeps fluid, mineral, and blood pressure in a good balance. This electrolyte is also used in muscle contraction.
Try it: Peaches and nectarines can be grilled and served with a drizzle of balsamic vinegar, baked as the star of a cobbler, blended as part of a smoothie, or mixed with salads or yogurt.
Avocados are brimming with:
Fiber
Monounsaturated fat that helps improve cholesterol levels, which reduces your risk of heart disease and stroke
Vitamin K, which is needed for blood clotting to stop excessive bleeding, as well as healthy bones and tissues
Folate that helps the body produce new cells. For pregnant women, this vitamin is especially important for the baby's brain and spine development.
Try it: Avocados can be easily mashed and made into guacamole, sliced and incorporated into sandwiches, or tossed in with salads.
Blueberries are filled with:
Fiber
Vitamin K
Vitamin C, an antioxidant that also helps make collagen
Manganese, which is essential in normal brain and nerve function and also helps the body form bones, connective tissue, and certain hormones
Try it: Sprinkle some blueberries on oatmeal or yogurt, mix them in salads, incorporate them in a pancake batter, or blend them with other fruits and greens for a nutrient-packed smoothie.
With fall harvests coming right around the corner, here are a couple of scrumptious fruits that will soon take a starring role in the produce section of your local market:
Apples are packed with:
Try it: Apples are versatile and can be sliced and dipped into a nut butter, baked into apple chips or pie, mashed into applesauce, or mixed in salad.
Pomegranates are chock-full of:
Fiber
Folate
Vitamin C
Vitamin K
Try it: After the "arils" (the seeds with surrounding red flesh) in the pomegranate are separated out, they can be eaten on their own, tossed in salads or transformed into relish. The seeds are packed with fiber and can be eaten!
With all these fresh and crave-worthy choices (and more!) that fill you up with a boost of nutrition, fruits are a wonderful treat for the entire family, whether at home, on the road, or in school. Next time you head to the market, be sure to try and indulge in your favorite seasonal fruits!
Doris Ch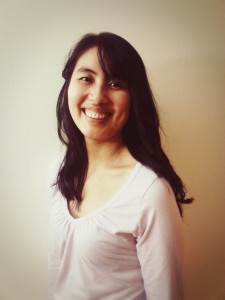 ung is a Master of Public Health Nutrition student at the University of Washington studying to become a Registered Dietitian. In her spare time she enjoys reading, hiking, and watching the Food Network.