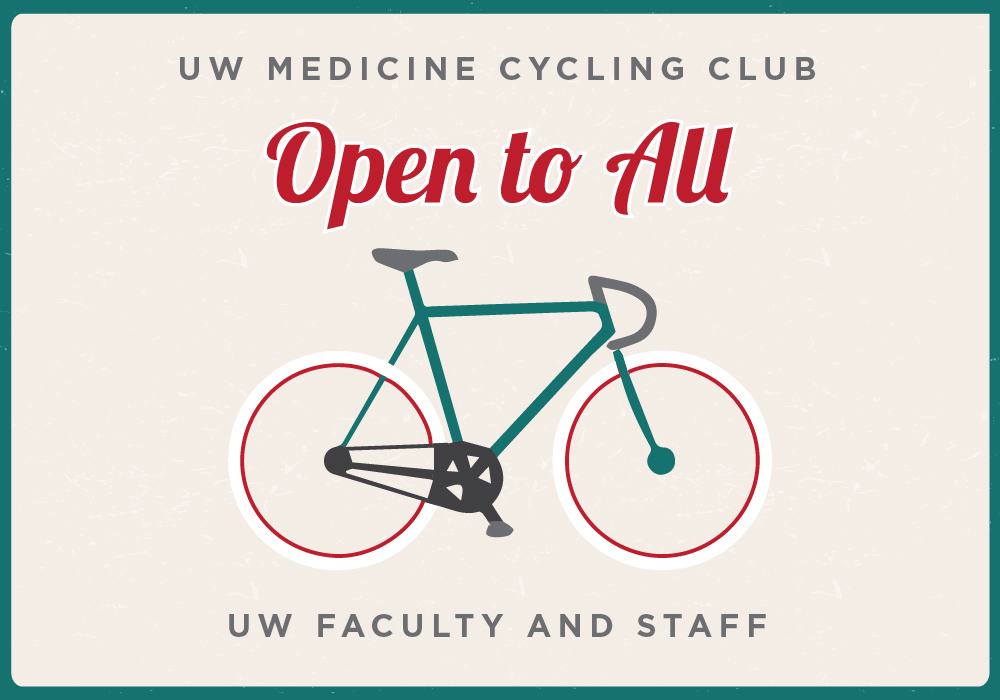 Why We Started the UW Medicine Cycling Club–and Why You Should Join!
The UW Medicine Cycling Club began in 2011 when we organized a small group of cyclists, made up of friends and riding partners primarily working at the University of Washington Medical Center, to go on bike rides. This group has grown to over 80 cyclists of all levels representing many of the UW Medicine practice sites. The main purpose for creating this club was to bring more awareness to the sport and its many benefits, as well as to establish and build lasting relationships through cycling. All UW faculty and staff, and their spouses, are welcome!
Western Washington is a beautiful place to ride and riding with others makes it all the more enjoyable! It can also be a challenging place to bike with many hills on most rides. However, the hills make it all the more beautiful and riding with friends makes the pain more tolerable. Members have participated in all the major Seattle metropolitan area rides organized by groups such as the Cascade Bicycle Club. We have also ridden in British Columbia, California, and Europe.
Generally the club is most active in the summer months when the weather is more conducive to riding, but members ride throughout the year. We have rides most weekends and on some weekdays during the summer. Ride length and pace vary and are usually announced the week of the ride. Rides can be posted by any member on our Facebook page or on our main website. We encourage you to post rides with enough information to allow those interested to determine if the ride is one they would enjoy. The club is as active as its members and posting multiple rides is a great way to generate participation. We typically have at least one "all-inclusive social ride" during the summer months, which is a great opportunity to meet other members. Ultimately, as the club continues to grow, the hope is that subgroups of like-abilities will begin to form where members within those groups design their own rides.
If you are interested in joining the club, send a request to either Chris McKenzie (cmcknz@uw.edu) or Larry Dean (lsdean@uw.edu) with your preferred email address. You can also join the Facebook page or website by visiting the site and requesting access. We have an official cycling jersey that can be viewed on the website and can be ordered by sending a request to Larry.
Larry Dean has worked at the University of Washington Medical Center since 2000 and is currently the director of the UW Medicine Regional Heart Center. A cycling enthusiast, he has ridden extensively in Western Washington, British Columbia, and Northern California. He has also experienced the mountains of the Tour de France, tackling Mont Ventoux in Southern France a few years ago. He enjoys riding with other cyclists of all levels and riding abilities.
Chris McKenzie has worked at the University of Washington Medical Center since 2008 and is a cardiac sonographer. Chris is an active track bike racer and has had great success at the masters national and masters international levels. He also enjoys riding with other cyclists of all age levels and riding abilities.