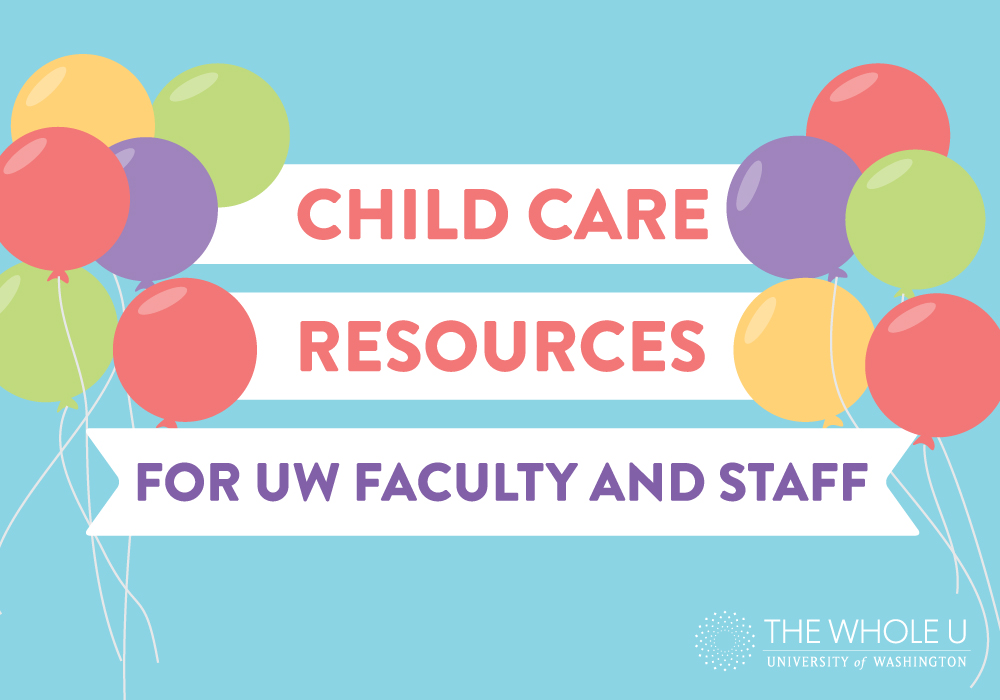 Infographic: Child Care Resources
I can still remember being pregnant with my first child and searching for the right place for childcare. As a working mother, it was extremely stressful to take the extra time to search, go visit, and budget for this new chapter in our lives. The Whole U created this infographic so that we could share what we've learned and hopefully make the process a little bit easier for others.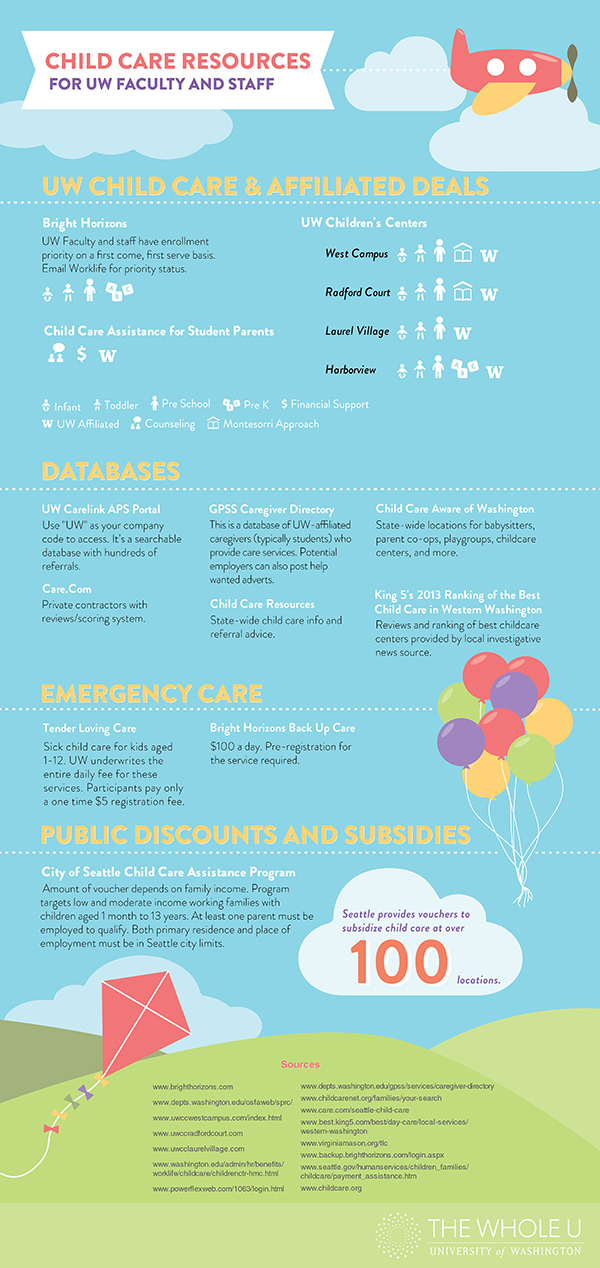 Larger, clickable version here
UW's four daycare centers are currently full and maintain long waitlists. If you plan on having children in the future, Amy Hawkins, WorkLife program manager, recommends learning about the centers and getting on the waitlist well in advance. You can learn about the centers online and find waitlist information. The good news for those that have more immediate childcare needs is that UW faculty and staff have priority access to ALL Bright Horizons in the area. I found 15 locations just by entering the UW zip code. Once you have decided on your desired Bright Horizons location, email WorkLife for priority access before registering at Bright Horizons. Tuition rates vary based on location.
More stress relief for parents is that UW CareLink has a childcare consultation and referral service. They help you locate professional, quality care for your child. You can access the full array of UW CareLink resources through the APS HealthLink portal using "UW" as the company code to log in and register. They also have the LIVEConnect instant messaging tool in the upper right corner of the home page for access to a consultant who specializes in childcare referral services. Additionally, UW offers the Caregiver Directory,which is a free service provided by the Graduate and Professional Student Senate for University of Washington faculty, staff, and students. It provides a means to connect potential caregivers with people looking for childcare, elder or adult care, or someone to run errands or do light housekeeping.
If your regular plans fall through, UW WorkLife and Bright Horizons offer a specialized back-up care program to all UW faculty, staff, and students. The call center is open 24/7 to help! They recommend you register now so that if an emergency arises, you'll be ready to find care. Login with the user name UnivWA, and the password is 4Backup. After you login you will create a personal account that only you can access. Once registered, you will log into your personal account where you can request care up to one month in advance of the date it is needed, find child care locations near your home, check invoices, find details on providers, and more. Be prepared to show your current Husky card at time of drop-off. The cost is $100 per day.
Somedays you are awakened by your child coughing throughout the night, or maybe not fever free for the required 24 hours, and you are in a panic as you have to be at work…..TenderLovingCare (TLC) provides childcare to mildly sick children ages 1 – 12, and besides the one time $5 registration fee, it is fully funded by the UW. A registered nurse is on-site to screen your child's symptoms and monitor your child's condition throughout the day. TLC offers care for children with most common childhood illnesses. Spaces are limited so contact them immediately when your needs arise.
Good luck to all the expecting parents out there and any faculty and staff that need care for your kids. We hope these resources relieve some of your daycare blues and stress in daycare shopping. If your children have gone to any of these facilities please let us know in the comments below. I am sure others would appreciate your feedback!
Special thanks to Amy Hawkins from WorkLife for contributing to this article! If you have any questions, please contact UW WorkLife.