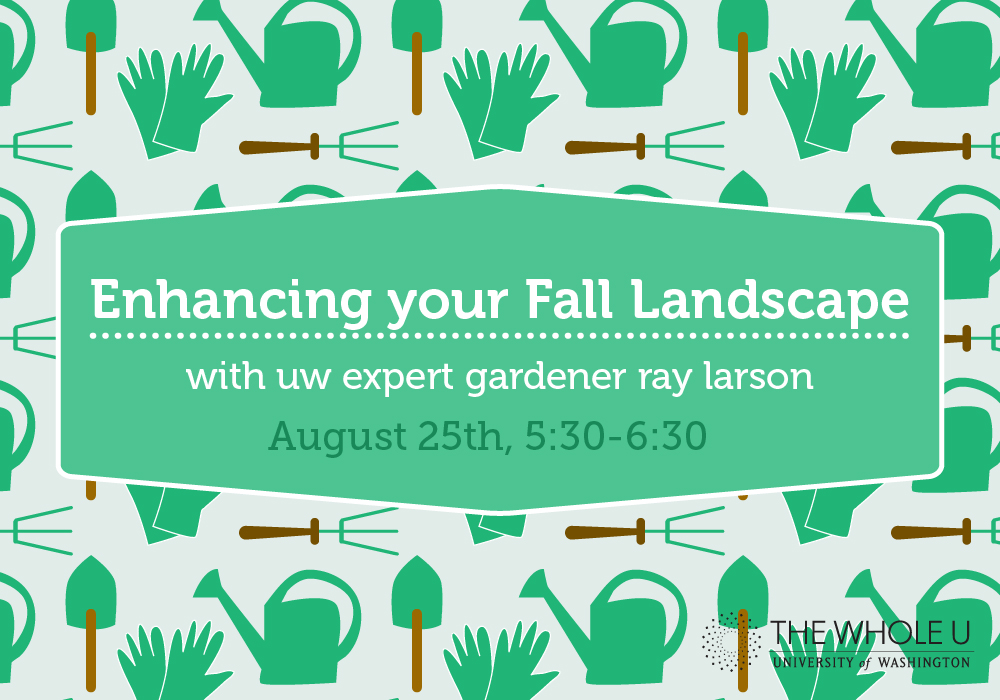 Take your gardening skills to the next level!
Summer in the Pacific Northwest is perfection. The days are long, the sun is (mostly) shining, and it's gardening season!
Soon temperatures will drop, leaves will change color, and my summer plants will need some love. Don't let the fall catch you off guard. As the seasons change, so should your potted plants. Learn how to transition summer pots into something you can use in the fall at the next Whole U Speaker Series.
On August 25 at 5:30 p.m. UW expert Ray Larson will explain how to Enhance Your Fall Landscape. Get tips on how to arrange new plants and which soil is best for the Seattle climate. Learn what tools and products to purchase to get the most value and find out how to keep your plants alive. Space is limited, so sign up NOW!
Ray Larson is the head gardener at Hill-Crest, the UW-owned residence of the University President. At Hill-Crest, he supervised the renovation of the 100-year-old 1.5-acre garden. In 2013 he was hired as the curator of living collections at the UW Botanic Gardens, and now splits his time between both jobs at the UW.
Personally, I am really looking forward to this because my current gardening style is trial and error. My tactics are random and can be wasteful. Sometimes seeds don't sprout because I didn't add the correct fertilizer, overwatered, or I moved a pot into a sunny area when it required shade. This is a great chance to get the scoop from an expert on what works in the Pacific Northwest!
This session will be great for novices and expert gardeners alike. What are you most excited to learn at this session? Tell us in the comments below.