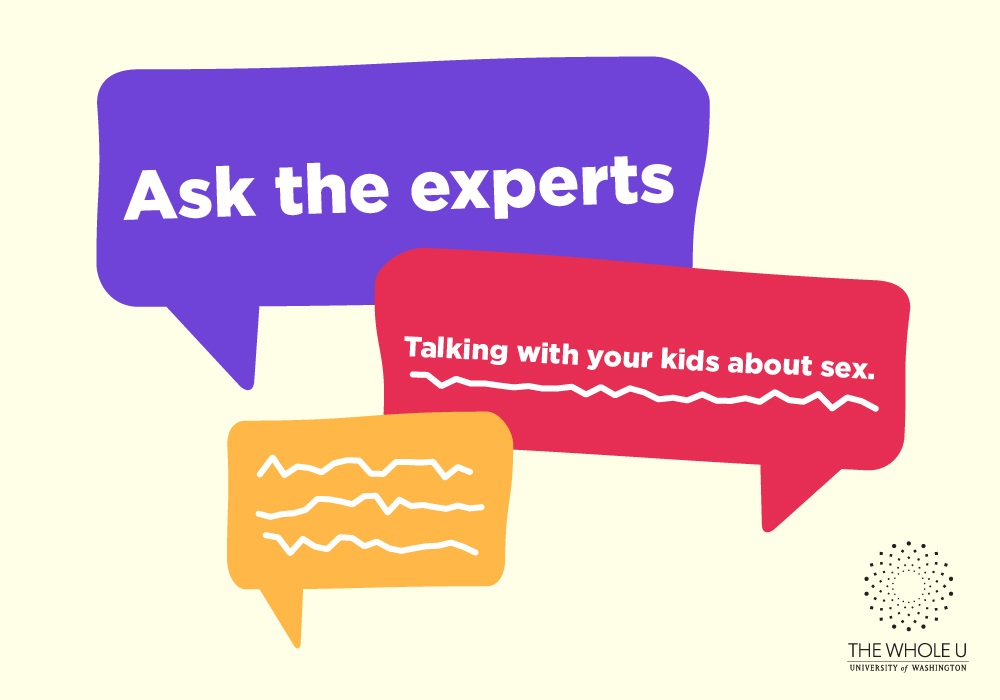 Expert Tips for Talking with Your Kids About Sex
As 12-year-old girls, we giggled about sex education night. We knew it was inadequate and didn't take it seriously even though we had tons of thoughts and feelings about what was going on that year.
Fast forward to now, and I'm a parent hungry for information on navigating the safety and social issues around healthy sexual development for my own child.
I talked to two staff members at the Harborview Center for Sexual Assault & Traumatic Stress who are experts in what healthy sexuality looks like, and sadly, what it doesn't. The clinic, located in the Pat Steele building, offers information, referrals, care, and counseling related to traumatic experiences and assault. Assistant Director Laura Merchant, LICSW, has been with the UW for 30 years, and Rebecca Milliman, MSW, is dedicated to training youth and adults, creating community resources, and developing policy.
What advice do you have for parents about talking to kids about their changing bodies?
Rebecca: We hope that it's many conversations, and not just one. There are great resources out there for parents and also many books you can read with them too. The goal is to have kids understand their bodies and how they work, and also how to be safe. Parents want to send the clear message to children that they can talk about anything they are wondering about or concerned about. Start the conversations, or use a real-life situation or movie character to segue into the topic. If your kids keep asking questions, they are ready for more information!
Can you recommend a good book that speaks to kids at their own level?
Rebecca: Yes, I recommend the series of bestsellers by Robie Harris that progress age-appropriately beginning with "It's Not the Stork" for 4-8 year-olds, "It's So Amazing" for 7-10 year-olds, and "It's Perfectly Normal" for age 10 and up. I also recommend the book "It's My Body" by Lory Freeman which you can start reading as young as age 2.
If parents need to know one thing on this topic, what would it be?
Rebecca: I would love to see parents talk to their kids more about consent. Teach them to read how others are feeling. Teach them to ask before touching, playing, or taking something. And when someone says no, they must respect that (and likewise, others should be respecting them in the same way!).
Laura, you're assistant director here at the Harborview Center for Sexual Assault & Traumatic Stress. What services does the center provide?
Laura: We're a Community Sexual Assault Program (CSAP). As a CSAP, some of our services are provided at no cost. These services include medical, legal, and general advocacy, information and referrals, and general support that includes an initial session with a counselor to address concerns and help with planning next steps.
In addition to these basic no-cost services, we provide counseling for the effects of traumatic events. Our counseling services are evidence-based and help with the effects of potentially traumatic experiences such as depression, anxiety, post-traumatic stress symptoms, and help with behavior problems in children. In addition, we work with young children and their caregivers around sexual acting out behaviors. Our medical services include evaluation and treatment as well as evidence collection involving sexual assault concerns.
The center opened in 1973 and primarily served adult sexual assault victims. As we learned more about the impact of all kinds of traumatic experiences, the program expanded to include services for people experiencing symptoms related to potentially traumatic events. When providing services to children, it's essential to include the caregivers in the treatment since caregivers know their children best and will be instrumental in helping their children recover.
What's your role, Rebecca, as the Prevention and Education Coordinator?
Rebecca: I work with communities to promote healthy relationships and interpersonal safety. I educate youth, parents, and professionals on sexual assault and prevention, and I assist schools in policy development to protect children.
I'm co-author of the Family Life and Sexual Health (FLASH) curriculum taught in many school districts across the state, including the Seattle schools. It is a comprehensive sexual health curriculum with a research-based sexual assault prevention component. In addition to writing content, I also train professionals in FLASH and present to students directly.
Unfortunately we see constant stories in the media on sexual abuse. I read on one of your brochures that one in four girls and one in six boys are sexually abused by their 18th birthday.
Laura: While it is true that sexual assault impacts many people, the good news is that evidence-based services are available and can greatly mitigate the negative impact of sexual abuse/assault. In addition, there are evidence-based prevention programs that look to stop abuse before it happens. In fact, sexual assault has declined in the past 20 years, in large part due to prevalent prevention and intervention services.
Rebecca: It's important to remember that despite our best efforts to protect children from abuse, it can still happen to any family. But children really can (and do) recover. We are here for you if you ever have this happen. It's confidential; we will support you and your child, and help you make a plan.
What about the larger issue? Combatting perpetration of these offenses takes an enormous effort.
Rebecca: Societal norms, like gender inequality, hypermasculinity, sexism, homophobia, and a general tolerance for violence all contribute to sexual assault. When you are challenging these messages and modeling healthy behaviors and interactions, you are helping to prevent sexual assault from occurring in the first place.
Call the clinic for referrals, counseling, and support at 206-744-1600. Find resources on their site, including multiple tip sheets on the Positive Parenting page, expert resources on Common Parenting Concerns, and the Healthcare Toolbox: Guide to Helping Children and Families Cope With Injury and Illness.