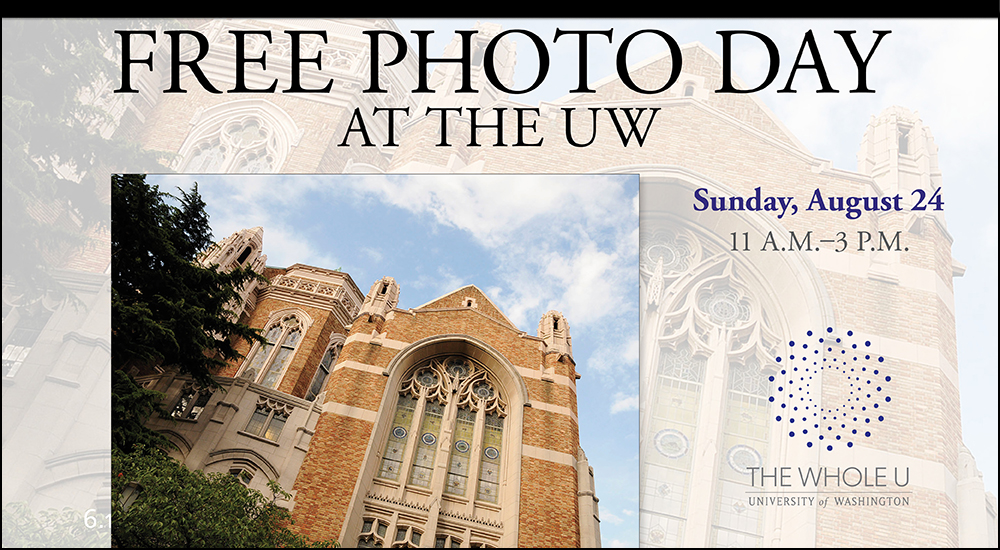 Announcing Free Photo Day!
Capturing a photo worth printing can be a difficult task in this era of cell phone cameras and selfies. Let a professional photographer come to the rescue on Free Photo Day!
All UW faculty and staff are invited to the Seattle campus on Sunday, August 24 to have their picture taken. Feel free to bring partners, spouses, children, grandparents, and even pets to capture a great shot of those you love. You can pick any time between 11 a.m. and 3 p.m. by REGISTERING HERE.  A professional photographer will take three to five frames of your group at each location you choose. After the event, you can simply log in online, download the photos (up to 8×10 quality), and have them printed anywhere!
Our team of professional photographers include Tara Brown (former UW staff), Brian David Casey, Rick Gordon, Anna Gordon, Libby Ross, Aya Sato, Vanessa Simpson, Brooke Taylor, and Leane Thompson. Most of these photographers have also joined The Whole U discount program, where you can find more information about their services and see their portfolios. For example, Tara Brown took this shot on campus: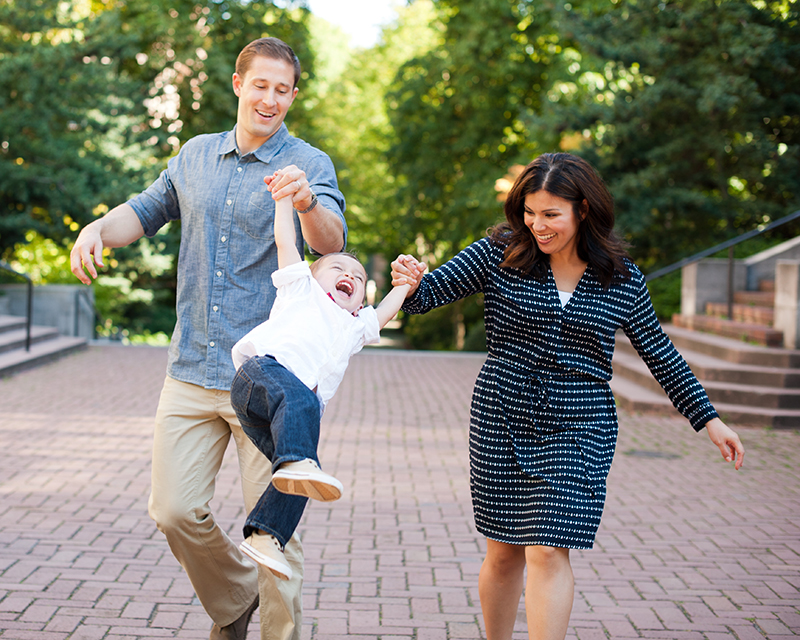 And since you'll be on campus, why not bring a picnic and make an afternoon of it? A face painter has been confirmed and we are working to provide more free entertainment for the kids because they deserve a reward for holding still and giving their best smile! You will also be able to grab a beverage at a discount. Burke Café will offer 10% off their espresso beverages (anything made on the espresso machine, including hot chocolate and steamers for the kiddos) and drip coffee.
For the photos, you are able to choose one or all of four different iconic locations on Seattle's campus: The Quad, Drumheller Fountain, Husky Stadium, or Suzzallo Library. There will be multiple photographers stationed at each location to boost efficiency and maximize your time. Can't decide which locations to shoot at? Here's some background info about each spot:
The Quad, officially named the Liberal Arts Quadrangle, is known for its breathtaking scenery. Even though the Yoshino Cherry Trees will not be in bloom in August, the greenery is still spectacular. Here you will also find gorgeous brick architecture and the historic walkways.
Maybe you'll choose Drumheller Fountain located on Rainier Vista. Drumheller Fountain, originally known as Geyser Basin, was created for the 1909 Alaska Yukon Pacific Exposition. When the skies are blue and clear, Mt. Rainier can even be spotted in the distance. Today, Drumheller is known as a popular place to take photos and is often home to many families of ducks and geese!
For diehard Husky football fans or those who simply love the recent renovations, Husky Stadium is a great option. With a lowered field, removed track, and a new lower bowl and south side stands, this location screams "Go Dawgs!" Known as the "greatest setting in college football," you can't go wrong!
Last but certainly not least, Suzzallo Library is another campus favorite. It opened in 1926 and the  Gothic architecture is composed of precast stone, terra-cotta, brick, sandstone, and slate. University president Henry Suzzallo envisioned this library as "the soul of the university."
Simply register for the location(s) you want, and when you arrive you can jump in line for the photographer who's framed the shot the way you like best.
So skip the selfies and join us on Free Photo Day! This is an event you do NOT want to miss.  No more blurred faces, horrifying red-eye, or a stranger's finger over the lens. Just a beautiful photo by a professional photographer that you can cherish for a lifetime.