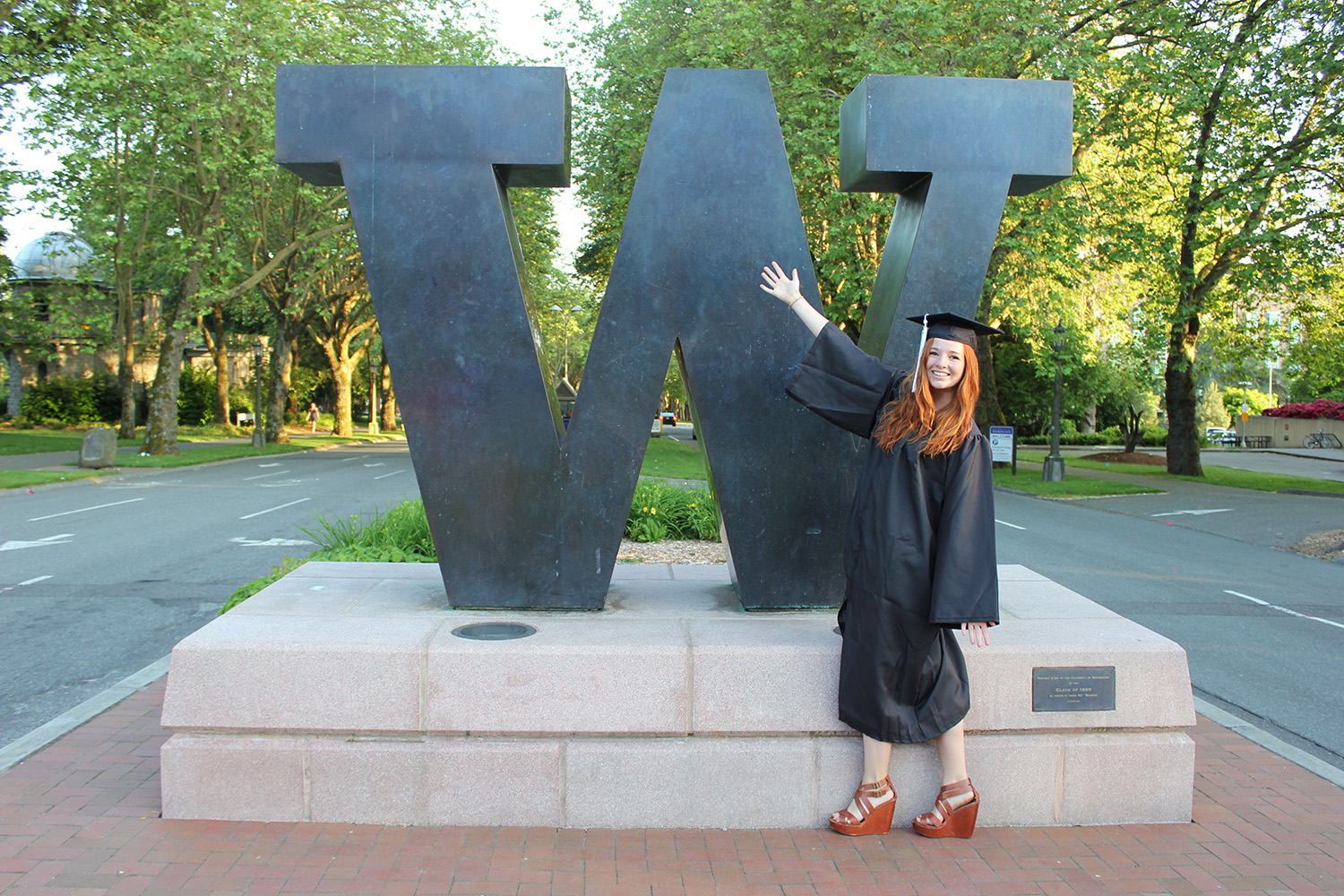 Reflections from a Graduating Student Employee
When I stepped onto campus for the first time four years ago, I knew I was about to become one of the many students in the class of 2014. However, my narrow view of UW consisted mainly of my sorority, my classes, and my limited interactions with professors. It wasn't until I got my first on-campus job as a student caller in UW Advancement's Office of Annual Giving in the spring quarter of freshman year that I learned how many moving parts are required to maintain the activities, initiatives, and departments that I took for granted.
As a student caller I raised awareness and fiscal support for discretionary funds, endowments, and schools across campus through cold calls to friends and alumni of UW (you've probably received similar calls from your own alma mater). By fundraising for units ranging from the UW World Series to Harborview Med Center, I was exposed to the dynamic offerings of a large university. A desire for engagement was sparked within me as I began, and continue to, participate in campus programs and events, like IMA sports, study abroad, and visits from renowned leaders such as U.S. Supreme Court Justice Sonia Sotomayor
When it came time to look for a new job, I knew I didn't want to lose the connection to the community that I was given by working for my school. So I searched from north to south campus in hopes of a flexible position that would complement my studies. Little did I know the perfect opportunity was waiting for me in west campus' Condon Hall!
I had always avoided taking classes in Condon, mostly because it is a bit of a trek from my house. But as I stepped off the elevator to meet Senior HR Communications Specialist Blair Maurer, I knew I found what I had been looking for.
In the past eight months as a student assistant with UWHR Marketing, Communications, and Engagement, I have worked on a variety of creative collaborations, writing and editing projects, and I played a support role for programs including The Whole U and SafeCampus. But what I love most about this job (besides the rest of the team of course!) is the overlap I find with my schoolwork. As a double major in Communication and Political Science with a minor in Diversity Studies, I have found that the skills I have learned at the office, like an eye for detail, adaptability, and strategic thinking, are perfectly applicable to classroom discussions, essays, and group projects.
The ability to work on campus and contribute to UW in my own ways has made me a more fulfilled and appreciative student. The array of classes I have taken coupled with campus jobs have expanded my understanding of UW as an influential institution far beyond the scope I imaged when I began as a naïve freshman in 2010.
Four years later and now graduation is in a week, which means my time as a UW student and employee must come to a close to make way for my life in the working world. But before I trot across stage in my cap and gown, I am taking the time to remind myself of the opportunities I've received, people I've met, and expansive UW to which I have been exposed. Working at the UW has granted me the ability to be part of something larger than myself and I am so thankful to those who have encouraged me along the way.