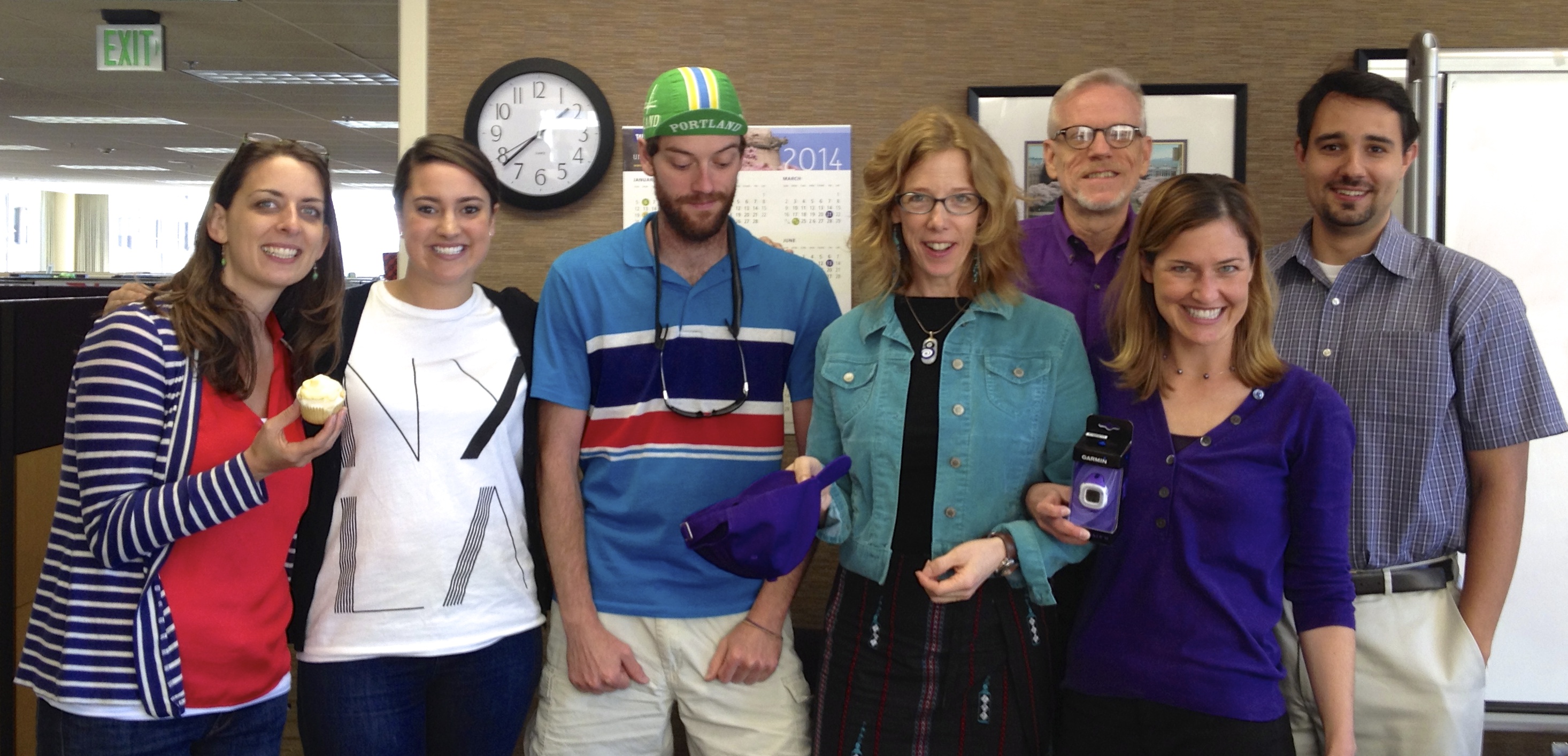 300 Miles & Counting: How One Team Blew Past Its Bike to Work Goal
The University Marketing & Communications (UMAC) team decided it was time for a friendly competition. Since May was bike month, it made sense to roll our commute into a challenge!
The challenge
To utilize another method of transportation besides driving or busing. Each person would contribute to a team goal of 300 miles (the distance from Seattle to Moscow, ID) through a combination of walking, biking, and running.
Why the challenge?
Biking, walking, and running are viable ways to get around this beautiful city. They each allow us to be a part of our surroundings. Commuting via car or bus does not offer the opportunity to smell the flowers, feel the rain, or notice the small things that make this city so picturesque!
The goal
This challenge would provide an opportunity to realize that an alternate method of transportation is a great way to get around town.
The details 
13 colleagues signed up for the challenge. Each day, we updated individual millage and the group total on the whiteboard in our project room. It was exciting to see the numbers slowly increase. After three weeks, some people had logged over 100 miles, while others had 10 miles, but since it was a collaborative goal we were in it together!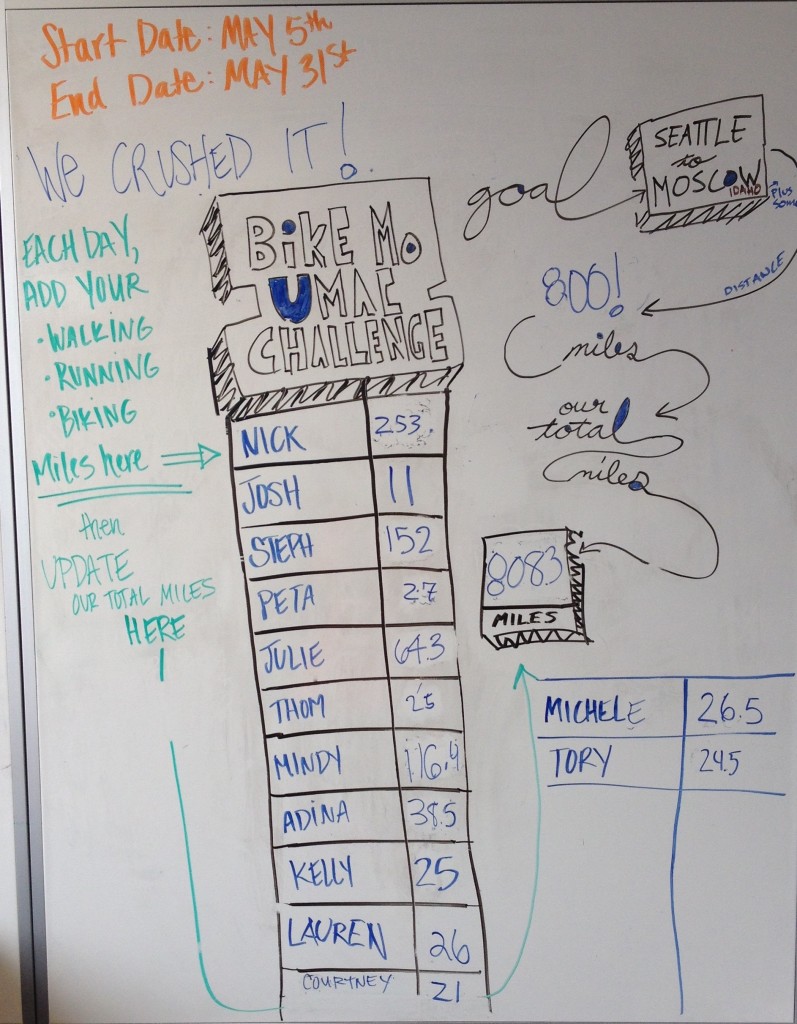 As the month of May rolled on, we compiled tips to make a walk/bike commute fun:
Free apps like Strava can track your numbers! Google maps works great, too.
Pay attention to which flowers are on the verge of blooming and look for new ones each day.
Make a game of timing yourself; as you get stronger, see if you can shave a little time off your commute each day.
Keep your eyes peeled because you never know who you'll meet during your commute. One challenger had a "chance encounter" to report!
Pack your work clothes and lunch the night before; the less you have to think in the morning, the easier it is to get out the door.
Try a different route. Say hi to those you pass, you might get a smile in return.
Don't pressure yourself to "do it all."  Try walking or biking one way and take the bus home. Then ramp up gradually.
Request meetings that you have to walk to. It provides an opportunity to move around during the workday!
The month of May is over and the challenge is winding down. When we asked if the team would continue to bike/walk after May, we received a resounding YES!
So did we make our goal? We CRUSHED it! Currently we're up to 808 miles. Thank you to The Whole U for giving away a fantastic, snazzy, purple Garmin at Neal Dempsey's talk. Steph won it and raffled it off to celebrate our victory!
Think your team could bike/walk/run over 800 miles in a month? Maybe it's time for a friendly competition between departments!
Nick Bolton is a Designer and Stephanie Garbaczewski is an Event Manager for University Marketing and Communications. Nick, originally from Norman, Oklahoma, uses his bike as his sole mode of transportation and has taken the bus only twice since moving to Seattle 18 months ago! He enjoys sharing his knowledge with colleagues to find their bike. So far he's advised five people, including Stephanie, to find and fit their perfect bike! Stephanie, originally from San Diego, CA, is new to the biking community but embraced the challenge in May as an opportunity to mix up her exercise routine. They both live on the Burke Gilman trail and enjoy the flexibility and the fresh air of commuting to work on a bike. They co-wrote this article together.