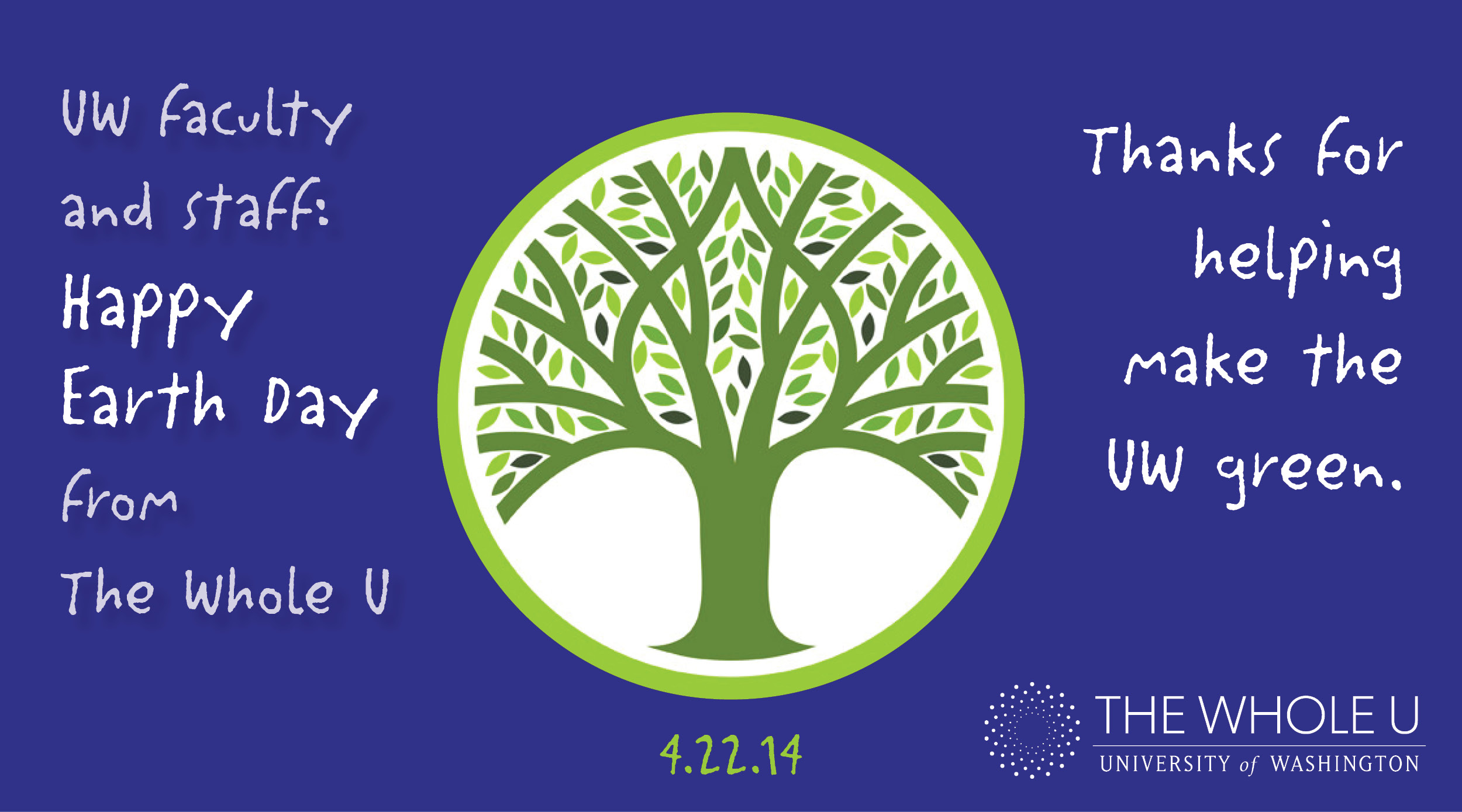 Green It! Earth Day Events on HUB Lawn, Harborview, & Online
Tomorrow, UW student environmentalists will be out in force on the HUB lawn celebrating Earth Day and you're invited. They'll be clean energy and green initiatives representing their groups, an open mic, a fashion show, and more.
UW's Earth Day celebration is from 10 a.m. – 3 p.m. All student exhibitors are listed on the event page.
Marina Kelsh is a senior in Biology with an emphasis in Ecology, Evolution & Conservation and is this year's Earth Day Coordinator. I spoke with her about the activities she's looking forward to most.
How did you become this year's Earth Day Coordinator?
I've been in the UW Earth Club for all four years here, and I was president of Earth Club last year. When the Environmental Stewardship & Sustainability office posted an internship for a coordinator, I applied.
Tell me about Earth Club.
We promote environmental stewardship on campus and we've always been involved in Earth Day planning. We just started a water bottle campaign promoting reusable water bottles.
What are you most looking forward to on Earth Day here on campus?
I'm really excited to hear Lisa Graumlich, who is Dean of the College of the Environment, and I'm excited about our theme this year: Healthy People, Healthy Planet. Earth Day on campus makes you realize how many green groups there are at UW and how many activities you can attend.
If faculty and staff can only attend for 45 minutes, when would you recommend they come?
The opening ceremony is from noon-12:30, and the official program runs from noon-1:00.
UW is a green campus. But what, in a nutshell, does UW do best when it comes to sustainability?
The divestment campaign is a passionate group taking action against climate change. And the RSOs [registered student organizations], through the Student Activities Office, do really well encouraging student initiatives.
What are some ways UW faculty and staff can get involved in environmental stewardship?
It's the little things. Recycle and compost. Try to bike to work once a week if you can. Attend an event on campus. Show support — because a lot of good things are going on.
I'm taking Marina's advice and visiting the HUB lawn tomorrow. Student-run UW Solar, the force behind the solar installation, is one of the groups you'll find there. At their recent celebration they were joined by Governor Inslee and Earth Day founder Dennis Hayes.
Stefanie Young, a UW Solar project manager and Ph.D. candidate in Urban Planning and Design, looks forward to Earth Day on campus. "It gives us a chance to interact with the whole student body. We love to get undergrads involved."
Another group on the lawn will be UW Real Food Challenge, a registered student organization, who works to bring more real food to campus and attract more local offerings in place of industrial farm products.
It's great to see all this going on at the UW. As Dean Lisa Graumlich, the keynote speaker, notes: "Our students study the what, why, and how of sustainability, and then they put it into action on campus and across the region. "
If you can't make it to the HUB tomorrow, another way to get involved is to volunteer or donate via the first-ever Earth Day Challenge, presented through a unique teaming up of EarthShare Washington and the UW Combined Fund Drive.
And if you're a Harborview employee, take the stairs on Earth Day instead of using the elevators if you're able. Brenda Nissley, OTR/L, told me, "On any given day there may be over 10,000 elevator calls on the Harborview campus." So take the stairs and help reduce energy usage at HMC! Prizes will be given out throughout the day in random stairwells. Details are available on April 21 and 22 at the Earth Day table in the HMC cafeteria.
How do you go green on Earth Day? Any special plans? Post a comment below.