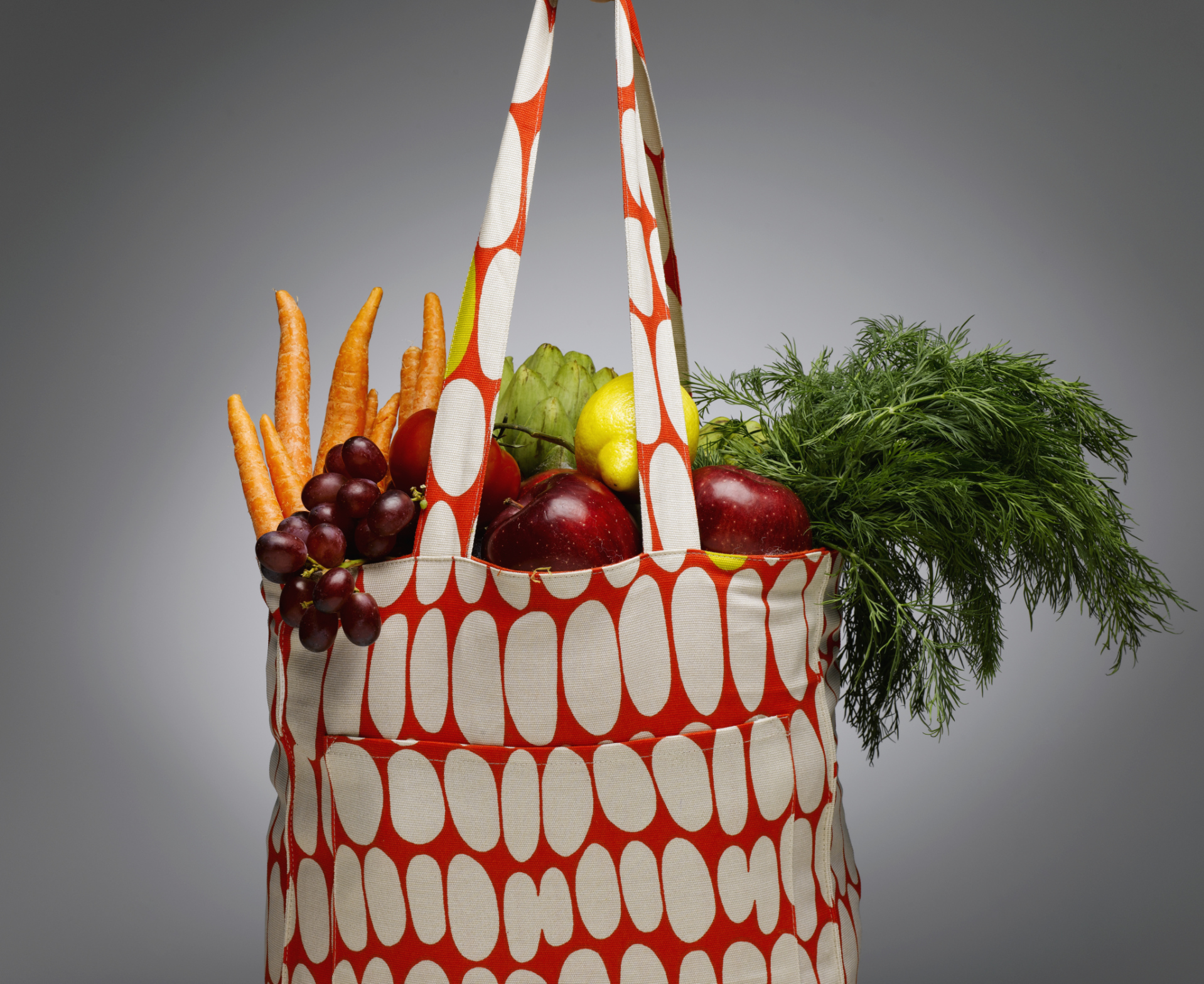 How To Have A Picture Perfect Pantry!
I try to strive for excellence and not perfection, but my New Year's resolution was to get my pantry in shape? Well it has been quite the journey to make it happen and I found myself a little sluggish in January and February. So after Valentine's Day I decided to try to eliminate some foods and add some others in my daily nutrition plan. With two kids the easiest meal for me to make in 15 minutes is spaghetti. The easiest snacks are goldfish, pretzels, or crackers, and the easiest breakfast is cereal. But what was I missing? Why was I feeling so sluggish and a bit moody? I was missing VEGGIES and FRUIT!
An apple a day just wasn't enough and our usual salad each dinner stopped happening. Isn't it funny how we don't notice changes in our routine until our body starts to show the signs? I decided to make the Farmers Market a weekend fun trip. Instead of stocking my pantry full of pastas, cereals, and crackers, I started stocking my fridge full of oranges, apples, grapes, pineapple, greens, onions, carrots, and more. Instead of cereal for breakfast, we have yogurt and fruit. With our sandwiches for lunch, we add veggies and hummus and our dinners now always have half our plates with salad, potatoes, corn, or greens. And guess what? We all feel great!
It is one thing to know what to do to make little changes in your diet (in my previous job I managed over 20 dietitians and exercise physiologists) and another to actually do it. Life happens and we all can get trapped into bad habits. At first I found it really hard to cut back on some foods (cereals, crackers, pretzels, pastas) but it made me realize how little fruits and veggies we were consuming. I still make fun pasta meals, but the difference now is we add more veggies to the plate and portion the pasta a little better. My snacks are always veggies with dip or fruit and it has been fun to see my kids try them and realize Mommy is NOT going to cave.
Here was my pantry before: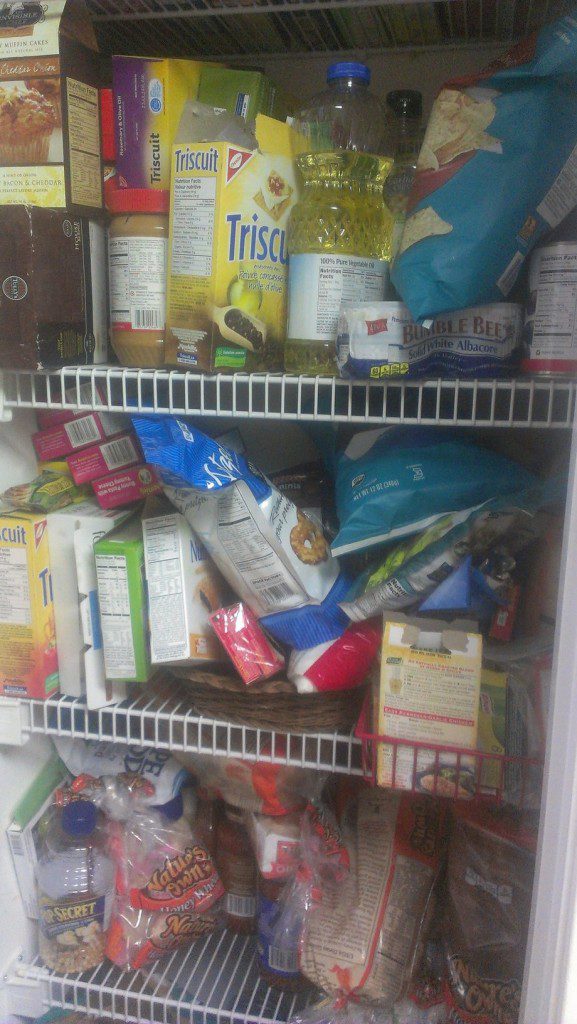 Here is my pantry now: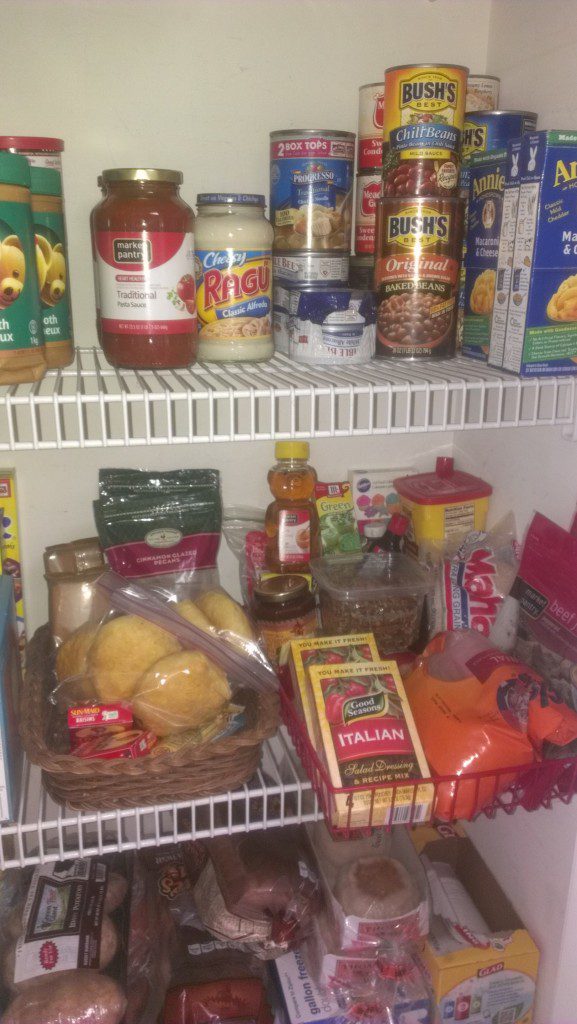 Here are some ways that you can try get your pantry in shape:
CLEAN out your pantry. Get rid of old stuff and organize it by type of product. This way you can see just how much of everything you have.
TRY to switch from white pasta to whole grain or white with fiber. (Whole grain is so tricky with my kids…They always notice!)
ADD beans and tuna for a quick meal.
KEEP just a few boxes of crackers in the kitchen pantry instead of stocking up. If they happen to be on sale, put the others away somewhere and only bring out a few boxes each month.
PLAN your meals for the week the day before you go grocery shopping. Be sure that half of the meal is fruits and veggies.
When you increase your fruit and veggie intake you will notice your pantry getting lean and your fridge being stocked full. THAT IS GOOD!
Here are some ways to stock your fridge and get it local:
CHECK out Full Circle – an online Farmers Market that delivers and they have awesome recipes!
GO to the next monthly UW Medicine Farmers Market.
CHECK out Seattle's Farmers Market. Did you know at The U District location UW faculty or staff can get a $2 off coupon the first Saturday of every month?
These little changes have made huge improvements in how I feel during the day as well as improve my exercise. Sometimes it takes a little effort to get back on track but once you do you will feel SO MUCH better.
Share the ways you strive to eat healthier, what is in your pantry, or your favorite quick recipe in the comments below and you will be entered into a drawing for a $25 gift card to Full Circle's Online Farmers Market!