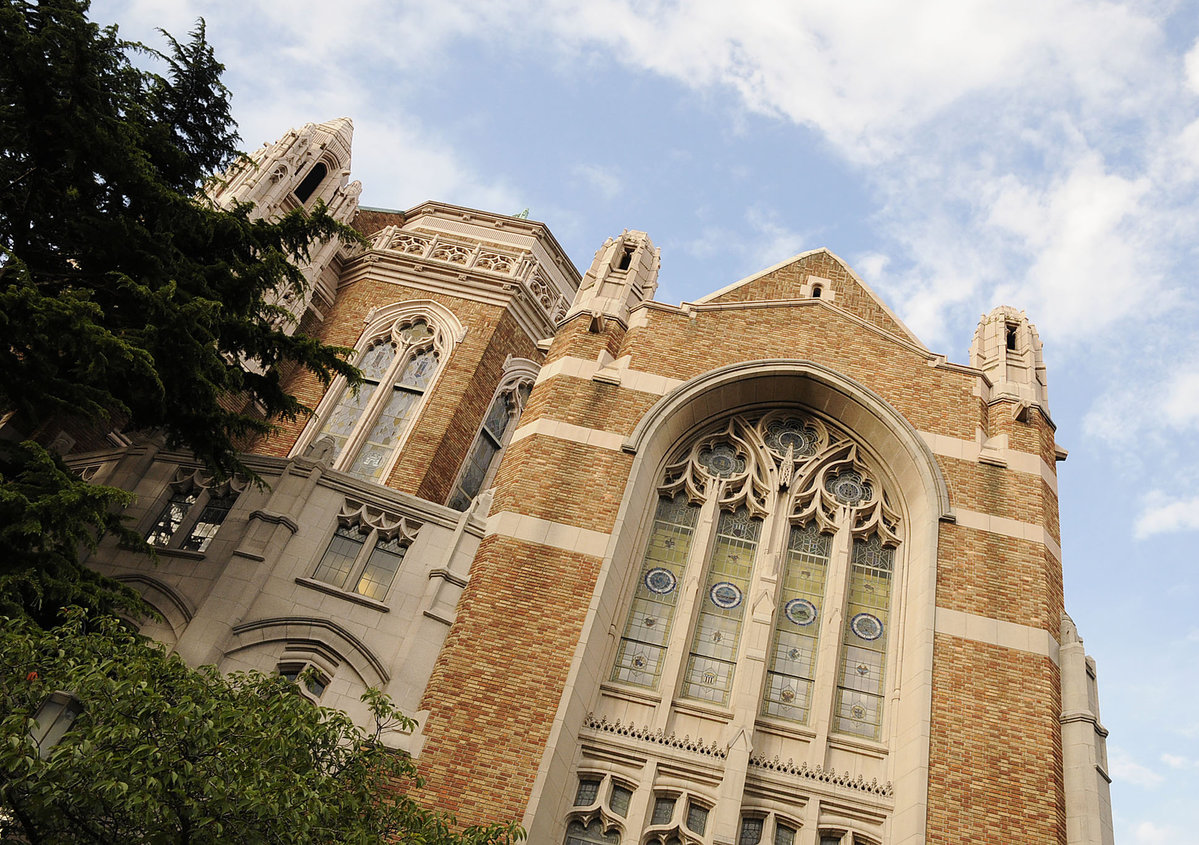 Secrets of the Library Wellness Committee
Since forming in early 2013, the Library Wellness Committee has created a walking group, a yoga group, an annual Bring Your Daughter or Son to Work Day, and a peer recognition program. I spoke with committee members Heidi Nance, Jenny Muilenburg, and Barbara Petite about what they've learned along the way that could make it easier for other departments to bring new ideas to life.
How did the Library Wellness Committee get started?
Heidi Nance: It all started in 2012 when Patrick Osby became the Director of Human Resources for University Libraries. He suggested a wellness program and we did a survey to gauge interest. Interest was huge! So there was a Staff Development Advisory Committee that asked people: What would you like to see in a staff wellness committee?
The yoga group was first, right? How did it get started?
HN: Jenny is a certified yoga instructor and she offered to teach classes here, so we did a six-week pilot with 35 people. It was overwhelmingly positive.
Jenny Muilenburg: Even with attrition we had 25 people. Now we offer it on Mondays during lunch to shake off the weekend. It's free and open to all library employees, and no one has to sign up. We wanted to keep a low barrier to entry, so the administration gave us funds to buy mat cleaner and eight mats in case people forgot theirs. I keep the class open to all levels, and you can participate without needing to change clothes.
Everybody's busy but these things are really important. If you can take a break to refresh your body and mind, hopefully you go back a more effective employee. We did a pre- and post-survey after the pilot and there were some great comments "I liked the convenience of having it in the Libraries, and the fact that people from all units came to participate." "I felt very refreshed after the hour class of stretching." "I like it that management has been supportive of the program." "I feel totally relaxed after, which is perfect for midday work day." "It is so great that the libraries support this program, it makes my Mondays!" "The class has gone a long way to helping me reduce stress and feel less anxious on Mondays." They feel more productive and ready to dive into the week.
What about the Walking Group?
Barbara Petite: We did a kick off event modeled after the Sound Steps program in Seattle. There were two shoe companies and a speaker from Feet First. It was very well received, and we generated an email list so we could share info about local runs and walking events.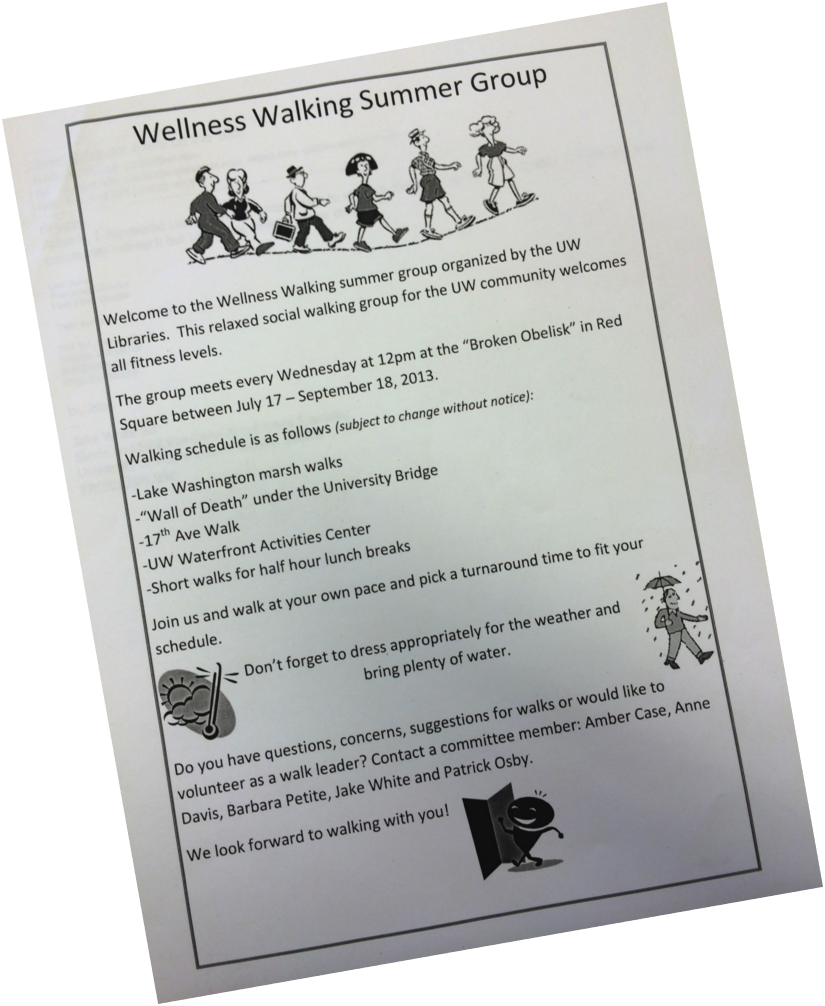 We walk every Wednesday for 30 minutes during lunch. There's small but steady attendance. Sometimes we just wing it, but we do themed walks occasionally. We've done haunted walks for Halloween, a Greek Row (Row Show) walk to look at the houses, and a Plant Walk. I like to learn things on the walk, like the fact that there was a World's Fair on campus in 1909 that created structures still on campus today. I want to develop a summer theme walk as well.
And you held a Bring Your Daughter or Son to Work Day last April?
HN: Yes, my six-year-old son wanted to come to work with me and see what I do. I talked to a few other parents and there was interest. People all over the US are doing this, and we planned a full day of activities. We were very aware that other people were still trying to get work done, so people could float in and out of the activities. It was less work than I thought to pull it together because all the parents were enthusiastic. It was a ton of fun. We had 12 children show up, and we're going to do it again this year April 17.
We want to build on what worked last year but add new locations and incorporate older kids and teens. One idea we have is to create a passport that kids can use to collect stamps from different libraries. Since this will be an annual event, they could collect more next year.
How does the peer recognition program work?
Patrick Osby: In February 2013, I made a proposal to Betsy [Lizabeth (Betsy) Wilson, Vice Provost for Digital Initiatives and Dean of University Libraries] about starting a Peer-to-Peer Recognition Program after reading an article in Society of Human Resource Management (SHRM) about the benefits of recognizing staff on a regular basis. Betsy was very supportive and allocated funds for the program.
The program is designed for Libraries' staff to recognize each other, share great ideas, and improve teamwork and morale. Staff can fill out an online Recognition Form. The form is automatically sent to Libraries' HR and then forwarded to the recipient's supervisor, manager, and Associate Dean. Each Recognition is worth one point. After a staff member has received three points, Libraries' HR will send them a $5 Starbuck Treat. Every month we list the recognition winners in our Weekly Online Newsletter.
What motivates you to be on the Wellness Committee?
BP: It's a passion of mine. It is energizing to see the walkers enjoying themselves.
JM: It's very energizing and I get positive feedback pretty much every class. We didn't have class for three weeks in December because of holidays; the first class back people applauded. And we have the surveys where people actually spelled out what they like about the class.
HN: One of the best things is that you integrate personal life and work life. That doesn't often happen. There's not a lot of employers who would encourage you to do that and provide money for that. It's huge that higher administration really understands that it's valuable. We had a software transition was very disruptive; this is a useful counterpoint to all that stress.
BP: The walking group does develop an inclusive community in Libraries. It's good for work because you get out of your zone and talk with different people. Lots of leaders have their best ideas while walking. It provides space in the brain for synthesis to happen.
What advice do you have for others who'd like to start similar programs?
HN: One of the reasons we were most successful is that Patrick got it going. Find an advocate at the administrative level. We had acceptance right from the start because of that. The other thing is we paid attention to what people wanted by doing surveys. Start and end on time, leave the room exactly as you found it, and make sure there's a low barrier to entry.
JM: Betsy and Patrick both attended the walking group. Betsy came to many months of yoga. If the dean is taking an hour out of her day to be there, that lays the groundwork that this is accepted behavior.
HN: Positive peer pressure is also valuable. Whether it's a competition using Fitbits, taunting each other into action, cheering each other, or positive reinforcement.
The Whole U wants to celebrate and support initiatives like this in any way we can. The Library Wellness Committee used some of their recognition budget to order t-shirts through The Whole U, but we can also help with promotion or even just brainstorming. Contact us if you'd like to schedule a consultation.
Thanks to the Library Wellness Committee for all the work they've been doing to support long term health and community building!