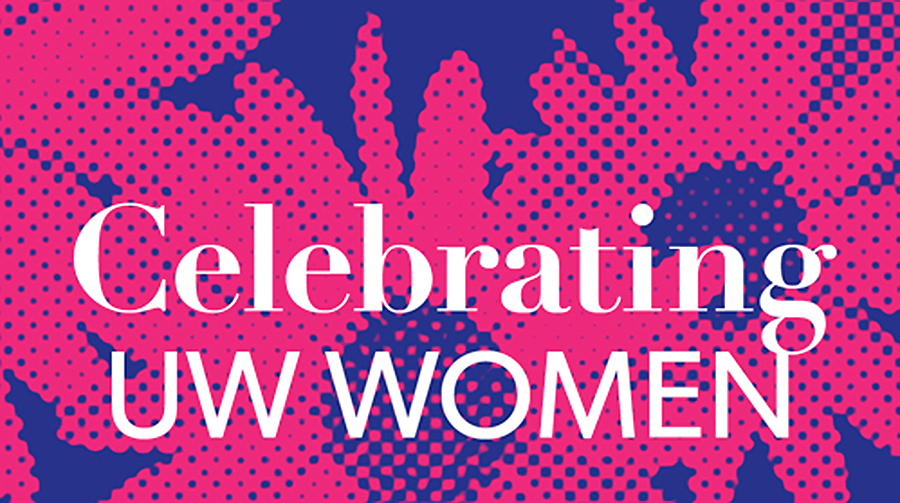 Nominate a UW Woman Today!
March is Women's History Month, and there's no better way to celebrate than by recognizing the women who make UW such an amazing place. This is the 10th year Housing and Food Services has been Celebrating UW Women from all over the U. Nominations have included UW students, staff, and faculty from multiple disciplines and departments on all three campuses. In 2007, the UW's Tacoma campus established a concurrent program.
All members of the UW Seattle, Bothell, and Tacoma campus communities are invited to submit nominations for female students, staff, and faculty deserving of recognition. The program is not a competition, and every woman nominated is recognized at a reception as well as in an online gallery. Celebrating UW Women honors the contributions of women that are widely varied. Some contributions are global, while others are personal. View a list of previous nominees.
Nominations for this year's event will be accepted through this Friday, March 14. All nominations will be displayed in an online gallery and at an honorary reception on Thursday, March 20, 2014, in Alder Commons.

Michelle Primley Benton, Administrator for North Campus & Diversity Initiatives, shared some more details about this wonderful event.
How did this all get started?
Celebrating UW Women began as a small event within HFS, spearheaded by Erica Barton, current Residential Life Administrator and at the time a new Resident Director, to celebrate Women's History Month. The event saw about 20 nominees in its first years. The event eventually moved to the HUB, where nominees were displayed in the former HUB's art gallery in the lead-up to the reception.
What are you most excited about for this year?
Each year it's inspiring and exciting to see a rich array of nominees and their unique contributions to the UW. Now that we're celebrating the event's 10th year, I'm excited to hopefully see an increase in the number and scope of women nominated. In addition, this will be the first year that our nominees will be featured on the Celebrating UW Women website through an online gallery. I'm very excited about this addition, as it means that nominees will be able to share this recognition with their loved ones near and far, and allows us to honor these outstanding women throughout the year.
I'm also excited about our reception keynote this year, 2005 UW graduate Jess Estrada, founder of Fresh Jess Media. Jess is a devoted Husky with passion for the institution, her city, and for empowering women in all of their endeavors. Hearing from a young alumnae will hopefully be inspiring for students and staff alike.
What else do you want the University community to know?
I really want to encourage students, faculty, and staff to nominate this year. This event recognizes a variety of contributions, and the breadth of ways that women create a positive impact on this campus is phenomenal – some of my favorite nomination letters have run the gamut from personal stories of how a friend helped make their transition to a huge institution bearable to nominations that outline cutting-edge research being done by faculty. I've been able to see first-hand how much being recognized means to our nominees (some even bring family and friends to the reception event), and hope that everyone will consider nominating at least one of the outstanding UW women in their lives.
Thanks to Michelle for taking the time to work with The Whole U and to HFS for creating such a positive tradition. Know a UW woman who deserves to be celebrated? Nominate her today! Photos can be submitted to Michelle Primley Benton at mprimley@uw.edu.