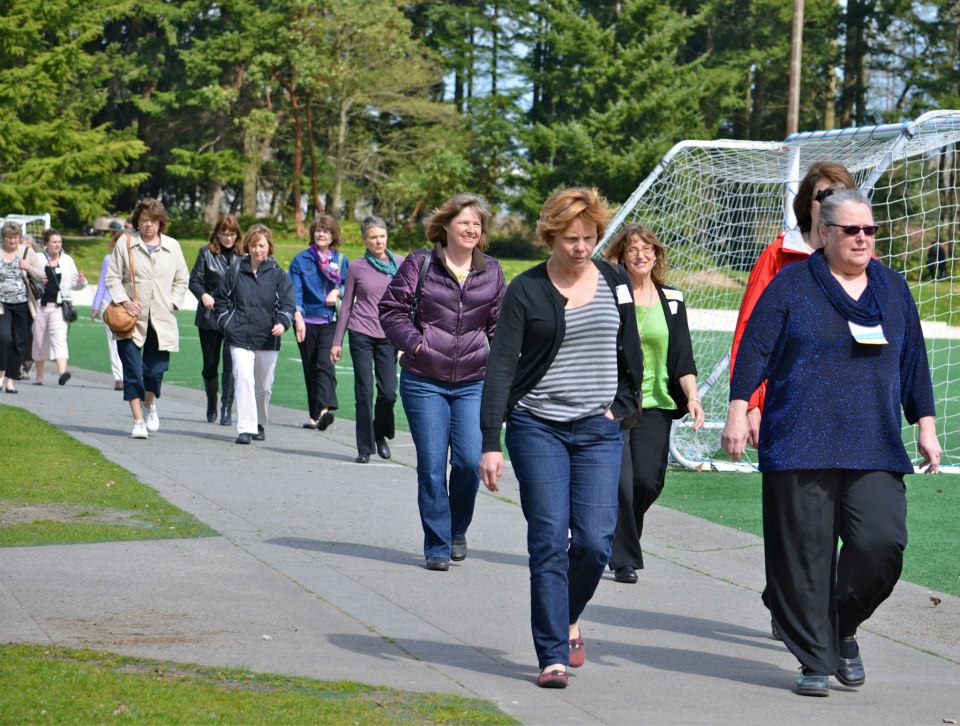 Continuing Nursing Education Rocks National Walking Day
It was a Wednesday—but it wasn't that predictable, ordinary day that falls smack in-between the start of the work week and the beginning of the weekend. It wasn't a day that I sat at my desk, answered emails, created reports, attended meetings, or helped students. It was a day that I laced up my tennis shoes and pulled a red t-shirt over my head. A day that I stepped up to a podium microphone in front of over 100 people and asked them to commit to walking for 30 minutes that very day. This particular Wednesday was a day that Continuing Nursing Education at the University of Washington School of Nursing (UWCNE) joined with the American Heart Association to celebrate National Walking Day at a UWCNE provided workshop: Patient Engagement and Activation—Motivational Interviewing for Busy Healthcare Settings. This day was April 3, 2013.
I remember this Wednesday, in particular, not just because of the butterflies in my stomach as I stepped up to the microphone in front a crowd. (After all, public speaking is the number one fear most individuals face, isn't it?) I remember this day because, although the winds were brisk, it was a clear day full of blue skies and people motivated and ready to walk! We spent 30 minutes of our lunch hour that day walking, talking, and spending time outside in the sunshine. Considering the fact that physical inactivity doubles the risk of heart disease, it was a fabulous way to get up, get outside, and take a break from sitting—a normal routine for most of us. Ultimately, it was a day of empowering self-care in the community.
To further support National Walking Day initiatives, UWCNE had worked up to that day by developing a culture of support around health and wellness in the workplace, asking employees to voluntarily participate in a six-week walking challenge leading up to National Walking Day. It also celebrated National Walking Day internally on April 10, 2013 by holding a 30 minute lunchtime walk. Due to its efforts and organizational participation rates, UWCNE was awarded the American Heart Association's Golden Tennis Shoe Award (small organization category)!
As a member of the American Heart Association's My Heart. My Life. committee, I could not be more proud of my colleagues and all of the workshop participants for getting behind such an important initiative. With an 83% increase in sedentary jobs since 1950, and a staggering 65% Americans overweight or obese, wellness initiatives in the workplace are critical to making a difference in improving quality of life for all. Statistics show that one in two men and one in three women are at risk for heart disease. Poor lifestyle is a major contributor.
Personally, I can't wait for National Walking Day 2014! UWCNE will once again celebrate National Walking Day with a six-week walking challenge and a special event day. Are you interested in participating in National Walking Day? Be sure to mark your calendar for April 2, 2014. National Walking Day is part of the American Heart Association's "My Heart. My Life." healthy living initiative to help Americans realize ideal cardiovascular health. Visit the American Heart Association's website to learn more.
Thanks to Shannon for spreading the word about this great idea. Inspired? National Walking Day is six weeks from today so start your own walking challenge now!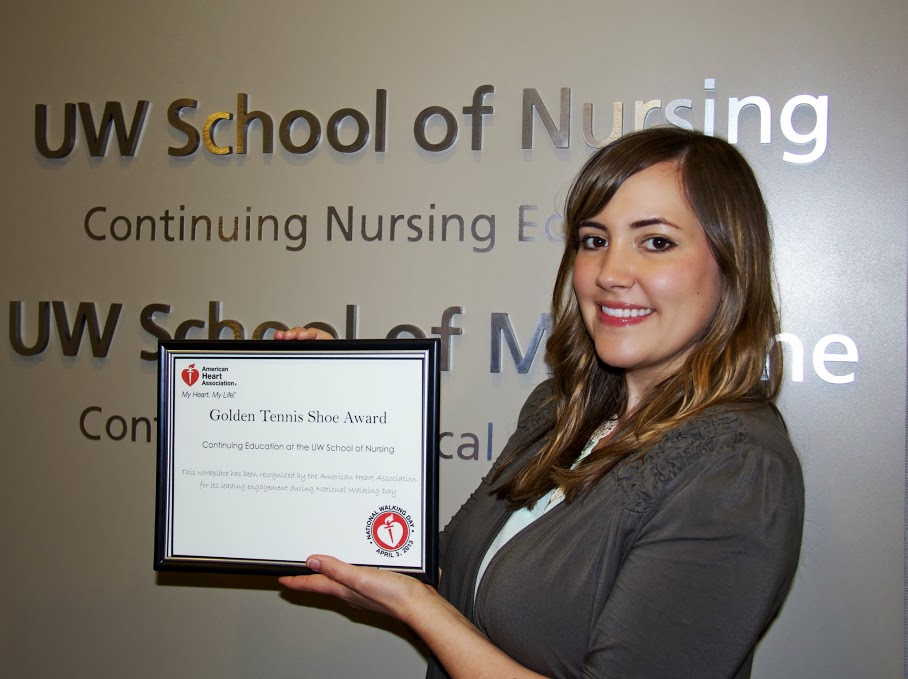 Shannon Summers is UWCNE's Medical-Surgical Nursing Education Program & Special Projects Manager. Her special interests lie in promoting wellness behaviors, actualizing health equities and reducing health disparities. In her spare time Shannon loves cooking, live music and spending time outdoors.