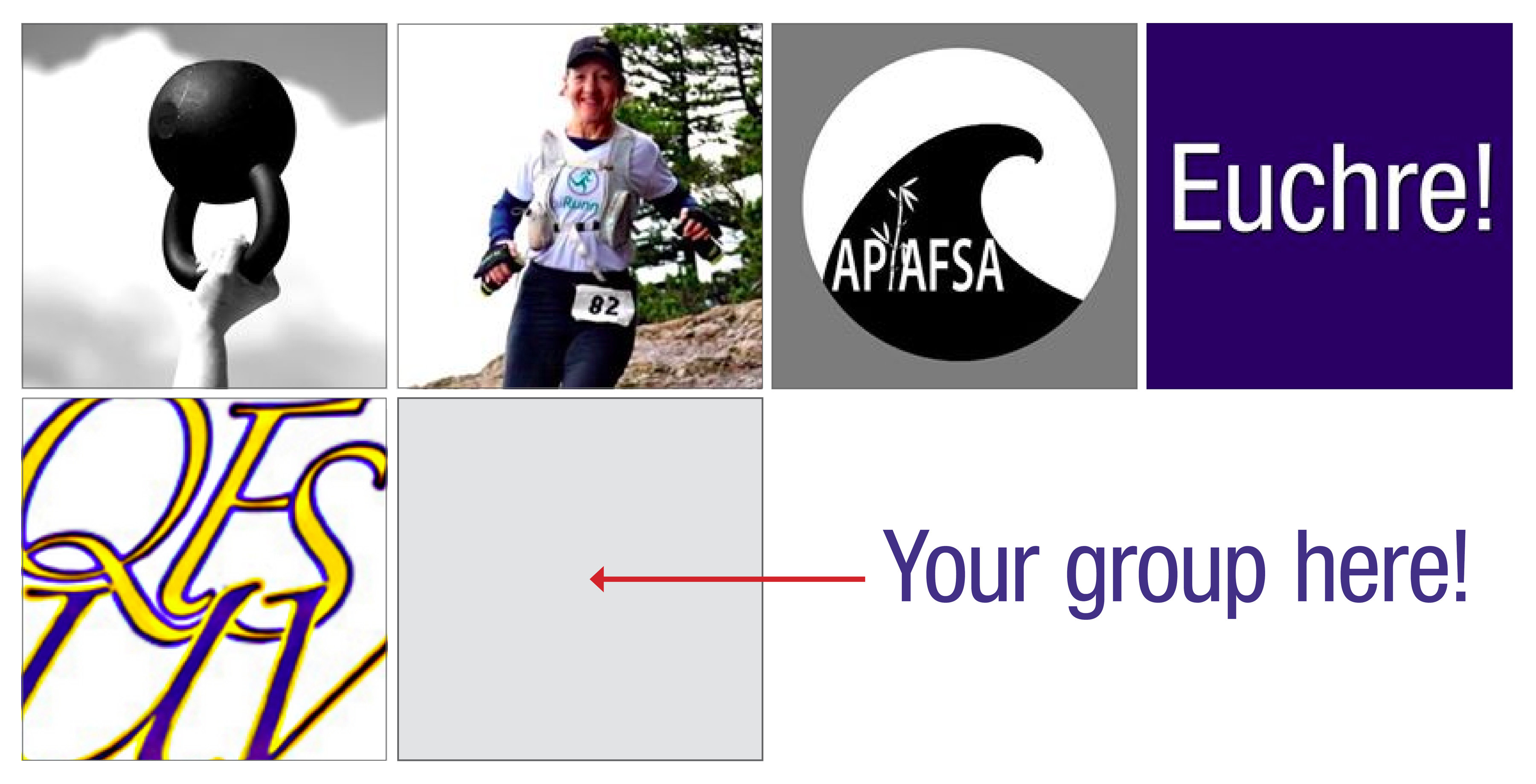 New Groups for Whatever Makes You Whole
I'm excited to announce that there is now a central place to find all social groups open to UW faculty and staff! The Whole U has created an album on our Facebook simply called Social Groups and we'll be updating it regularly. Check it out to see which interest and affinity groups are looking for new members. (You can find a full list of affinity groups–not just those on Facebook–here.)
Here are three brand new groups you'll find:
Chi Running & Chi Walking at UW-Seattle – Laura Houston, a Research Scientist in Pediatrics, started this group to share her love of Chi running and walking. She's a certified Chi Running and Chi Walking Master Instructor and has been teaching since 2006. Join this group if you'd like to be part of a supportive walking or running team.
Heavy Metal Caucus– Coach Marti Young started this group because of the wonderful response to the World's Largest Kettlebell Workout. She explains: Interested in learning to kettlebell? The Heavy Metal Caucus is open to all University of Washington faculty and staff members. It is peer conducted, volunteer operated, and FREE of charge. Throughout the year, we will conduct several instruction programs that will be short and sweet: six workouts spread over three weeks. Training sessions take place in various places on campus, usually around lunchtime. We get you in-and-out fast.
UW Euchre Lovers– Confession time: I just started this group myself and there aren't any other members yet! But there must be other people from the Midwest who miss Euchre as much as I do. This is a very low-commitment group. I'm thinking we meet every quarter or so and play cards. That's it!
Have a group that you want to promote? Please send us a Facebook message and we'll be happy to add it to the album. Want to start your own group but don't know where to start? We created a toolkit just for you. Don't like Facebook? Don't worry–we'll be adding a list of social groups to our own website once there's a good number. Our goal is to make it as easy as possible for you to connect with other faculty and staff with similar interests.
Remember, these groups could be anything from a place to practice Spanish to a dog lovers group. Why not start your own and see if it takes off?