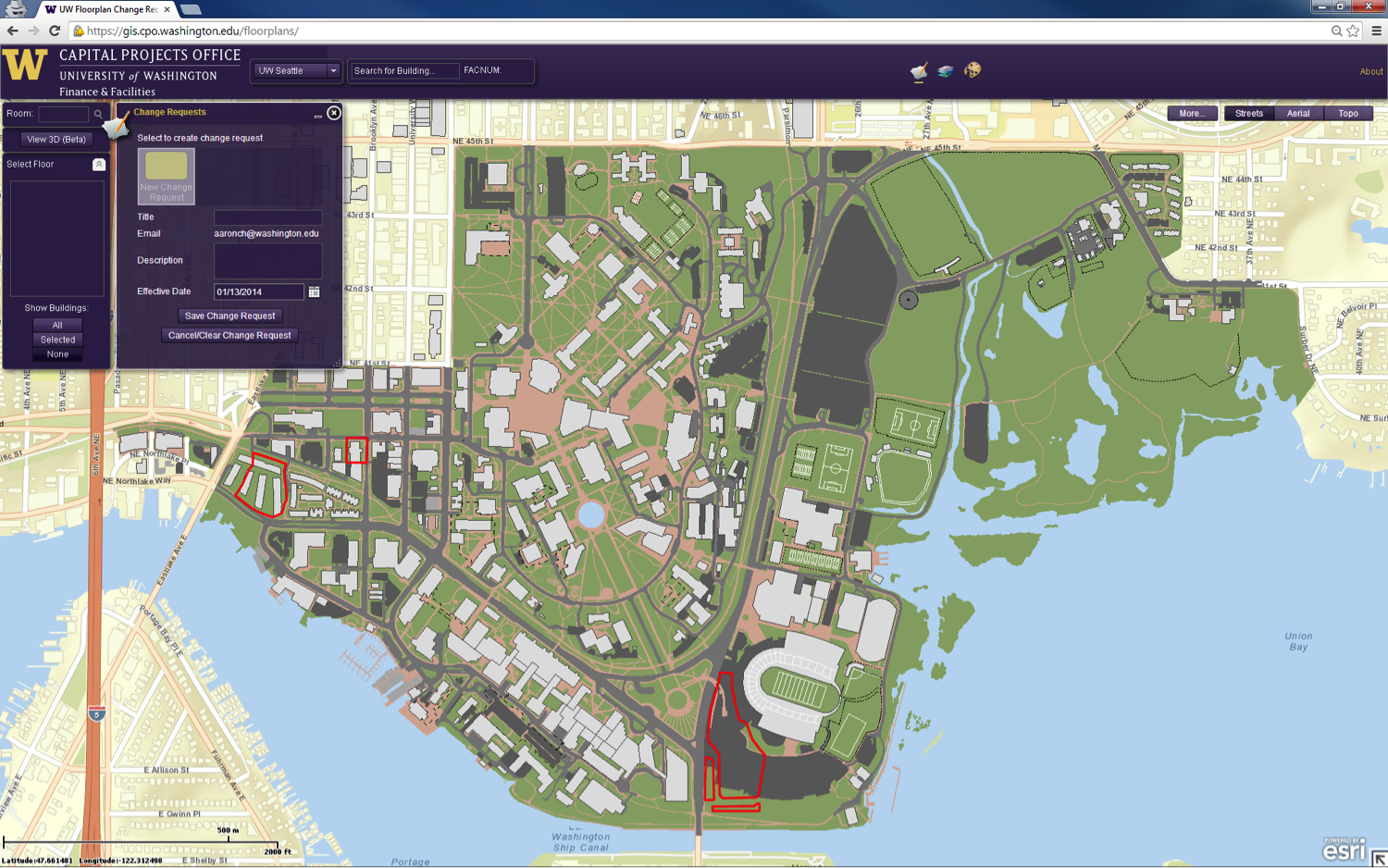 Did you know that the University of Washington is one of the world's leaders in interior mapping? I didn't, until I spoke with Aaron Cheuvront at the Capital Projects Office. He has been working for over a decade to bring University floor plans into the computer age, and he has cutting edge ideas for how Geographic Information Systems (GIS) mapping could make all our work lives easier and safer. From finding an office on another part of campus to helping first responders in the event of an emergency, maps are the key to managing UW and Harborview's 25 million gross square feet of building space. Aaron's passion helped me to realize that maps can do more than I ever imagined. The following is based on our conversation.
Why do we need interior maps?
Most simply, for finding rooms. As a freshmen, for example, finding your classes is so, so difficult. We have some buildings where the logic of the room numbers isn't clear, or it's not even clear which floor you're on when you enter the building. Or you find the room, and the professor has left a note saying the room has been moved! Where is the new room? Imagine if the student could scan a QR code to find out where the new room was, or use an app on their phone to navigate inside our buildings.
The other reason is so that we can do space inventory and reporting. How much lab space do we have? Classrooms? How does this compare to other institutions of higher learning? Having this information allows us to save time and money by making smart decisions.
What makes UW's maps special?
In 2001 we became one of the first places in the world to use GIS for interior mapping. GIS is almost always used for big exterior maps: weather mapping, Google maps, flood planes, that sort of thing. We are literally redefining how the software is used–no training exists.
So why use it?
GIS is a technology that visualizes data, and a picture is worth 1,000 words. We used to send people a questionnaire about their offices and rooms, and the information we'd get back was incomplete and inaccurate. But when we show people a picture of their space, they will point out exactly what is wrong. People really take ownership of that visual, down to which way a door swings open. In fact, we used to use colored pencils to draw on floor plans because the visuals are just so important! GIS is the technical version of that, but with much more detail. You'd wear through the paper if you tried to put all the information on one floor plan.
So what data could go on these interior maps?
Everything! The location of smoke detectors, HVAC systems, plumbing, lighting, fire alarms, accessible routes, equipment, ceiling access doors… all that information is stored in manuals that no one looks at. Our goal is to have a centralized map with real-time info so that work doesn't get duplicated. Right now, it's easier for Facilities Management to do a field audit than it is to find the information they need about a particular building.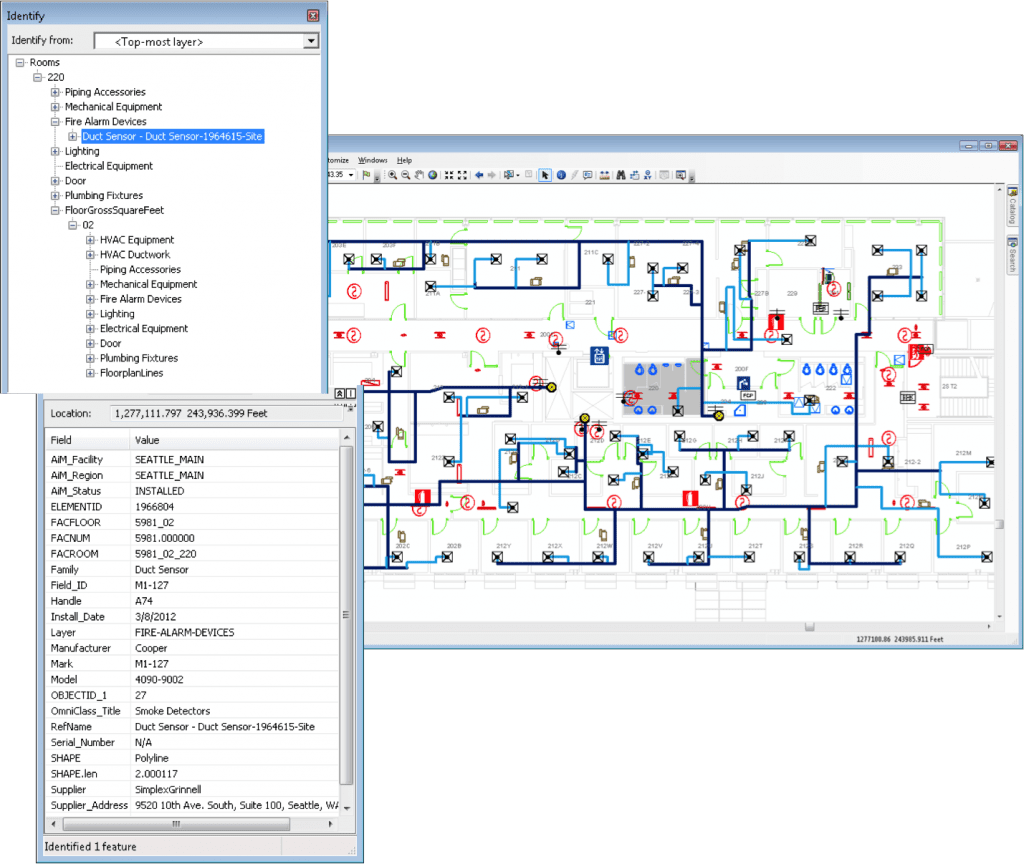 What are you currently working on?
Right now someone from Health Sciences Administration has to walk emergency responders around because it's a maze over there–that's bad. We shouldn't have to put our people in danger. We're working with UWPD on a prototype for an indoor navigation system.
Where do you see this going in the future?
In the future I would like to see a small dedicated CAD/GIS mapping department that could support all departments and either create maps or integrate existing maps and data into a more consistent, integrated, format. Not to take over data or drafting done for department needs, but to support them with the technology and make data available for everyone who needs it, which would greatly reduce the duplication of effort being done now. We are currently working with mostly temporary funding.
Once you build a critical mass of data, you get all sorts of benefits. We could identify safe paths based on construction zones, lighting, ADA–that's not possible without putting all that data together. I have no idea what else we could do if we centralized the data, but my goal is to get other people thinking about it.
What is currently available for faculty and staff that they may not know about?
On our showcase website there are floor plans (CADVault link), a floor plan change request system (GIS Floorplans link), and some other information. Future templates and training material will be posted there as well. If there's enough interest I can start holding regular training sessions in a lab environment.
Anyone is welcome to contact us about a project need that we might be able to help with. For example, we're working with EH&S to help them redesign their radiation lab survey process based on GIS.
Update from Aaron on October 15, 2014:
Esri Canada provided us with a kick start in showing a functional prototype of indoor navigation on a mobile device. We truly can't thank them enough for the effort they provided. Ultimately, the University of Washington chose to use a commercially available solution from an Esri partner, GISinc Indoors. Their GeoMetri Navigator was the only commercial product available at the time that met the needs of the University, which included using an Esri native framework. The core app has been delivered and the University will begin working with students, faculty, and staff on additional enhancements needed before the app is released.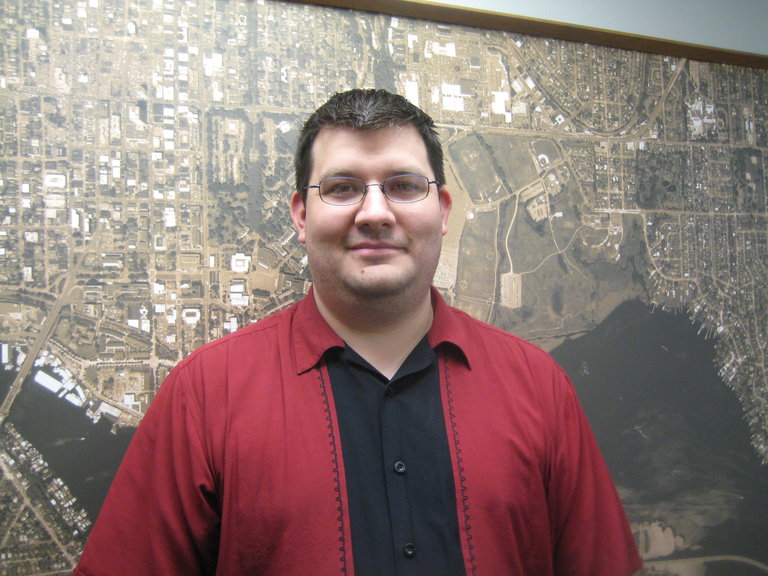 Aaron Cheuvront has been working at UW for over 10 years. In his spare time, he's using his mapping expertise to help the Puyallup School District integrate their floor plans, which are maintained by high school students, with GIS for operations use and emergency response. His hope is to design a process that can be repeated with any school district in the state.