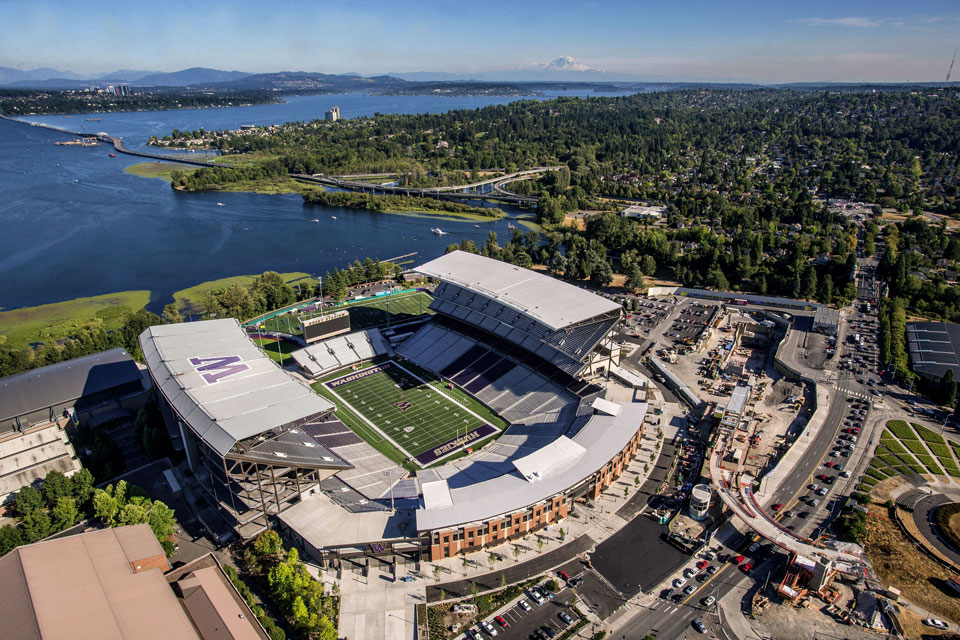 Husky Stadium Tours: An Experience with a View!
I couldn't believe my eyes walking out onto the field during my tour. First built in 1920, with a capacity of 30,000, its been renovated to seat over 70,000 fans. Everything is so new and bright. I could feel the energy for athletics. Looking out from the seats I could see Lake Washington, the cascading Mountains, and Mount Rainer. Now this is an experience.
Did you know you can now get an inside look at Husky Stadium?
Individual and Group Tours start in front of Alaska Airlines Arena (Hec Ed. Pavilion). For a $10 donation, a tour leader will walk with you through the Husky Hall of Fame, down the football tunnel out onto the field, and allow you to experience areas of Husky Stadium not open to the general public!
Individuals: Monday – Friday at 2:00pm
Groups: Monday – Friday between 12:00 pm – 3:00pm
Click here for more information! Advanced registration required.
Here are some interesting points about Husky Stadium that I wasn't aware of:
Capacity history:
Husky stadium is now one of the largest stadiums in College Football.
30,000 (1920-1935)
40,000 (1936-1949)
55,000 (1950-1967)
58,000 (1968-1986)
72,500 (1987-2011)
70,138 (2013- )
Event history:
Husky Stadium was the primary venue for the 1990 Goodwill Games, where former President Ronald Reagan and Arnold Schwarzenegger addressed the crowd. The stadium hosted the opening and closing ceremonies, as well as the track & field competition.
In 1994 Husky Stadium was the temporary home of the Seattle Seahawks for five games.
2000-2001, the Seahawks played at Husky Stadium for while CenturyLink field was being built.
The loudest:
Husky Stadium has long been recognized as one of the loudest stadiums in the nation. Seventy percent of the seats are located between the end zones, covered by metal roofs that trap the sound. I cannot wait to go to a game!
Have you been to a Husky game? Share your experience in the comments.  Go Huskies!