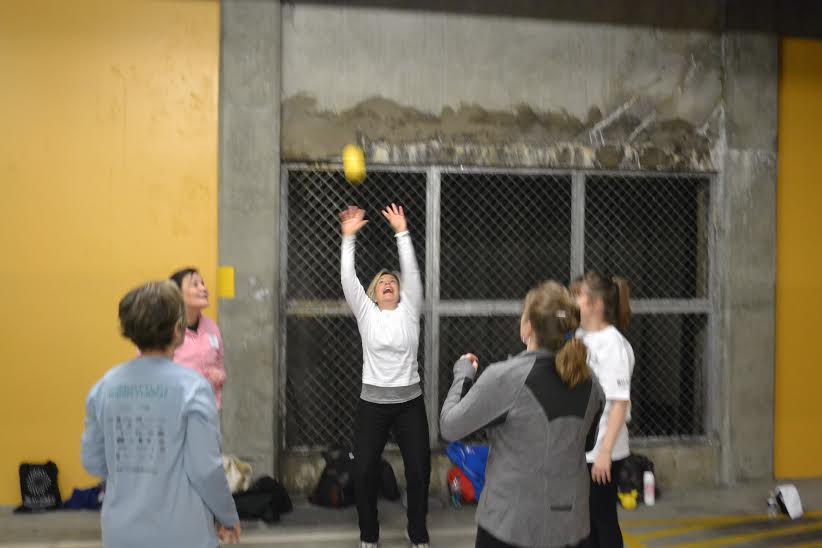 Scramble Notes: New Tricks and Tools
Last Friday and this Monday I met with some of your colleagues to squeeze in a workout over lunch. We had a great time building on moves from the World's Largest Kettlebell Workout, and I wanted to share what we learned for anyone who wants to virtually participate with us. Remember, even 15 minutes of kettlebelling is a great way to burn calories and build strength!
We did our best to stick to our "get you in and out in 30 minutes" promise. We started with the fast, active warming movement of catching weighted hand balls and medicine balls, getting our feet active and our bodies loosened up a little for about five minutes.
Then we went through the kettlebell complex that we learned during the World Record event: halos, round-the-worlds, figure-8s, and a few curls and presses.
We added the ROCK CARRY to this section in which the bell is held with straight arms parallel to the floor at a 90-degree angle from the body.  We shuffle-stepped back and forth to get used to the feeling of the bell in that position while in motion.  For your future reference, the rock carry is an awesome way to wake up your body in a hurry. Don't cantilever the bell by sinking backward at the small of the back, or frontward by rounding your shoulders; keep your back strong and upright and engage your core with that bell straight out there like you're trying to force somebody else to take it from you.  It helps if you walk around really fast and change directions every so often.  We used the rock carry to introduce us to the starting position of the counterweighted squat.  More on that in a minute.
WINDMILL: We added the kettlebell windmill trick to our bag this week, too.  The windmill is a great dynamic, working stretch because you are moving and bearing a load while executing this movement.  The bell is stacked overhead on an extended arm, your stance is a bit wider than your squat stance and your legs are straight.  With the bell still posted above your head and your focus on keeping it there, slide your free hand down its respective leg until it reaches the foot ALL while bending to the side- and then stand back up without changing the bell's position.  This almost mimics yoga's TRIANGLE POSE, except of course, there's a bell overhead on an arm reaching for the ceiling.
The Counterweighted Squat is an extra great, way to help us ALL (especially me) develop a more perfect squat posture.  A lot of us can go really deep into the squat, but we need to work on keeping our shoulders upright and our back as vertical as possible.  Mine tends to dip forward if I'm not really careful.  And while you're all starting to develop yours, I'd like you to practice counterweighting your squat shape so that you form the right habits. Memorizing the feeling of where your back is "supposed" to be in your squat as you're learning means you won't have to fight to retrain it later (ahem, like me).  Mixing in a few sets of these counterweighted squats every time you train will illuminate what muscles are supposed to be firing up for proper form.  Doing this strengthens your spinal erectors, which will help keep your back in an upright shape…um, and it makes you stronger everywhere else, too.  Here's a picture of the counterweighted squat in our makeshift gym on Friday:
With these new tricks and tools, we spent a few minutes doing some form checks and then drilled the squat and counterweighted squat.  After that, we blitzed through a series of swings, weighted squats, counterweighted squats and added in some kettlebell complex maneuvers to give our low bodies a little break.
For those of you tuning in via internet, click here to request our virtual handout.