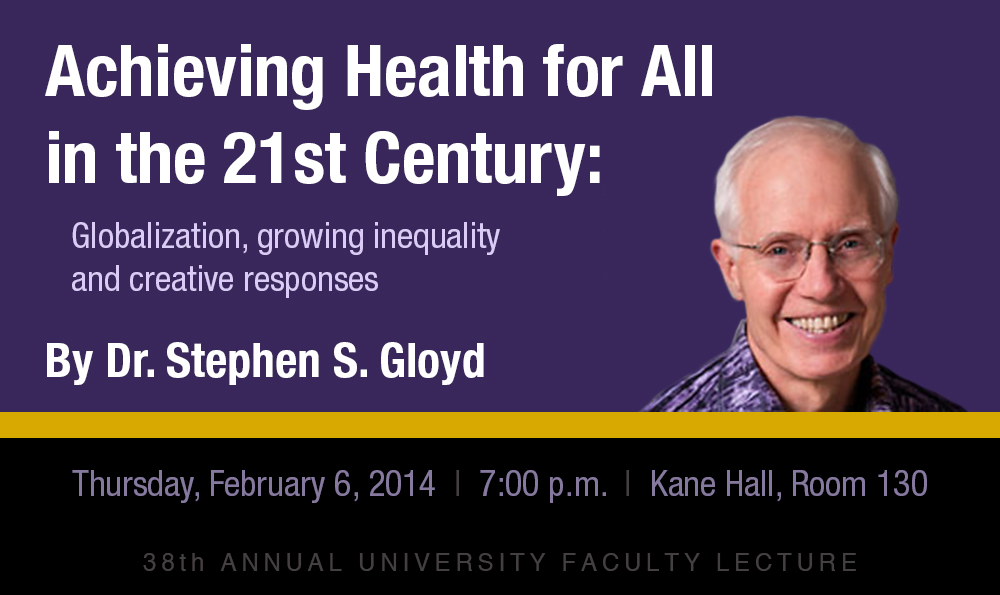 Free Lecture by One of UW's Most Notable Faculty Members
"Our faculty are world class." It is a refrain you hear over and over at the UW, but unless you went to school here or are a member of the faculty, it can be hard to truly get a feel for what it means.
On Thursday, February 6th you can get a chance to see one of UW's very brightest, Dr. Stephen Gloyd, speak about Achieving Health for All in the 21st Century: Globalization, growing inequality and creative responses. This topic is relevant now more than ever, coming on the heels of the news that 85 people are wealthier than three billion.
Dr. Gloyd was chosen by his peers and in conjunction with the Office of the Provost to deliver the University Faculty Lecture. Dr. Gloyd's lecture will provide evidence of the remarkable advances in global health. He will share personal stories that illustrate both the positive impact of the advances—and the pervasive forces that continue to produce growing inequality between rich and poor.
He will show that achieving health for all requires addressing rights, delivering justice, and ensuring equity. He's an expert–not only as an Associate Chair for Education and Curriculum in the UW's Department of Global Health, where he directs the M.P.H. and Ph.D. programs, but through 30-plus years in Africa, Latin America, and Asia as a clinician, manager, researcher, teacher, and policy advocate. In 1987, Dr. Gloyd founded Health Alliance International, a nonprofit organization that has worked for decades in solidarity with the ministries of health of Mozambique, Cote d'Ivoire, Timor-Leste and Sudan to strengthen primary health care and to improve approaches to global health assistance.
Don't miss this chance to be inspired by one of UW's distinguished faculty members who makes a difference to our students and in improving lives around the globe. There is nothing more "by UW, for UW" than a University Faculty Lecture.
Event Details:
Thursday, February 6th, 7 p.m.
Kane Hall, Room 130
The lecture is free and open to the public. A reception will follow in the Walker-Ames Room in Kane Hall.
Not sold yet? Check out UW Today's great story about Dr. Gloyd and his upcoming lecture. Mark your calendar to come learn from him on February 6!