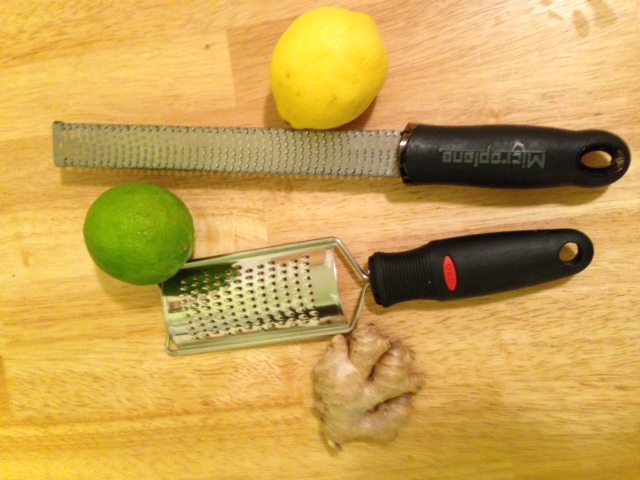 Did you receive kitchen tools this holiday (or last holiday) that are still gathering dust? Not all kitchen gadgets are useful, but here are three that rank high on the gift giving list that have some surprisingly good uses. Read on for my recommendations and favorite recipes!
Gadget #1 – The Spiralizer
The medium-sized red box had been sitting unopened on my kitchen table for weeks. It had been pushed around and moved from floor to counter, back to the table, and then to hold the fruit bowl. My friend swears by this thing. She's been using it daily. "A spiral-what?" I ask her again on the phone. She gave me one of the varying types that can spiral, curl, and noodle any vegetable or fruit in support of my wish to include more veggies in my daily diet.
Enough with pushing the box around. I roll up my sleeves and dive in to research and conquer the latest kitchen gadget so I can find simplicity, and more veggies, in my kitchen.
The spiralizer gadget fits into most diets, whether Paleo, vegan, raw, vegetarian, flexitarian, or the you-name-it type diet. No matter what, it ensures an additional dose of daily veggies on your plate or in your bowl. Spiralizers come in a few different forms offering the ability to noodle your veggies to replace pasta or grains or serve as a base for salads or use in soups. Mine lets me choose the size of the noodles, from thick enough to create curly fries to thin enough to make the noodles like angel-hair pasta. There are spiralizers that are a hand-type tool and others that use a crank or knob.
What can be spiralized? Here are some of the best veggies/fruits, however some may be trickier than others depending on your style of spiralizer.
Zucchini
Sweet potatoes
Apples
Beets
Radishes
Cucumbers
Butternut squash
Eggplant
Jicama
Carrots
Onions
And what can you do with these veggies/fruits once they are spiralized? Here are a few ideas:
Replace any grain or egg noodle with veggie noodles (zucchini is my favorite)
Sweet potato noodles
Baked curly fries
Squash noodles
Sweet potato buns
Slaws (apple slaw, root veggie slaws)
Cucumber salad
Edible veggie garnishes
Veggie curls to add to stir fry
And here are a couple of recipe ideas to get you started:
Zoodle Pesto        
1 to 2 zucchini
¼ cup olive oil
2 cups packed of basil without stems
2 cloves garlic
¼ tsp sea salt
¼ raw pine nuts
In a food processor, combine olive oil, basil, garlic, and salt until basil is chopped. Add in pine nuts and combine until smooth.
Spiralize one or two zucchini (depends on size) using the thin blade for noodles.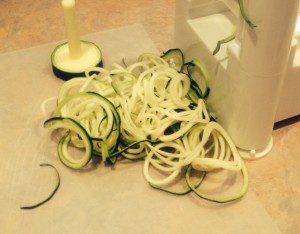 Mix zucchini noodles with pesto. Top with more veggies such as sliced mushrooms, cherry tomatoes, broccoli or cauliflower.
Sweet Potato Fries
2 sweet potatoes
olive oil or coconut oil
spices – salt, pepper, cayenne, cumin, red pepper flakes, coriander (feel free to be creative)
Preheat oven to 450 degrees. Spiralize the sweet potatoes using the thicker cutting blade (only offered on a few models that have varying blade options).
Coat fries with choice of oil and spices.
Place on baking sheet lined with aluminum foil. Bake 20-25 minutes, making sure to flip once.
If you have an iPhone or iPad, there is an Inspiralized app that you can download that has recipes and more ideas for this gadget.  Many websites are also including recipes and "how to" instructions for further inspiration.
Gadget #2 – The Microplane Grater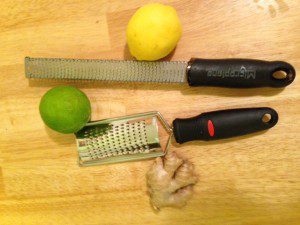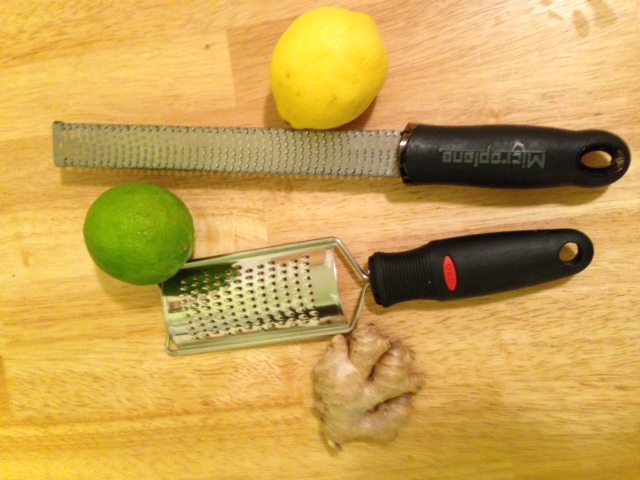 I have two of these in my kitchen because I use them a lot. Last Christmas, I bought one of my favorite recipe books and topped it with a microplane and gave it as a gift to my friend. She opened up the microplane and questioned my gift. At first glance, these don't look like they have much use. Most are long with a sharp rutted stainless steel type blade that can do some finger damage if you're not careful. The name alone–microplane–sounds like it will just take off out of your kitchen with a mini-motor attached. In reality, this gadget will take your salad dressings, smoothies, or desserts up a notch in flavor because a little zest adds a lot of flair. For all those recipes requiring citrus zest, chocolate shavings, grated cheese, grated ginger, grated garlic, or grated spices, this is the handy dandy gadget that will do the trick. They come in varying sizes, but the smaller grater performs well with the zest and spices the best. The larger ones are better for hard cheeses and chocolates.
Orange Zesty Smoothie Recipe
1 peeled and separated orange (freeze to make a thicker and colder smoothie)
2 tbsp raisins, dates, or goji berries
¾ tsp orange zest (microplane)
¼ tsp cinnamon
¾ cup pomegranate juice or cranberry juice
2 tbsp raw nuts or seeds (Note: if using a regular blender, it may help to soak the nuts/seed first for a few hours to soften them). Options include: cashews, sunflower seeds, or hemp seeds
2 handfuls of spinach
Sweetener of choice (add last to adjust to taste)
Ice if desired for thicker smoothie.
Place all ingredients in a blender and combine until smooth and creamy. Adjust sweetness to desired taste.
Gadget #3 – Julienne Peeler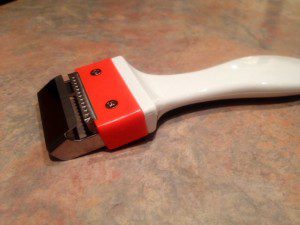 I do not own one of these, but I would not mind one as a late Christmas gift. These are good for helping out with making appetizers and side salads. I used to question who had the time to make those little carrot and cucumber sticks in fresh spring rolls and I always avoided the recipes that said cut anything into matchsticks. Now I know the secret gadget: the julienne peeler.
Fresh Roll Appetizer with Dipping Sauce
Large leaves – Romaine lettuce, Collards, Swiss chard
2 carrots, julienned
1 cucumber, julienned
1 avocado, sliced
Sprouts of choice – alfalfa, clover, sunflower sprouts
Other optional ingredients to include in fresh lettuce wraps:
Julienned zucchini
Fresh mango slices
On a large leaf, place carrots, cucumbers, avocado, any other optional ingredients and top with sprouts. Be careful not to overfill or the leaf will be a little bit difficult to roll up. Sauce can be placed inside the roll or used as a dip. Secure roll with a toothpick to keep it neat until ready to eat.
Miso Ginger Dipping Sauce
1/3 cup olive oil or blend of flaxseed oil and olive oil
2 ½ tablespoons of light miso
2 tablespoons agave, honey or coconut nectar
1 ½ tablespoons grated ginger (use the microplane)
1 tablespoon balsamic vinegar
Combine the above ingredients until well mixed.
Root and Apple Slaw
With this recipe you can use all three gadgets!
2 cups julienned jicama
2 cups julienned carrots
1 to 2 apples – can spiralize, julienne or chop
Other optional add ins:
julienned/spiralized beets
golden raisins, date pieces or goji berries
Dressing:
¼ cup lime juice
¼ cup orange juice
1 tsp lime zest (use the microplane)
1 tsp orange zest
1 to 3 tablespoons agave or honey (depends on your desired taste of sweetness, can always start with less and increase)
½ tsp – 1 tsp sea salt (to taste)
¼ tsp white pepper
Combine slaw ingredients in large bowl. Whisk or shake dressing ingredients in a jar until mixed. Pour desired amount of dressing over slaw and mix well.
Have you ever used these gadgets? Have a favorite recipe for them? Please share in the comments!

April Huff works in the Earth and Space Sciences department at UW.  She has dedicated the past eight years of her spare time to health and wellness on a quest to help her and those she loves through enhanced nutrition.  She can also be found perusing recipe books, playing with her Vitamix, going to Barre3 classes, and biking.