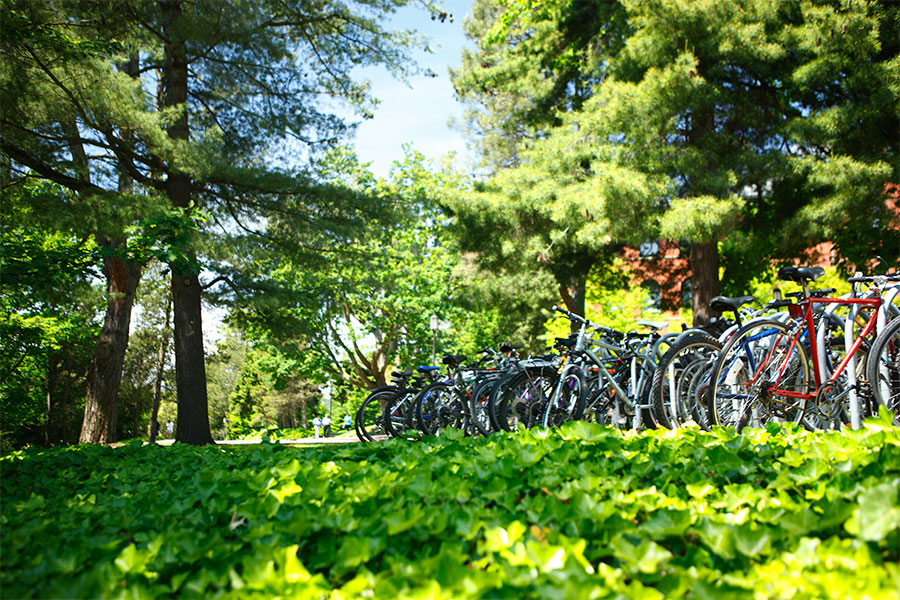 Top Ten Ways to Keep Active Using UW and Whole U Resources
Acquiring an active lifestyle can have so many benefits to our mental and physical health. Can you think of a time where exercising regularly didn't make you feel good? As an avid marathoner and fitness enthusiast, I always set new challenges at the beginning of the year. Even for me though, life can get in the way and for some reason the one thing I need each day is the first thing to get cut when it's busy. One year I committed to running every day for at least 1.5 miles for 365 days and what that challenge taught me is that I can find at least 20 minutes on a daily basis.
If you have made a resolution to move more or take your fitness to the next level in the New Year, make sure you know how to make the most out of the resources on campus and beyond.
Bike or Walk along the scenic Burke-Gilman with 17 miles of beautiful trail that also connects with the 11-mile Sammamish River Trail. There are even more beautiful trails around campus that I plan to use for my training runs.
Join the IMA, the Bothell Campus Fitness Center, the Tacoma Fitness Center or a local facility within The Whole U Fitness Network. Are you thinking about joining a gym, climbing center, or yoga studio? The Whole U Fitness Network has over 28 locations to choose from with discounted rates available to faculty and staff and their household members.
Check out the UWalk Program. Do you live fairly close to work? Talk about getting your physical activity in before and after work! See how far your walk commute would be and the impact walking to work would make on you, your wallet, and the environment with this handy calculator.
Take Seattle on foot. Are you new to the area? What a great way to learn the city! Make it an active tour for yourself or show your visitors some of this beautiful city the healthy way.
Explore UW bikespace. Bike to work and be part of an active community of colleagues that also bike to work and enjoy workshops and discounts along the way. Calculate your commute here!
Ditch the elevator, host standing meetings, walk to most meetings, or walk while you meet – I challenge you to make the decision to take the stairs whenever possible. Did you know that you can lose up to nine pounds in one year just by taking six flights of stairs three times a day? Awesome, right? Most of the time it's faster to take the stairs and that mini workout gives you the energy you need. I also encourage you to have standing meetings or if it is a non-note-taking meeting, walk while you meet. We sit so much during our work day, why not stand? See how some UW Tower employees take advantage of the stairs.
Move throughout the day. Research suggests that three ten-minute bouts of exercise throughout your day can have similar health benefits to exercising for 30-minutes straight. For the days where it seems impossible to fit it in, try breaking up your workout. Walking to meetings can help you fit it in on a busy day. My first day on campus, I scheduled back-to-back meetings (not realizing how far apart they were) all over campus. What a workout! My hair was already a little frizzy anyway from the rain, so who cared about a little sweat.
Train for the St. Patrick's Day Dash! Use the coupon code TheWholeU and receive 10% off. Register NOW. Also, sign up for a free Whole U training plan and find out more about a walking and running club here on campus. All levels are welcome!
Improve your strength at your desk. Desk or wall push-ups work most of your upper body. Perform four sets of 10-20 repetitions. Another great exercise is the chair squat which really works your legs and glutes. Simply sit in your chair with your feet shoulder width apart and stand up, repeat. Perform four sets of 10-20 repetitions.
Run for Fun! Looking for a group to run with after work? Fleet Feet Sports offers free fun runs and is also part of our discount network, offering a 10% discount on all purchases when you show your Husky Card. Check out their weekly fun runs!
Let me know in the comments if you know of an on-campus fitness opportunity that others can participate in and what your fitness goals are for 2014.
Let's get out there and get moving in 2014. The hardest part is always the first step out the door!