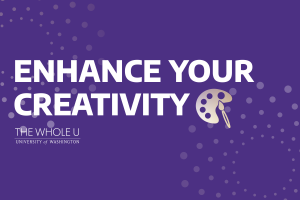 ---
Discover tips and tricks from UW artist, try new artistic forms and meet creative colleagues from across our University.
Get inspired with habits focused on bolstering creativity. This area of focus will take you through mindful and creative exercises to both increase your imagination and reconnect with your inner artist.
---
Find all your resources for our creativity group on this page!
Content will be added on an ongoing basis. Stay tuned for additional events, workshops, and recordings.
---
Recordings
Goal Setting: Creating what you already have webinar with Lee Davis
Click here to view the slides from Lee Davis' workshop. 

---
Coexisting with COVID-19: Art in the Time of Illness
From the UW Public Lecture Series
---
Make 2021 Count with Jennifer Cohen
---
Group Kick-Off
Click here to view the slides from our kick off!
---
Salsa Dance Class with La Clave Cubana
---
Salsa Dance Class with La Clave Cubana
---
Upcoming workshops and webinars
Dance classes with La Clave Cubana
Tuesdays & Thursdays through the first week of February – 3:00 – 4:00 p.m.
Learn more and join here!
February Group Check-in
Wed Feb 3, 1:00 – 1:30 p.m.
Zoom link: https://washington.zoom.us/j/97215423280
Origami Workshop
Tuesday, March 3 – 2:30 – 3:30 p.m.
Zoom link: https://washington.zoom.us/j/9633285131
History of the Portrait with Quinn Brown
Wednesday, March 10 – 5:30 – 7:00 p.m.
Zoom link: https://washington.zoom.us/j/99283893738
---
Connect
Microsoft Teams group. Join our group on Microsoft Teams in our own dedicated space to share resources, reflections, connect, and more. Joining our 'team' on Microsoft Teams is optional and will be a space to discuss what we learn throughout the 90 days in a more 'social-media-esque' format. Note: This space is only open to those in our group who are UW-affiliated (student, employee).
---
Handouts
Download a SMART Goal sheet. As you spend this first week thinking critically about what your goals are for the 90-day challenge and beyond, use this SMART goal handout to help you create goals that are structured for success. Click here to download the PDF.
---
Articles
Stay tuned for articles and reading content related to being creative!