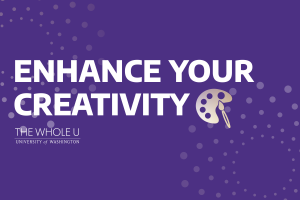 ---
Discover tips and tricks from UW artist, try new artistic forms and meet creative colleagues from across our University.
Get inspired with habits focused on bolstering creativity. This area of focus will take you through mindful and creative exercises to both increase your imagination and reconnect with your inner artist.
---
Find all your resources for our creativity group on this page!
Content will be added on an ongoing basis. Stay tuned for additional events, workshops, and recordings.
---
Recordings
Goal Setting: Creating what you already have webinar with Lee Davis
Click here to view the slides from Lee Davis' workshop. 

---
Coexisting with COVID-19: Art in the Time of Illness
From the UW Public Lecture Series
---
Make 2021 Count with Jennifer Cohen
---
Group Kick-Off
Click here to view the slides from our kick off!
---
Salsa Dance Classes with La Clave Cubana
View the dance recordings from our salsa classes in January and February here. Each class is an hour long!
---
February Group Check-in

Did you miss our group check-in on February 3? Together we watched a Ted Talk on creativity and opening your mind to those outside your immediate circles, followed by group discussion. View the slides and the Ted Talk below. Reflect on the video, or watch with a loved one and discuss together.
Click here to view the slides from our February check-in. 
---
Origami Workshop
Click here to view the instructional origami video to go along with the guided creation at the end of class. Play this video as you create your rose!
---
History of the Portrait with Quinn Brown

---
Checking in on your goals with Lee Davis
Click here to view the slides from Lee Davis' workshop. 

---
Intuitive Painting with Studio Life instructed by Lotte Goede
What you need for this class:
The following materials lists are simply recommendations. This class can also be done with other types of paint. All are welcome to join with supplies already at home, whether that be watercolor or other. Due to the challenging nature of mailing canvasses and due to the personal nature of choosing paint colors you like, we ask you to buy a few art supplies at your local art supply store. (Michaels, Artist & Craftman Supply, HobbyLobby, Blick are all good places and always have discount coupons available on their websites.) 
Canvas –

Size 16 x 20 or bigger Note: A 5 pack (16×20) or a 3 pack (18×24) by Artist Loft start as low as $10.99

Acrylic Paint –

White paint + 4 of your favorite colors (or more) Note: Little 2oz bottles of acrylic paint start as low as $0.79

Brushes –

A variety of sizes (at least 1 big and 1 small one) Note: A variety pack starts as low as $3.50
Pick a few items of the following that you can get creative with, or other items you think of:
Sponge
Bubble wrap
Disposable fork
Wine cork
Empty toilet paper roll
Colorful tissue paper
Old book pages
Old credit cards
Stamps
Stencils
Rags
Palette: You can choose a traditional palette, palette paper, an old plate or even a paper plate
Cup/jar of water to clean your brush
Rag or paper towel to dry your brush
---
The Power of Positivity with UW Alum Tony Adkins
---
Watercolor Painting with Studio Life instructed by Sarah Simon
What you need for this class:
Paints – Select a few watercolor paints that speak to you. If you're looking for a few of Sarah's favorites, here are recommended color combinations:
Daniel Smith "Perylene Green" and "Lunar Blue"
Winsor & Newton "Oxide of Chromium" and "Payne's Gray"
Daniel Smith "Buff Titanium" & Van Gogh "Olive Green"
Winsor & Newton "Perylene Maroon" & "Yellow Ochre"
Paper – Sturdy, watercolor paper. The following is recommended:
At least 140 pound weight paper (also known as 300 gsm)
Cold press texture
Should say "Watercolor Paper"
Any size – up to you! A few pieces are recommended so you have space to try new things as you learn.
Brushes – Any brush can work, but Sarah recommends the following size:
Round 1 and Round 4 Brush
Paint palette – Something to store your paint on (Old plate or ceramic surfaces work great)
Jar – Filled with water
Paper towels/napkins for blotting
---
Bullet Journaling Introductory Workshop
Recording coming soon!
---
Ongoing Events and Opportunities
Arm Knitting with StudioLife – Virtual training for any time
This workshop will be taught through a pre-recorded instructional video. All are able to register and watch the videos when works for you. This video is meant to be paused and replayed as needed while you learn.
Ready to get knitting? Click here to view the video on Dropbox!
Note: You may have trouble viewing Dropbox on your UW device. Google Chrome works well with Dropbox as a browser. You may need to open from a personal device.)
Supplies: For this project you need about 145 yards of size 6 or 7 chunky yarn. Studio Life uses acrylic yarn for this project. You can find this type of yarn at most art/yarn stores or Michael's.
---
Discounted Workshops with Studio Life
Throughout the 90 day challenge, all group participants have access to a $25 discount on all live virtual classes and the recorded class library at Studio Life, an artists and makers' space in University District offering virtual arts classes and workshops.
Classes range from painting to macrame, working with fabrics, needlepoint, and more!
Learn more about Studio Life and peruse class options here. 
Use code MYWHOLEU at checkout to access your discount!
---
Connect
Microsoft Teams group. Join our group on Microsoft Teams in our own dedicated space to share resources, reflections, connect, and more. Joining our 'team' on Microsoft Teams is optional and will be a space to discuss what we learn throughout the 90 days in a more 'social-media-esque' format. Note: This space is only open to those in our group who are UW-affiliated (student, employee).
---
Handouts
Download a SMART Goal sheet. As you spend this first week thinking critically about what your goals are for the 90-day challenge and beyond, use this SMART goal handout to help you create goals that are structured for success. Click here to download the PDF.
---
Articles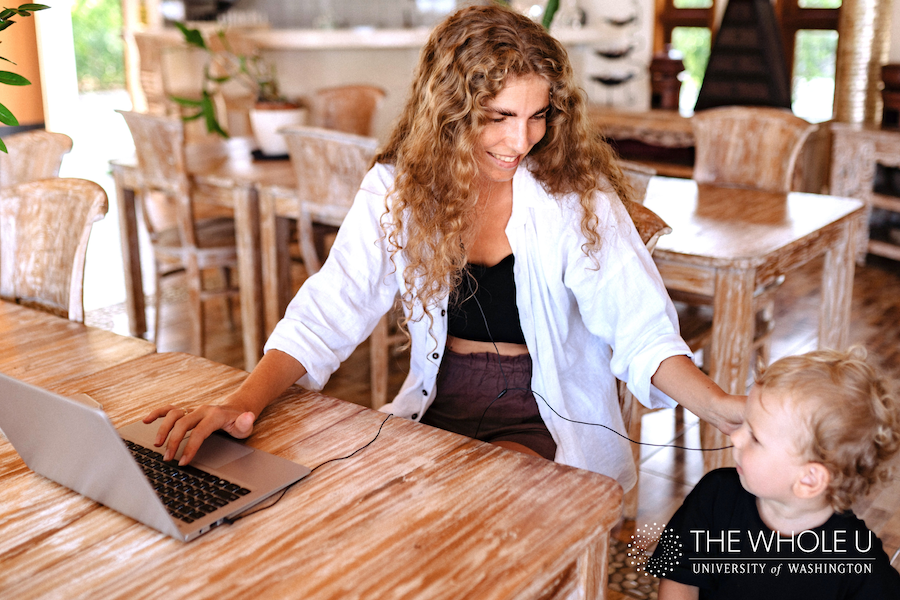 Plug in your headphones or turn on your device speakers and tune in to The Whole U Spotify!
---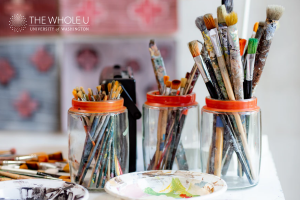 How to Find New Hobbies and Foster Creativity
Learn how to find new hobbies and continue fostering old ones in this article with a list of tips and strategies to being more creative.
---