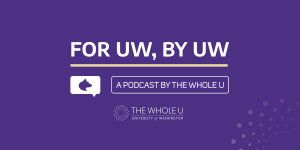 ---
Welcome to For UW, By UW – a podcast by The Whole U. Episodes explore topics and perspectives in health and well-being with experts from across the UW's campuses and health system. View episodes below and find resources mentioned. Learn more about your podcast host Anna Tegelberg, program manager for The Whole U here. 
---
Mindfulness Based Stress Reduction with Dr. Jane Compson

Burnout and stress are at all time highs as we head back to work, school, and press play on another fall quarter. We talked with Dr. Jane Compson about mindfulness based stress reduction, how to alleviate burnout symptoms, and practices to incorporate into your daily life for mental and emotional well-being.
Jane Compson is an associate professor in the School of Interdisciplinary Arts and Sciences at the University of Washington, Tacoma, where she teaches philosophy, applied ethics and religious studies. Her research includes mindfulness and compassion training, both in theory and practice. Jane is a trained teacher in Mindfulness Based Stress Reduction and Compassion Cultivation Training, and has published numerous articles in journals including Mindfulness, Contemporary Buddhism, Journal of Nursing Education and Practice. Most recently, Jane has developed a training program called CARE, designed to be a portal into self-care literacy and practice.
---
---
Episode 1 Resources
Meditations with The Whole U and UW experts
What's all this self-compassion talk about? Article by The Whole U
Workshops with The Whole U and Jane Compson: Practicing Self-Kindness, Recognizing Our Common Humanity
And more!
https://mindfulnessnorthwest.com/programs/
https://centerformsc.org/
https://self-compassion.org/
https://www.compassioninstitute.com/the-program/compassion-cultivation-training/
https://positivepsychology.com/
---