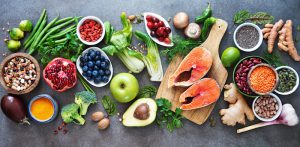 ---
Food is sustenance. Food is pleasurable. Food brings comfort and drives connection, too. Whether you eat to live, live to eat, or do a little bit of both, the Whole U has you covered. Use the resources on this page to support your personal nutritional goals and connect to nutrition experts on campus.
View and download PDF's for the handouts and guides that most interest you!
---

Husky Cookbook
Take your seat at the Husky dining table with the first edition of the Husky Cookbook, a collection of 63 recipes and food stories sourced from UW students, faculty, and staff. This cookbook invites you to explore the culture and identity of UW community members through food.
Full of delicious soups and stews, sweet and savory baked goods, appetizers, sides, main dishes and more, this Cookbook will excite your taste buds at every page turn.
---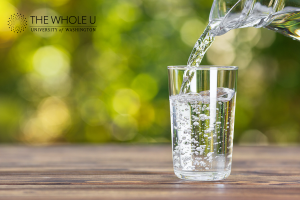 28-Day Hydration Challenge
We all know that water is essential for our bodies and for good health. So why is drinking enough water each day so incredibly difficult?
Over 28 days you'll follow along a hydration handout encouraging you to reach your recommended daily dose of water. Ready, set, SIP!
---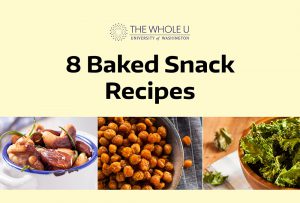 Baked Snack Recipes
Snacking on the same foods everyday can get boring.
Spice up your snacks with these healthy and delicious baked treats.
---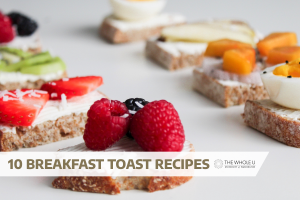 Breakfast Toasts Handout
Tired of having the same breakfast everyday?
Download this Whole U handout for 10 easy-to-make toast ideas.
---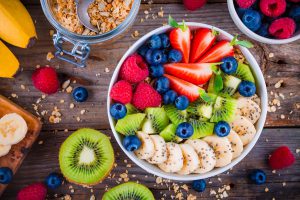 Building Sweet & Savory Power Bowls
Are you tired of making the same meals every day and need some cooking inspiration? Download this handout and learn how to make power bowls! Power bowls are a simple, nutritious, and customizable meal that is perfect for improvising in the kitchen. Whether you prefer savory or have a sweet tooth, this handout will help you create personalized power bowls that are delicious for any meal of the day.
---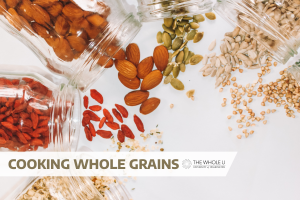 Cooking Whole Grains
Whole grains are so good for the body. They're a great source of fiber and nutrients, and when eaten regularly they can improve cholesterol levels and lower the risk of heart disease, stroke, obesity and type 2 diabetes. Whole grains are also tasty, filling, and versatile. Download this handout to learn more about the benefits of these good-for-you grains and get tips on how to cook them perfectly every time!
---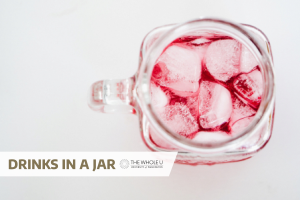 Drinks in a Jar
Try these tips to make delicious infused water.
Recipes include fruit, vegetables, herbs, and spices as suggested by UW Medicine Dietitians.
---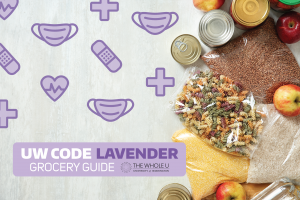 Grocery Guide Handout
Need help simplifying and taking the stress out of meal planning and preparation? Download this Whole U handout filled with simple steps and inspired meal ideas for getting meals on the table, while saving time, money and stress. While this handout was developed for UW healthcare workers during COVID-19, the strategies discussed may be helpful for nearly anyone, at any time.
---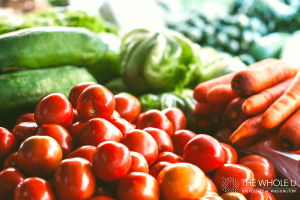 Guide to Navigating the Grocery Store
Walking into a grocery store can be overwhelming. It can be difficult to know where to begin when grocery shopping or deciding between two similar food items. This guide offers tried and true tips on how to navigate a grocery store that will promote healthy and mindful food choices.
---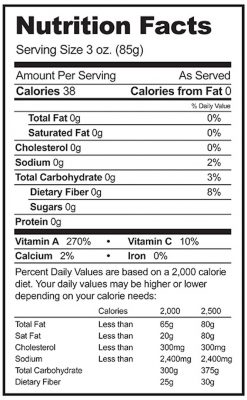 Guide to Reading Food Labels
Food labels provide information on the number of servings, calories, and nutrient contents in packaged foods. They help when deciding which foods are healthier and in making mindful food choices.
Learning how to properly read food labels can help individuals fulfill their nutritional goals and promote wholesome eating.
This guide covers how to read food labels so that you can feel confident in your healthful food choices.
Designed to be a simple one-page guide to encourage and empower you in smarter, healthier eating!
---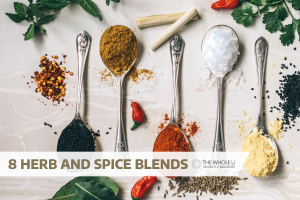 Herb & Spice Blends
Spice up your meals with these herb and spice blends. Cooking with herbs and spices is a great way to add flavor and aroma to food. Make your own herb and spice mixes, instead of buying them, to save money and skip the sodium, additives and preservatives contained in their pre-packaged counterparts.
---

Kitchen Cheat Sheets
Ready for some inspiration in the kitchen? Download these Whole U kitchen cheat sheets.
You will learn what fruits and veggies are in season in the Northwest, how to store your produce, and how to serve perfectly cooked meat every time.
---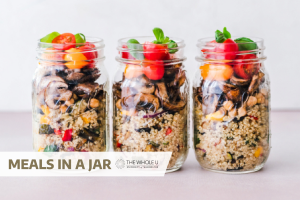 Meals in a Jar
Packing lunch can feel like a lot of work. Why not try Mason jar meals?
You'll have fun layering, mixing, and matching different ingredients to create beautiful salads, pastas, and even desserts!
---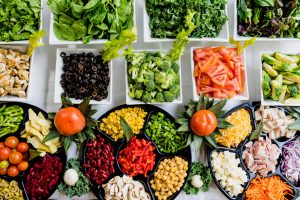 Mix & Match Salad Recipes
Looking to enjoy a healthy and tasty salad? Check out this recipe sheet with mix and match options to build a plethora of fabulous salads! Pick one item from each column and get creating. These recipes were created by Anne-Marie Gloster, PhD, RD, a lecturer in the UW Nutritional Sciences Program and Chef Andrea Benson from Local Point.
---

Salad Dressings Handout
Ditch store-bought salad dressings made with additives and stabilizers and make your own instead.
Download this Whole U handout for 8 tasty and easy-to-make salad dressing recipes.
---

Washington Seasonal Produce Guide
Choose to eat locally, seasonally, and sustainably with our produce in Washington guide. Fruits and vegetables begin to lose some of their key nutrients within 24 hours of being picked. We are fortunate to have an abundance of produce that grows locally and seasonally in Washington state. Take a look at this list of fruits and vegetables that you can eat fresh seasonally in Washington state.