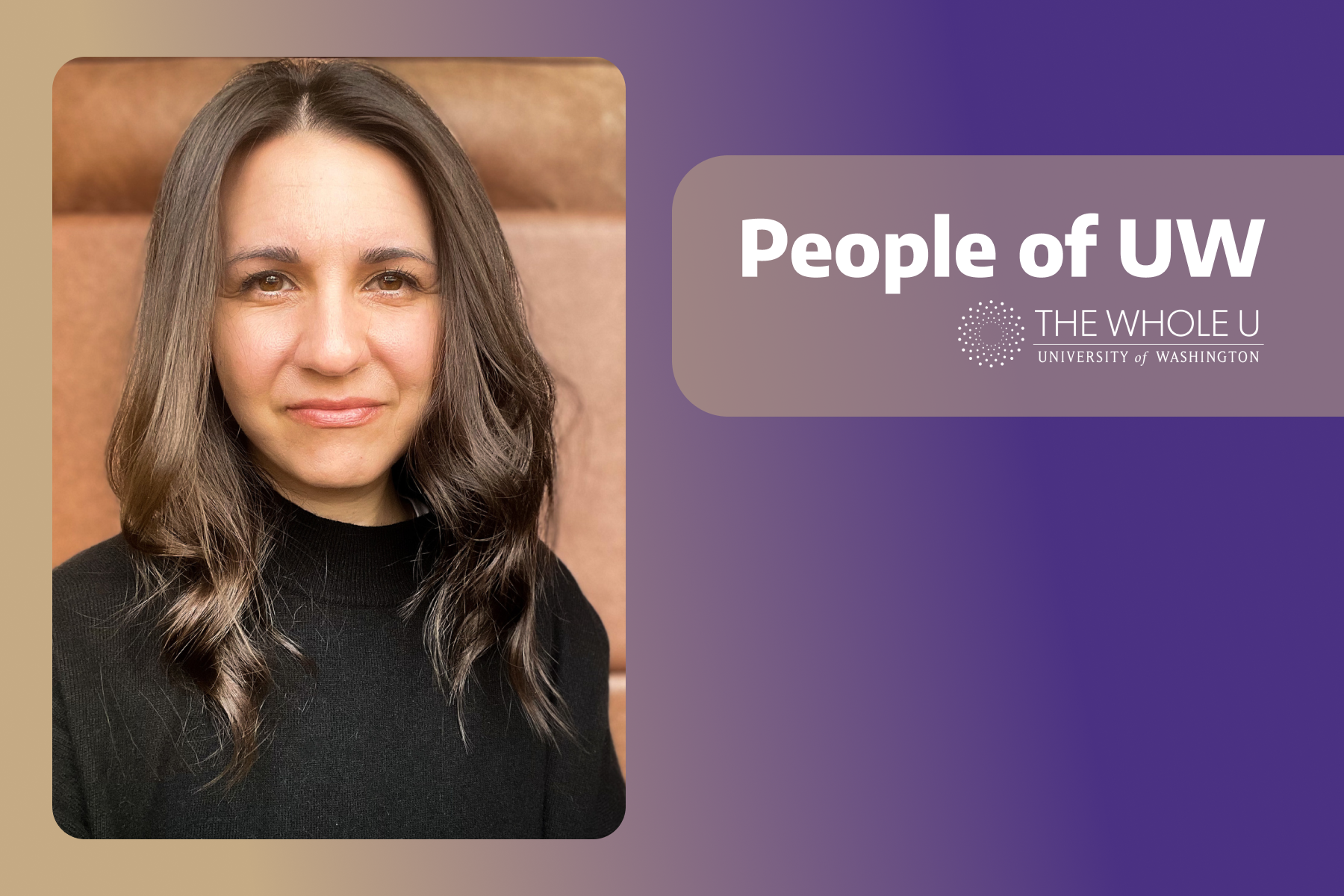 Centering recognition for care providers: Meet Allyson Weymier
Meaningful recognition is a powerful motivator.
People need to know that what they are doing matters. They need consistent acknowledgement of their value in an organization, and they need to be given recognition in a way that is significant to them.
For nurses and other patient care providers, meaningful recognition might be the difference between a healthy work environment—one that fosters personal and professional pride, deepens loyalty to their team and organization, and builds a culture of resilience and engagement—and an unhealthy environment leading to burnout and, perhaps, resignation.
Allyson Weymier, BSN, interim nurse manager for Planned Surgery at Harborview Medical Center, gets it: meaningful recognition, she believes, ought to be woven into the very fabric of healthcare culture. But she found that the opportunities to give and receive recognition on her unit—indeed, across the hospital—were unwieldy, sluggish and inconsistent.
So, she took matters into her own hands.
'I didn't know what to expect'
The idea for an accessible and timely process for sharing meaningful peer-to-peer recognition had been bouncing around in Allyson's head for a while before it was implemented in January 2023.
One incentive for developing a new way to offer recognition was to decrease the turnaround time for receiving it: Harborview has an existing paper feedback form for staff recognition that can take a while to be processed and shared with the recipient and their supervisor.
"Feedback is so important for patient care teams," Allyson said. "It needs to be timely."
Moreover, the psychological burden of compassion fatigue, a nationwide healthcare worker shortage, and rising levels of workplace violence in U.S. healthcare environments during and after the COVID-19 pandemic—where Harborview was ground zero—have laid bare the need to emphasize reciprocal acknowledgement and a shared professional purpose.
While meaningful recognition doesn't resolve all the challenges facing healthcare workers, it goes a long way toward fostering the kind of healthy work environment that frontline healthcare workers need to flourish and derive fulfillment from their work.
Allyson designed an online survey accessible via QR code, seeking input about issues such as safety and staff members' degree of compassion and expertise in providing care. She posted dozens of fliers with the QR code in patient rooms and common areas. Then she waited to see what would happen.
What happened was that people, nearly 100 of them, offered feedback—and not just one employee to another. Patient feedback makes up nearly a quarter of all responses, and visitor feedback another 17%.
Intended to capture peer-to-peer recognition among patient care providers, Allyson has been delighted by the amount of patient and visitor feedback received. And what's more, every single one of the survey responses have been overwhelmingly positive.
She shares the recognition each week with her team and staff in other units in team meetings, daily huddles, emails and with laminated certificates posted on the wall. Because not everyone prefers to receive feedback in the same way, Allyson is careful to check in with folks about their comfort level with public recognition.
"I didn't know what to expect at first, but the project really blew up." Allyson said. "People like the ease of snapping a QR code with their phone." She hopes to make the meaningful recognition initiative hospital-wide later this year, noting that several units at UWMC Montlake and UWMC Northwest have successfully implemented similar programs.
Recognizing Allyson's dedication to community-building and employee well-being, Harborview Chief Nursing Officer Keri Nasenbeny asked Allyson to represent Harborview's entire nursing staff on the new UW Medicine Well-Being Grant selection committee, which will support employee engagement among UW Medicine employees through $100,000 of grantmaking activity focused on wellness initiatives.
Developing leaders who serve
Allyson has also spearheaded a project in which staff anonymously share what called them to work at Harborview. The hand-written speech bubbles are posted to the wall in a common area.
"Some of my favorite people work here and I enjoy our teamwork," reads one bubble. And another: "Harborview is a great learning environment, especially for a new grad nurse, and it fosters team dynamics."
Like many of her fellow nurses, Allyson is deeply committed to her work while acknowledging its challenges. Harborview's mission includes providing priority care to patients who are marginalized or otherwise vulnerable: those who are poor, do not speak English, are uninsured or incarcerated, have mental illness or substance abuse disorders, or those who are victims of sexual assault or domestic violence.
Fulfilling this mission at the only Level-1 trauma center in a four-state radius makes for frequently intense and draining workdays.
Allyson's commitment to Harborview's mission, leadership potential and compassionate skill in nursing has not gone unnoticed. She was recruited as a fellow of Harborview's nursing leadership development program, working on process and policy improvements with particular emphasis on employee recognition and well-being.
"The leadership development program really opened doors for me," Allyson said.
The leadership program was piloted during the pandemic through the efforts of Associate Chief Nursing Officer Joseph de Veyra, whose vision is to create a pipeline of highly qualified servant leader nurses who act as agents of change both for the people and the organizations they serve.
Battling imposter syndrome
Allyson was in her 30s and a longtime stay-at-home mom to her kids when some fellow parents who were nurses collectively convinced her to go to nursing school.
She'd been active with her kids' school and extra-curricular activities, volunteering extensively for the PTA, serving as treasurer in various roles, helping in the classroom and chaperoning every field trip: "I was an all-in, let's-make-something-happen co-op and PTA mom," she acknowledged.
But the idea of going back to school at this stage in her life gave Allyson some serious imposter syndrome, an all-too-common response for women returning to work or school after spending time away.
She was lucky to find in Harborview a work environment that recognizes the validity of different experiences and fosters a variety of leadership paths.
Indeed, she was accepted within a matter of weeks to Seattle Central College's associate degree nursing program, leading to licensure as an RN, followed by admission into UW Bothell's RN-to-BSN (Bachelor of Science in nursing) program, an intensive one-year hybrid program designed for working nurses.
And just this week Allyson was accepted into UW Bothell's Master of Nursing program—the choice of program so obvious to her that it was the only one on her list.
"I didn't even consider other programs," she said. "The education you receive, the people at UW Bothell—that's where I want to earn my next degree."
Allyson has worked at Harborview's Planned Surgery unit for almost six years now, with job promotions paralleling her educational milestones. While the unit cares primarily for patients who have chosen Harborview for their elective surgeries—including urological, gynecological and complex spine procedures—the care team also sees a significant number of trauma medical/surgical patients.
'A cohesive, tight-knit group'
As a member of the management team for Planned Surgery, Allyson spends much of her time as charge nurse at the front desk, and the rest working on management tasks and special projects. She no longer has her own patient set, a part of the job she misses.
"What I love about bedside nursing is educating the patients, serving as their advocate and collaborating with other care providers to take care of them," she explained.
Allyson graduated from the Harborview Nurse Residency Program (NRP), which is nationally recognized by the American Nurses Credentialing Center as a Practice Transition Accreditation Program® (PTAP). This features monthly seminars to strengthen clinical skills and promote nursing professional development such as ethical decision-making and evidence-based practices.
Upon completion of the program, her time as a bedside nurse corresponded with the outset of the pandemic. She'd been an RN for about a year and a half, still new at the job, when the first cases of novel coronavirus hit Harborview. The trickle of cases quickly became a tsunami, garnering national attention.
"The stress load during the height of the pandemic was something I wouldn't wish on anyone," she said.
Now that the pandemic is mostly in the rearview mirror, Allyson is enjoying her work a great deal, particularly in the recognition sphere. But it's her team members who make the workplace special.
"There's something different about this place," she said. "We're an incredibly cohesive, tight-knit group that communicates authentically and works well together."
Working with a diverse team from all over the world, Allyson says she has learned a great deal about different cultures and world events through deep conversations and meaningful engagement with her colleagues.
She relishes the opportunity to discover the world in this way: "I've grown so much as a human here."
'I just had a feeling about it'
Allyson's grandfather had been stationed at Fort Lewis while in the National Guard and loved the Pacific Northwest, often telling her about the mountains, the water and the clean air. He passed away when Allyson was in middle school, and ever since she'd had a "feeling" about Seattle.
So, when it was time for youthful adventuring, she knew where to go.
A native of from Wauwatosa, Wisconsin—a small town outside Milwaukee—Allyson hit the road at age 20 to experience life in the big city. She's been here since.
Not long after she arrived in Seattle, she met her now-husband, Zach, at a downtown cafe. A fabrication engineer with the UW Applied Physics Lab Ocean Engineering program, Zach is an expert at computer-operated lathe machine manufacturing.
"We're a Husky family," Allyson laughed.
An avid fan of memoir and historical fiction—reading hundreds of books a year—Allyson started a Little Free Library on her floor at Harborview. Though modest, the project is fostering exactly the sort of community-building discussions and emphasis on self-care that she strives to build among her team.
On Allyson's list of recent must-reads: When Breath Becomes Air by neurosurgeon Paul Kalanithi and Between the World and Me by Ta-Nehisi Coates. "Both were heartbreaking and profound, in different ways," she said.
Well into her second decade in Seattle, Allyson has become a true Pacific Northwesterner. Enthusiastic campers, she and her family go on several regional trips every summer, including an annual trek out to the lower falls of the Lewis River. She takes the area's frequently grey, rainy skies in stride.
"I don't like being too hot," she said, "and I appreciate that it doesn't snow three feet at a time here, requiring 4 a.m. driveway shoveling. Truthfully, grey is my favorite weather."
She does miss the epic thunderstorms and delightful fireflies of the Midwest. And her extended family, all of whom still live in Wisconsin—giving Allyson a good reason to head back east regularly for a little t-storm and firefly therapy.
In the short term, Allyson is looking forward to some spring camping trips, plowing through her ever-growing book list, dinners out at her favorite restaurant, La Carta de Oaxaca in Ballard, and building on her successes in bringing meaningful recognition to the outstanding patient care teams at Harborview.